Venus and Serena Williams Made so Much Money in Tennis They Bought the Miami Dolphins
You probably know about the success Venus Williams and Serena Williams have on the tennis court, but did you know they own an NFL team together? The Williams sisters made so much money playing tennis that they teamed up to purchase a minority stake in the Miami Dolphins in 2009. They joined Jimmy Buffet and Jennifer Lopez as minority owners at the time, according to ESPN.
Venus and Serena Williams are both tennis superstars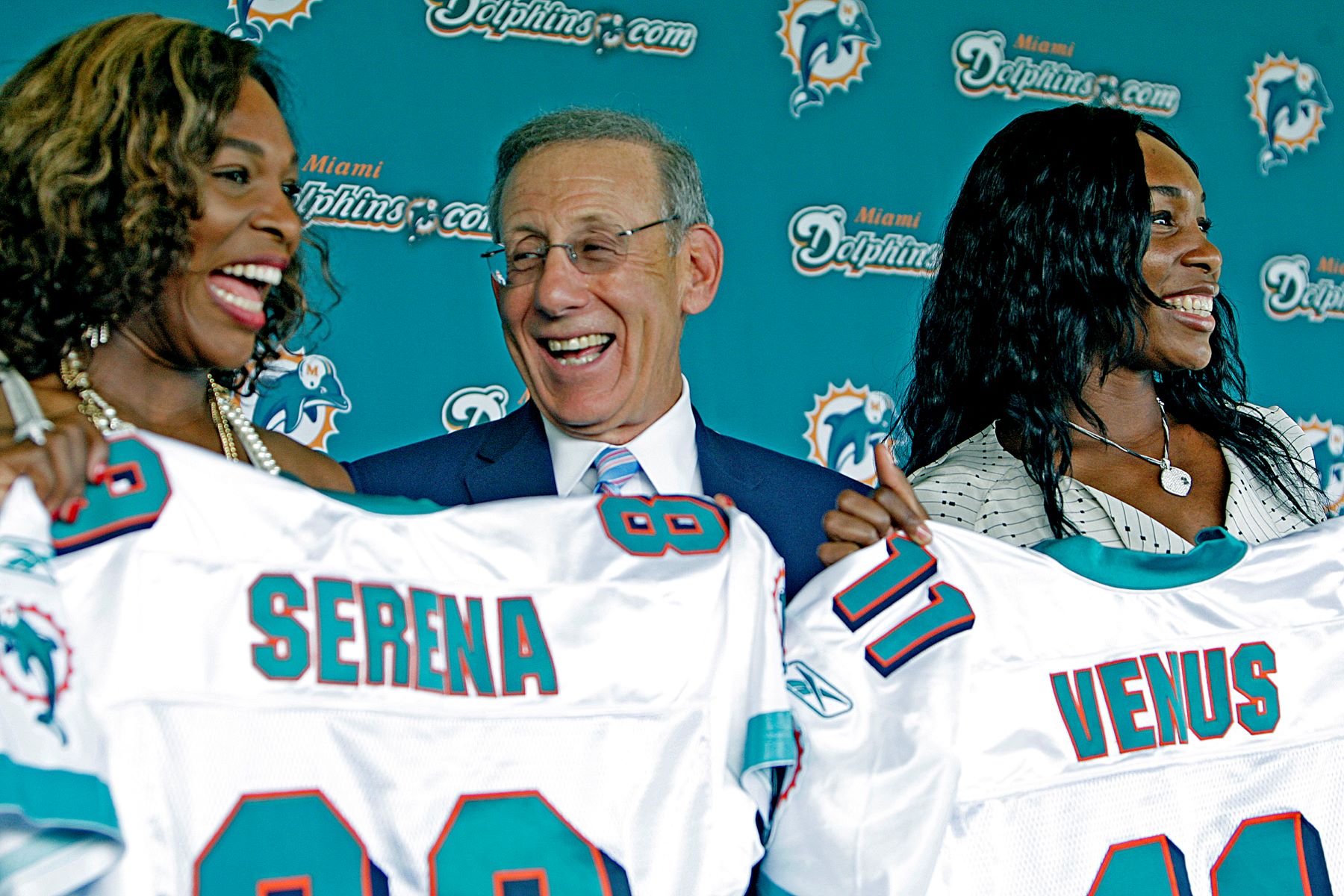 The Williams sisters are two of the most successful tennis players in the history of the sport. They've combined for a whopping 30 Grand Slam titles and 122 titles in all. And that's just in singles.
Serena Williams is widely considered the best female tennis player ever. According to Britannica, her 23 singles Grand Slams are the most by any female tennis star in the Open Era. She also has more Grand Slam titles than any male player in history. Roger Federer leads all male players with 20.
Venus Williams isn't too shabby, either. She's won seven Grand Slams herself and 49 total titles. Venus especially thrives at Wimbledon, where she has won five times.
The duo has also teamed up to win 14 Grand Slams in doubles, putting them at third of all-time in the women's doubles division. They have never lost a championship match when playing together.
Venus and Serena teamed up to buy part of the Miami Dolphins in 2009
The Williams sisters have been Miami Dolphins fans all their lives. In 2009, they made their dreams come true by becoming part owners of the franchise they grew up rooting for.
"To have this opportunity is really where our heart is," Venus said in 2009, according to the NFL. "We're South Florida girls. When we get off the road, this is where we come home to. When we come home to Dolphins games, it's going to be exciting."
Venus and Serena became the first female African-American minority owners in the NFL that day. They still hold a minority stake in the franchise today, along with Fergie, Marc Anthony, and Gloria and Emilio Estefan.
The Williams sisters were trailblazers for female African-Americans in the tennis world, and they've been doing the same in the NFL for almost a decade. They crashed the party of a once male-dominated sport and made their impressive mark on the tennis court. Now, they're doing it in the NFL.
The Williams sisters are the two highest-paid female pro tennis players ever
So, who is worth more, Venus or Serena Williams? According to Business Insider, Serena has earned $92.7 million in prize money over her incredible career. That's by far the highest figure in women's tennis history. That puts Venus is second on that list. She has earned $41.8 million on the court herself. Their success in singles and together in doubles combined give both Williams sisters massive net worths.
According to Celebrity Net Worth, Serena's net worth today stands at $250 million. Her record prize money and many endorsements led to one of the highest net worths in the sport. By comparison, Venus's net worth of $95 million, according to Celebrity Net Worth. The Williams sisters are easily one of the most successful and iconic sibling duos in all of sports. They used their massive combined wealth to invest in their other favorite sport.