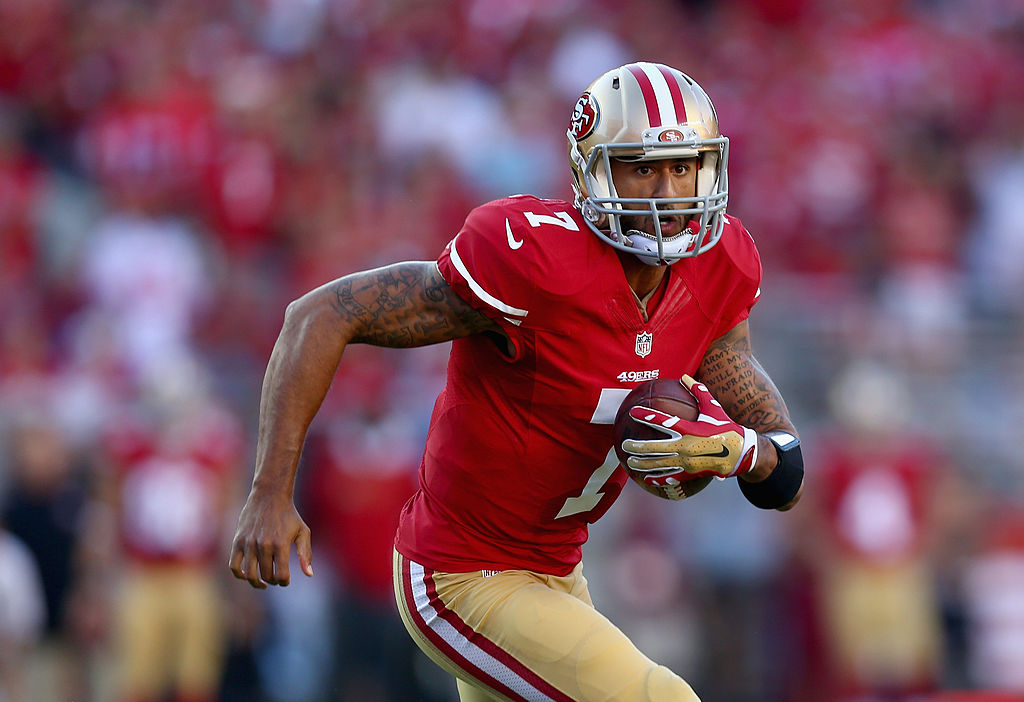 Colin Kaepernick Has Always Believed in His Dreams on and off the Athletic Field
Former San Francisco 49ers quarterback Colin Kaepernick has always believed in his dreams on and off the athletic field.
Whether he was taking a knee during the national anthem or pursuing his football career when not many believed in him, Colin Kaepernick has always followed his dreams. While Kaepernick, the former San Francisco 49ers quarterback, is widely known for kneeling during the anthem as a protest to racial injustice, he is also known for being one of the most athletic quarterbacks to ever play in the NFL. He may never have gotten the chance to put on the shoulder pads if he never pursued his dream.
Colin Kaepernick the NFL player

Colin Kaepernick was a second-round draft pick by the San Francisco 49ers in the 2011 NFL draft. Like many quarterbacks, Kaepernick had to wait his turn to get his shot as an NFL starter. He was the backup quarterback to former overall No. 1 pick Alex Smith, whom the 49ers took in the 2005 NFL draft.
Kaepernick threw just five passes in his first season with the 49ers. Known more for his running ability than his passing skills, Kaepernick played a little more in his second season, alternating with Smith. Kaepernick played in 13 games in 2012, starting seven of them and guiding San Francisco to a 5-2 mark in his starts. He led the Niners to the Super Bowl and threw for 302 yards, but San Francisco dropped a 34-31 decision to the Baltimore Ravens.
Kaepernick started all 16 games in each of the next two seasons. In 2013, he led San Francisco back to the playoffs with a 12-4 mark, but then went 8-8 in 2014. During the 2015 and 2016 season, Kaepernick really struggled, combining to go 3-16 in his 19 starts.
Kaepernick the activist
In the third preseason game of the 2016 season, Colin Kaepernick was shown sitting down during the playing of the Star-Spangled Banner. During the fourth and final preseason game, Kaepernick was then shown kneeling during the anthem. Despite the backlash Kaepernick received, he stuck to his beliefs and continued his kneeling.
"I am not going to stand up to show pride in a flag for a country that oppresses black people and people of color," Kaepernick told NFL.com after the final preseason game in 2016. "To me, this is bigger than football and it would be selfish on my part to look the other way. There are bodies in the street and people getting paid leave and getting away with murder." 
He knew there would be outrage, but it's something he did on his own. He knew endorsements and his career were on the line, but it was something he believed in. "This is not something that I am going to run by anybody," he said. "I am not looking for approval. I have to stand up for people that are oppressed. … If they take football away, my endorsements from me, I know that I stood up for what is right."
Kaepernick stuck to his football dreams as well
At Pitman High School in California, Colin Kaepernick was better at baseball than football. At least colleges believed that to be true. As a pitcher, he threw the ball 94 miles per hour and tossed a pair of no-hitters. He fielded scholarship offers from Notre Dame, Tennessee, and Arizona State to play baseball. Kaepernick, however, wanted to play football at the next level.
According to a 2010 article in the New York Times, Larry Nigro, Pitman's head football coach at the time, made a video of Kaepernick to send to colleges. Kaepernick's brother Kyle made hundreds of copies and sent them out. Not one college responded. With baseball still as a fall-back option, Kaepernick attended several college camps prior to his senior year. He was invited to Boise State's camp and then hit the University of Nevada's because it was on the way back home.
His strong arm was impressive, but his mechanics weren't. It was his legs caught the eye of Nevada coach Chris Ault. "He just had this other dynamic that most college quarterbacks don't have," Ault said. "He runs." Ault offered a scholarship and said he could play free safety. When starting quarterback Nick Graziano was injured during a game in 2007, Kaepernick filled in. He threw four touchdowns and nearly 400 yards in the game and never looked back.