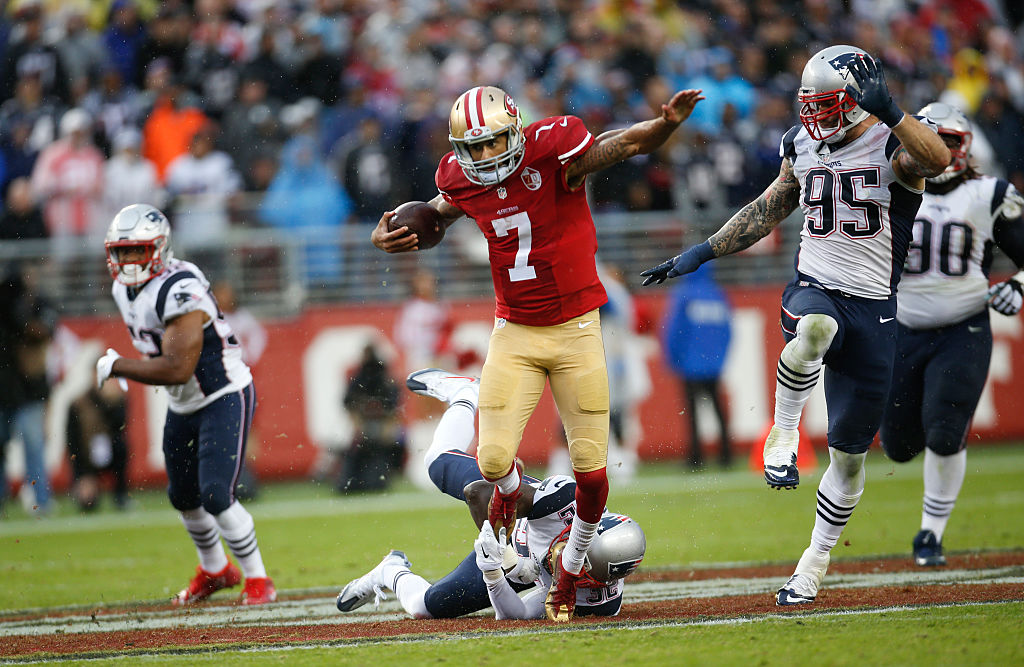 Colin Kaepernick Has 2 Logical Options According to Super Bowl Champion Coach
Colin Kaepernick threw his last NFL pass in January 2017. But one Super Bowl-winning coach thinks the QB has two logical landing spots.
Colin Kaepernick may not be a fit for every NFL team, but the former San Francisco 49ers quarterback definitely deserves a job. At his peak, Kaepernick boasted an impressive skill set that put defensive coordinators on their heels. Unfortunately, we haven't seen him play football in three years.
Looking at the landscape of the league, one former Super Bowl-winning head coach sees two logical landing spots for Colin Kaepernick. But will either team take a risk and sign the 32-year-old?
Colin Kaepernick went from starting for the 49ers to out of the NFL
Just four years ago, Colin Kaepernick was one of the NFL's 32 starting quarterbacks. The 6-foot-4, 230-pounder ascended to that position in just his second season. Though he never earned a Pro Bowl or All-Pro selection, Kaepernick more than held his own.
Yet, by simply taking a knee, he made a ton of enemies. NFL owners essentially blacklisted the 2011 second-round pick. Despite rumblings about possible interest from several teams, no one has stepped up to sign Kaepernick.
Considering the number of bad backup quarterbacks in the NFL, it makes no sense why he still hasn't gotten a second shot. But as speculation continues about where Kaepernick could fit, a former head coach with a Super Bowl ring sees two teams that make sense.
Brian Billick thinks two NFL teams could be logical fits
Brian Billick spent nine years as the head coach of the Baltimore Ravens. With Ray Lewis spearheading an all-time great defense, Billick's team took home the Lombardi Trophy in 2000. Since then, he's carved out a respectable secondary career as a broadcaster.
The NFL Network analyst recently weighed in on where Kaepernick. And surprisingly, he picked two teams on entirely different ends of the competitive spectrum.
"I think New England and Jacksonville, if you look at it from his standpoint, just in terms of opportunity…Jarrett Stidham and Brian Hoyer in New England and then Gardner Minshew and Mike Glennon in Jacksonville. You talk about an opportunity to be with a team where there might be some flux, might be some meat, where there's uncertainty at that top spot.

On the surface, Billick's picks seem a bit strange. Jacksonville has promising second-year QB Gardner Minshew, plus a veteran backup in Mike Glennon. And let's not pretend the Jaguars will be in the Super Bowl mix this season. Ultimately, Kaepernick can't sell himself short by taking his talents to north Florida.
On the other hand, the Patriots have to figure out the best plan for life after Tom Brady. Would Bill Belichick be willing to take a risk on Colin Kaepernick? When you look at the totality of the situation, Billick's logic may not be so flawed after all.
Should the Patriots sign Kaepernick?
No NFL coach gets more out of less than Belichick. He's turned countless no-name prospects and undrafted free agents into quality contributors. He's also helped veterans re-establish their value and cash in during free agency.
Colin Kaepernick would be the ultimate Belichick reclamation project. Not only would signing Kaepernick make a huge statement but it also would also give New England a talented quarterback to compete with 2019 fourth-round pick Jarrett Stidham.
As New England embarks on the post-Brady era, the offense would benefit from a shift in style. While Brady dominated as a pocket passer, the Patriots could make up for their lack of explosive playmakers by implementing more quarterback runs and option plays. Who better to run that than Kaepernick?
Of course, Belichick and Josh McDaniels would need to iron out some kinks in his game. Kaepernick has a career completion percentage of 59.8, which speaks to some of his accuracy issues. In addition, he took 171 sacks in 58 starts with the 49ers. He would have to improve his pocket awareness in New England's offense.
Overall, Colin Kaepernick may be years removed from playing football. For all we know, he may never get another contract or even live up to expectations. But don't be surprised if he ends up in New England just as Brian Billick suggested.
Statistics courtesy of Pro Football Reference