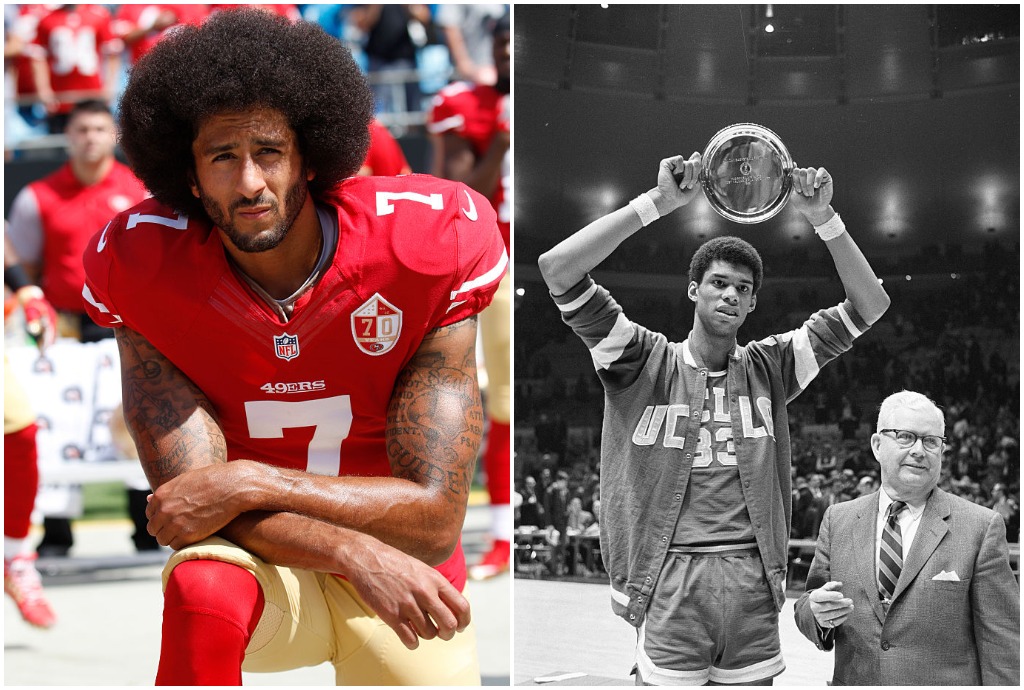 Kareem Abdul-Jabbar and Colin Kaepernick Protested Racial Inequality in Vastly Different Ways
Kareem Abdul-Jabbar and Colin Kaepernick may come from different eras, but both athletes have stood up for racial inequality.
On the surface, Colin Kaepernick and Kareem Abdul-Jabbar don't have much in common. The former starred on the football field for the San Francisco 49ers. The latter carved out a reputation as one of the greatest players in NBA history. Yet, Kaepernick and Abdul-Jabbar share a major similarity: Both have protested racial inequality.
Considering their massive age gap, it says a lot that both athletes have had to use their platform to speak up for change. They went about it in different ways, but with the same goal in mind of ensuring justice and equality for all.
Colin Kaepernick sacrificed his NFL career by taking a knee
Colin Kaepernick achieved his dream of becoming the starting quarterback for the 49ers. The 36th overall pick of the 2011 NFL draft took over for Alex Smith in the middle of his second season. From there, he quickly ascended to star status. In two seasons as the 49ers' full-time starter, Kaepernick went 20-12. He seemed ready to become the face of the franchise.
Everything changed in 2016.
During San Francisco's fourth preseason game, Kaepernick took a knee during the national anthem. What initially seemed like a small gesture turned into a life-changing moment. By taking a knee, he wanted to raise awareness about the oppression of black people and people of color. He also wanted to raise awareness about police brutality.
Ultimately, the move cost him his football career. Kaepernick hasn't played in an NFL game since January 2017. However, he has inspired many people to stand up for racial inequality and police brutality. While he has faced many critics, his determination has resulted in financial support from Serena Williams' husband and even the CEO of Twitter.
Colin Kaepernick may be the face of social justice today. Decades earlier, though, Kareem Abdul-Jabbar sacrificed a significant opportunity of his own in order to stand up for what's right.
Kareem Abdul-Jabbar boycotted the 1968 Olympics
Before he changed his name, Kareem Abdul-Jabbar was known as Lew Alcindor. Under coach Jack Donahue, he led Power Memorial Academy to 71 consecutive victories. That led the talented big man to take his talents to UCLA.
At 7-foot-1, Abdul-Jabbar looked like a man amongst boys. He won a slew of individual awards, including the first-ever Naismith College Player of the Year award. The collegiate star had a chance to represent the United States at the 1968 Summer Olympics. But according to Abdul-Jabbar's book, Coach Wooden and Me, he passed on the opportunity to make a statement.
But the idea of going to Mexico to have fun seemed so selfish in light of the racial violence that was facing the country. The previous summer had seen two major riots, one in Newark that had lasted five days, and one in Detroit that had lasted eight days. And on April 4, 1968, Dr. Martin Luther King, Jr., had been assassinated. White America seemed ready to do anything necessary to stop the progress of civil rights, and I thought that going to Mexico would seem like I was either fleeing the issue or more interested in my career than in justice. I couldn't shake the feeling that if I did go and we won, I'd be bringing honor to the country that was denying our rights.

He also recalled how Donahue once called him a highly offensive racial slur. By turning down the chance to play for Team USA, Kareem Abdul-Jabbar showed incredible maturity, bravery, and leadership by sacrificing a once-in-a-lifetime opportunity to stand up for what he believed in.
Other athletes have stood up for racial inequality and social justice
In recent years, many athletes have joined in the fight for social justice, criminal justice reform, and racial equality. New Orleans Saints safety Malcolm Jenkins hasn't just become a star on the field. The veteran defensive back has carved out a second career as an activist.
Like Colin Kaepernick, Jenkins drew criticism for his own national anthem protest. On September 16, 2016, he raised his fist during the anthem. He repeated the gesture throughout the rest of the 2016 and 2017 seasons.
Jenkins has shown tremendous leadership by starting his own charity, The Malcolm Jenkins Foundation. In addition, he started the "Let's Listen Together" initiative. An advocate for criminal justice reform, Jenkins stands out as a great example of how professional athletes can make a real difference in the community and society.