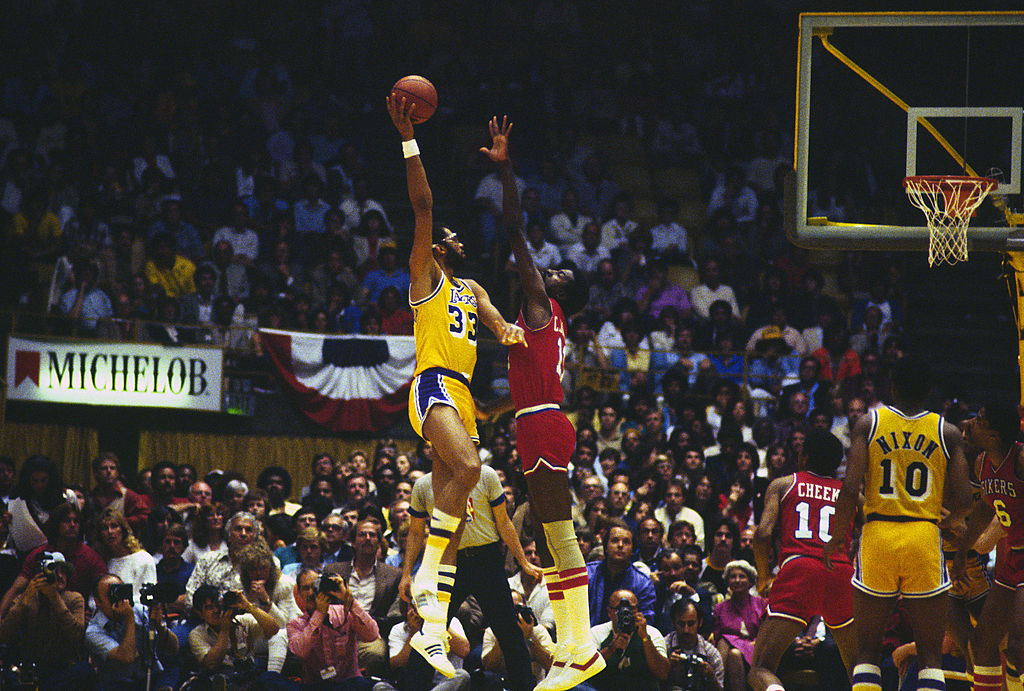 What Is Kareem Abdul-Jabbar's Net Worth?
Kareem Abdul-Jabbar is one of the NBA's greatest players. After he retired in 1989, he's been very successful as a writer, actor, and activist. What is Kareem Abdul-Jabbar's net worth?
Kareem Abdul-Jabbar is one of the greatest NBA players in the history of the game. Although he rarely gets mentioned as the GOAT, Abdul-Jabbar holds the record for most career points scored among many other records. 
Since he retired in 1989, Abdul-Jabbar has been quite busy in a variety of areas, including television and film, books, and as an activist. What is Kareem Abdul-Jabbar's net worth?
Lew Alcindor dominates college  
When Lew Alcindor arrived at UCLA, no one had witnessed anyone quite like him. There's no better evidence of this than the fact that the NCAA changed its rules and banned the dunk when Alcindor was in college because he dominated his opponents. 
The 7-foot-2-inch center was unstoppable. Alcindor earned Player of the Year honors twice (1967 and 1969) and was a three-time first-team All-American from 1967-1969. More importantly, Alcindor guided the Bruins to three NCAA titles from 1967-1969. He was the NCAA Tournament Most Outstanding Player each year. He was also named the first-ever Naismith College Player of the Year in 1969.
During the middle of his college career in 1968, Alcindor converted to Islam and changed his name to Kareem Abdul-Jabbar, although he wouldn't go by that name until 1971. 
Kareem Abdul-Jabbar becomes one of the NBA's greatest players 
In 1969, the Milwaukee Bucks selected him as the first overall pick in the NBA draft. Like college, Abdul-Jabbar dominated with his inside game and his patented skyhook. That rookie season, he averaged 28.8 points per game and was named Rookie of the Year. It was just the start. 
Abdul-Jabbar played for six seasons with the Bucks. He made the All-Star game each season and was the NBA's leading scorer in 1971 and 1972. In 1971, he guided the Bucks to their only NBA title with a sweep of the Baltimore Bullets. He also was named league MVP that season, as well as 1972 and 1974. 
In 1975, the Bucks traded Abdul-Jabbar to the Los Angeles Lakers. The chance of scenery didn't change his level of success. Abdul-Jabbar was just as dominant on the west coast as he led the Lakers to five titles in LA. He also added three more league MVP crowns to the trophy case before he retired in 1989.  
At the time of Abdul-Jabbar's retirement, he held the record for most games played by a single player in the NBA, most points (38,387), most field goals made (15,837), and most minutes played (57,446). He was inducted into the Hall of Fame in 1995.
What is Kareem Abdul-Jabbar's net worth? 
Kareem Abdul-Jabbar began his acting career during his playing days with appearances in the 1972 film "Game of Death" starring Bruce Lee as well as his hilarious role as co-pilot Roger Murdock in "Airplane." He has made numerous other on-screen appearances after basketball, including roles in the movie "Fletch" as well as television shows "Full House," "Fresh Prince of Bel-Air," "Scrubs," and numerous others.  
He also has numerous writing credits to his name, including authoring multiple books and a contributing writer to national magazines covering race, religion, and other topics. He has been a regular contributor to Time Magazine for years. 
In 2012, he was appointed cultural ambassador for the United States by Hillary Clinton. In 2016, President Barack Obama named him to the President's Council on Fitness, Sports, and Nutrition.
During his NBA career, Abdul-Jabbar's highest salary came in his final season in LA and was $3 million, which, at the time, was the highest in team sports. He currently has a net worth of $20 million. 
It's not uncommon for athletes to make their mark in sports and fade into the sunset. That's not the case for Abdul-Jabbar. His impact in the NBA is undeniable, and the record books reflect that. History will also show he was a leader amongst his peers in race relations, and that's more important than any NBA record or trophy.