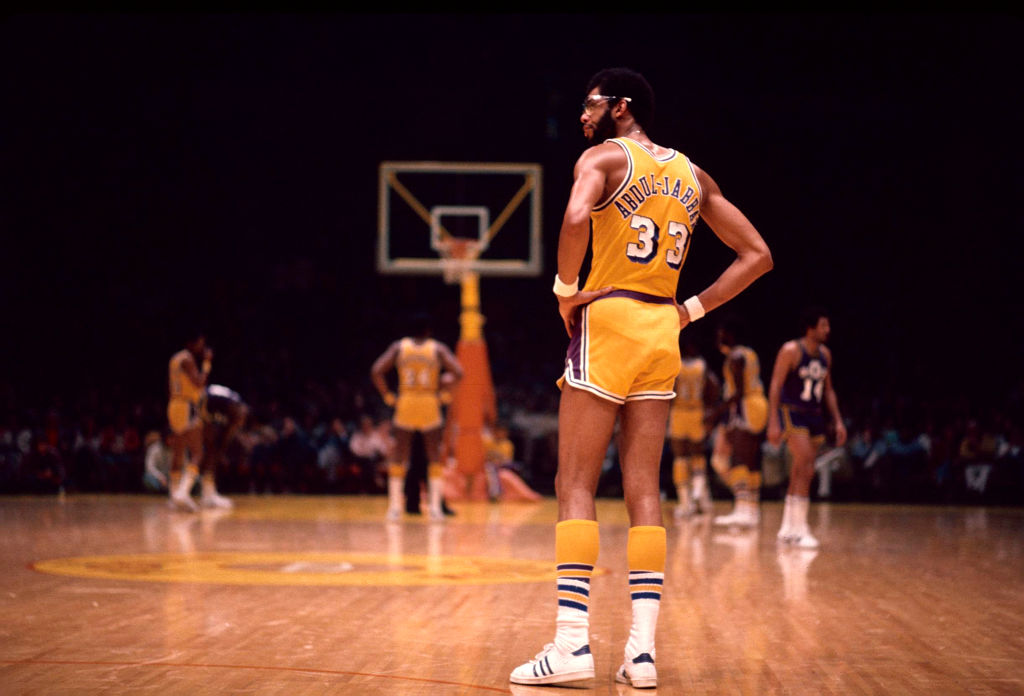 Kareem Abdul-Jabbar Wishes That He Handled His Conversion to Islam Differently
While Los Angeles Lakers legend Kareem Abdul-Jabbar doesn't regret converting, he does wish he handled it differently.
In the world of professional sports, certain names stand on their own. Plenty of those guys have played for the Los Angeles Lakers, ranging from Magic to Shaq and Kobe. Kareem Abdul-Jabbar, however, started his career with a different name.
Abdul-Jabbar, of course, was born Ferdinand Lewis Alcindor Jr. and changed his name after he converted to Islam. While the big man doesn't regret the change, he does wish he handled one thing differently.
Starting out as Lew Alcindor
Growing up in New York City, Kareem Abdul-Jabbar established himself as a basketball star. Then known as Lew Alcindor, he dominated the local high school scene; he scored 2,067 points at Power Memorial Academy before moving on to UCLA.
In California, Alcindor started out on the school's freshman team; when he made it to the varsity squad, however, he immediately made up for lost time. The big man averaged 26.4 points and 15.5 rebounds during his three seasons with the Bruins. During that time, they went 88-2, winning three NCAA Championships. John Wooden's team was the best in the country, and Alcindor was their star player.
Unsurprisingly, Alcindor was a highly coveted player. Despite offers from the Harlem Globetrotters and the ABA's New York Nets, he signed with the Milwaukee Bucks. The big man made an immediate impact, averaging 28.8 points and 14.5 points per night en route to rookie of the year honors. The Bucks then acquired Oscar Robertson; he and Alcindor combined to win the 1971 NBA title.
Kareem-Abdul Jabbar wished he handled his conversion differently
The day after winning the NBA title with the Bucks, Lew Alcindor made a major change. The big man converted to Islam and changed his name, becoming Kareem Abdul-Jabbar.
"The adoption of a new name was an extension of my rejection of all things in my life that related to the enslavement of my family and people," Abdul-Jabbar explained in a 2015 Aljazeera America editorial. "Alcindor was a French planter in the West Indies who owned my ancestors. My forebears were Yoruba people, from present-day Nigeria. Keeping the name of my family's slave master seemed somehow to dishonor them. His name felt like a branded scar of shame."
That didn't mean Abdul-Jabbar's conversion was easy, though. Everyone, from fans to his own parents, was shocked; even in the 1970s, Islam was viewed as a foreign, un-American, and un-Catholic religion. Making the change in the public eye only made things tougher.
"From that year [1973, when Abdul-Jabbar traveled abroad, learned Arabic, and studied the Quran] to this, I have never wavered or regretted my decision to convert to Islam," the NBA legend continued. "When I look back, I wish I could have done it in a more private way, without all the publicity and fuss that followed. But at the time I was adding my voice to the civil rights movement by denouncing the legacy of slavery and the religious institutions that had supported it. That made it more political than I had intended and distracted from what was, for me, a much more personal journey."
Kareem Abdul-Jabbar is a legend under any name
On the basketball court, Kareem Abdul-Jabbar's stats speak for themselves. In his 20-season NBA career, the big man averaged 24.6 and 11.2 rebounds a game while winning six league MVP awards and claiming six championships. His legacy, however, extends far beyond the basketball court.
The NBA legend piled up plenty of TV and movie appearances, doing everything from appearing in Airplane! to producing a History Channel documentary. He's also a writer and an activist, regularly contributing to the larger conversation about race and religion.
When your trophy case contains NCAA national titles, NBA championships, and the Presidential Medal of Freedom, it's safe to say you're a legend. Kareem Abdul-Jabbar has done all that, and more.