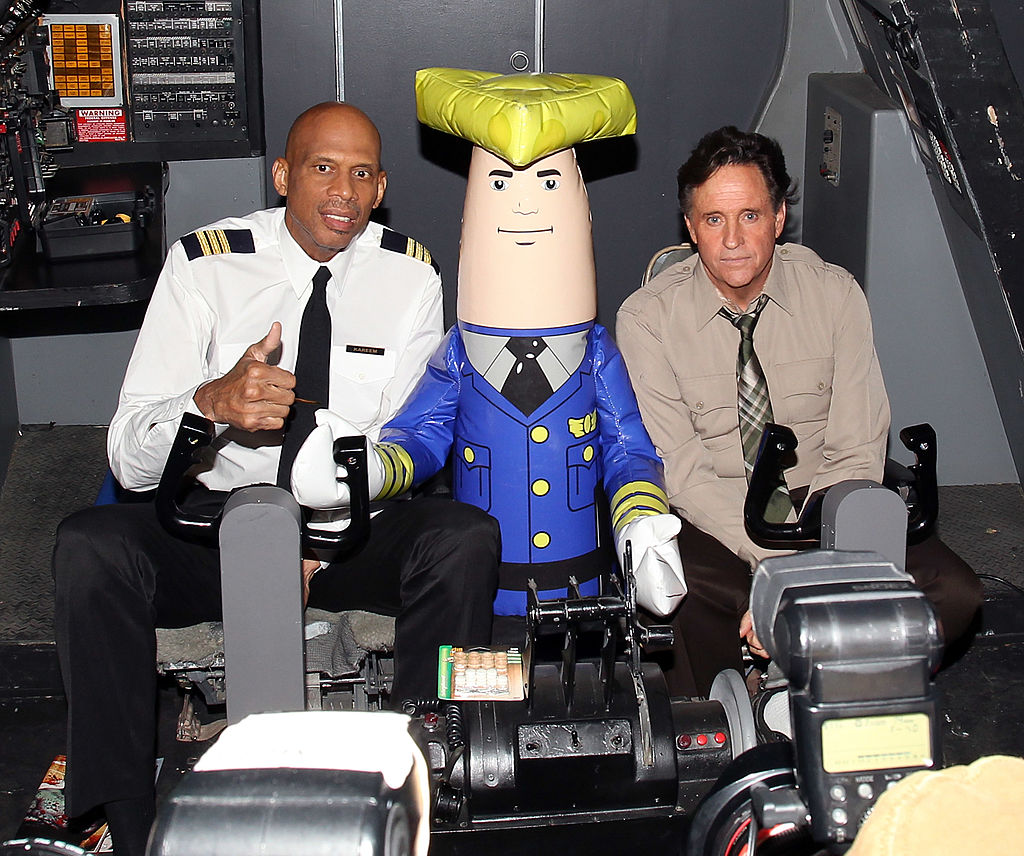 Kareem Abdul-Jabbar Once Replaced Pete Rose in the Lineup
NBA star Kareem Abdul-Jabbar landed a small but memorable role in 'Airplane!' because Pete Rose was unavailable when filming began.
Kareem Abdul-Jabbar won NCAA championships at UCLA and NBA titles with the Milwaukee Bucks and Los Angeles Lakers in one of the finest careers in basketball history.
Abdul-Jabbar changed his name from Lew Alcindor in 1971, yet there's at least as good a chance that a passerby in an airport or mall would point to him and blurt out "Roger Murdock" thanks to a cameo role in a movie comedy.
If they've seen "Airplane!" more than once, they may even quote the all-time NBA scoring leader's best bit of dialogue.
The shooting schedule takes Pete Rose out of the running
Kareem Abdul-Jabbar in "Airplane!" is one of the funniest and fondly recalled movie cameos by an athlete. Abdul-Jabbar was cast as a pilot whose actual identity as the basketball star is unmasked by a young passenger visiting the cockpit. The boy repeats the criticism that Abdul-Jabbar doesn't play hard in the regular season, and the basketball star nails his response:
"The hell I don't. Listen, kid: I've been hearing that crap ever since I was at UCLA. I'm out there busting my buns every night. Tell your old man to drag Walton and Lanier up and down the court for 48 minutes!"

Kareem Abdul-Jabbar
The most interesting aspect of Abdul-Jabbar's involvement is that someone else was supposed to get his role. The part was written for baseball star Pete Rose, an equally recognizable athlete. The producers had to revise plans because the shooting schedule was pushed into the summer of 1979 while Rose was still playing for the Philadelphia Phillies.
Abdul-Jabbar was coming off an NBA championship season with the Lakers, but director Jerry Zucker may have felt a connection as a Wisconsin resident while Abdul-Jabbar was previously playing for the Milwaukee Bucks.
Kareem Abdul-Jabbar agent held out for an extra $5,000
As is often the case in memorable movies, there were interesting stories behind the bigger story.
For one, actor Robert Hays was given the starring role of Ted Striker, the former military pilot who saves the day by safely landing the doomed plane. Two of the others who read for the part were late-night talk show host David Letterman and Bruce Jenner, the decathlon champion in the 1976 Montreal Olympics. Julie Hagerty won the role of stewardess Elaine Dickinson, Striker's love interest, over Sigourney Weaver.
Another story told by director Jerry Zucker involves Abdul-Jabbar's agent holding out for $5,000 more than the $30,000 budgeted for the role. The agent said his client needed that much because he wanted to buy an oriental rug.
 "That's got to be the best line we've ever heard from an agent. It was like, 'Boy, this guy's really creative!' But then a couple of weeks later, there's an article in Time with a picture of Kareem standing in front of the oriental rug that he'd bought for $35,000 after we'd paid him."

Jerry Zucker
'Airplane!' was largely a remake of a 1957 movie
Kareem Abdul-Jabbar's role was an original, but "Airplane!" was a combination of homage to the "Airport" movies of the 1970s and remake of the 1957 film "Zero Hour!"
Jim Abrahams and brothers Jerry and David Zucker ran across "Zero Hour!" while scouring for material to write their parody around.
Coincidentally, Arthur Hailey wrote that movie and "Airport."