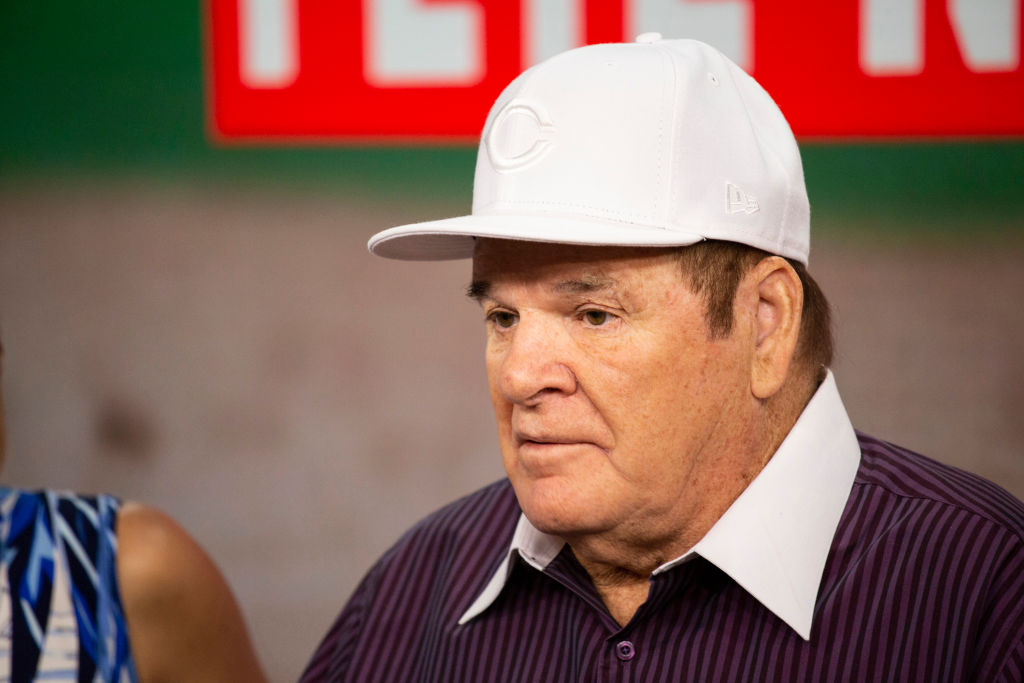 How Pete Rose is Using Baseball's Current Sign-Stealing Scandals to Make a Case for His Own Reinstatement
Pete Rose is citing the Houston Astros sign-stealing scandal in his latest petition for reinstatement into Major League Baseball.
As any long-time baseball fan can tell you, there are two sides to Pete Rose. As a player, Charlie Hustle starred for the Cincinnati Reds and racked up hits with incredible ease. That's not Rose's only legacy, though; today, he stands alone, serving a lifetime ban from baseball for betting on games as a player and manager.
Rose, however, still hasn't given up the fight. In fact, he's using Major League Baseball's current sign-stealing scandal to make a case for his own reinstatement.
Pete Rose's lifetime ban from baseball
During his playing career, Pete Rose established himself as one of Major League Baseball's greatest hitters. That legacy, though, has been overshadowed by his off-field behavior.
In 1989, the Dowd Report found that Rose had bet on baseball games during his time as the manager of the Cincinnati Reds. While Rose tried to fight the finding in court, he eventually accepted his fate; while he didn't admit to betting at the time, the former star agreed to accept a lifetime ban from Major League Baseball.
Under the terms of the agreement, however, Rose was eligible to apply for reinstatement after one year. He petitioned Fay Vincent, who took over as commissioner after Bart Giamatti's death, but Vincent didn't budge; Rose tried again when Bud Selig took office, only to be met with the same result.
In 2015, it was Rob Manfred's turn to weigh in. Unsurprisingly, he chose to maintain the status quo, citing Rose's dishonesty and continued gambling habits. That decision, however, hasn't stopped Charlie Hustle from fighting for reinstatement.
Pete Rose cites the Houston Astros' sign-stealing scandal
Earlier this year, Rob Manfred and Major League Baseball handed down their decision regarding the Houston Astros' sign-stealing scandal. The team lost multiple drafts picks and received a $5 million fine; general manager Jeff Luhnow and manager AJ Hinch were suspended for a year and were subsequently fired. The Astros players, however, got off scot-free.
Pete Rose and his legal team have seized on that reality and are once again petitioning Major League Baseball for reinstatement. They argue that it's unfair to penalize Rose for betting on baseball while the Astros players weren't punished actions that materially affected the outcomes of games.
"There cannot be one set of rules for Mr. Rose and another for everyone else," the petition, which was obtained by ESPN, read. "No objective standard or categorization of the rules violations committed by Mr. Rose can distinguish his violations from those that have incurred substantially less severe penalties from Major League Baseball."
Will this reinstatement attempt have different results?
On the surface, Pete Rose's latest petition does seem to have some logic behind it. At the same time, though, it ignores two crucial realities.
First, Major League Baseball's decision not to punish the Astros players was likely based more on practicality than anything else. Even if Rob Manfred wanted to hand down individual bans, it wouldn't have been realistic; beyond the issues of determining how much each player took part in the scandal, the Major League Baseball Players Association would have fought every decision tooth and nail. For the league, discretion was likely the better part of valor.
Beyond that, Rose's ban has become as much about his attitude as his actions. As Manfred explained in 2015, the former Reds' actions "provide [him] with little confidence that he has a mature understanding of his wrongful conduct, that he has accepted full responsibility for it, or that he understands the damage he has caused." Even if you concede that Rose has a point—whether it's that betting on baseball wasn't that bad or that he shouldn't be punished if the Astros players aren't—he isn't exactly playing nice with the powers that be.
Major League Baseball is probably counting the days until the sign-stealing scandal becomes a thing of the past; they're unlikely to throw gas onto the fire by reinstating Pete Rose at the same time.