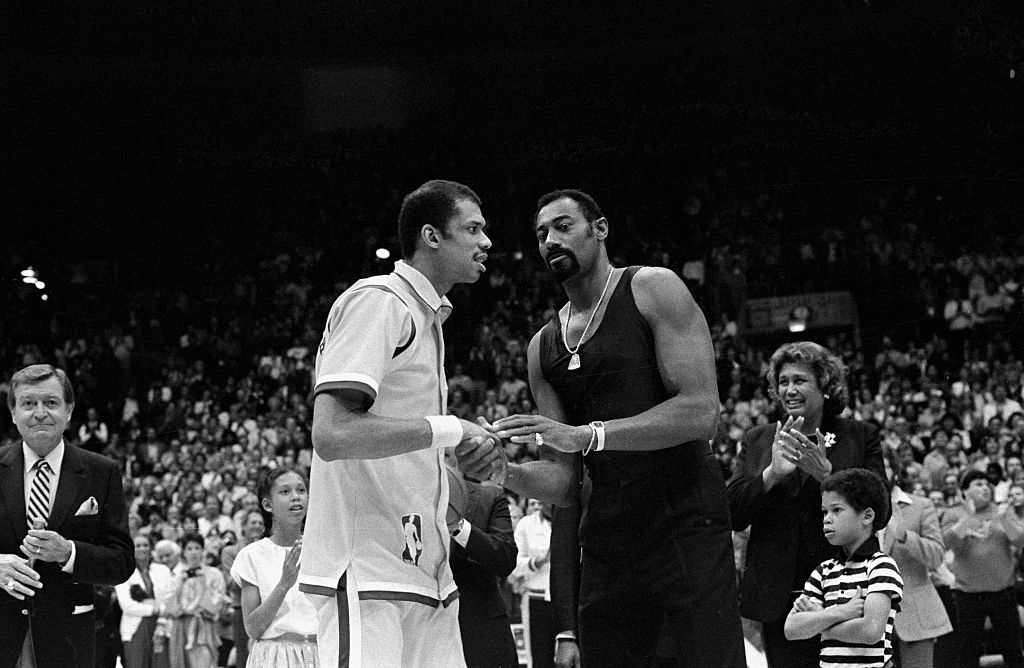 Kareem Abdul-Jabbar Once Tore Into Wilt Chamberlain in an Open Letter
Kareem Abdul-Jabbar and Wilt Chamberlain once had a friendship that turned into an intense rivalry.
NBA legends Wilt Chamberlain and Kareem Abdul-Jabbar were once great friends. Kareem even idolized Chamberlain as a teenager and got the chance to play against his hero when he burst onto the NBA scene in 1969 with the Milwaukee Bucks. Chamberlain was with the Los Angeles Lakers at that time, the same team Jabbar would join following Wilt's retirement. That's when the relationship turned sour.
Wilt Chamberlain was the most dominant player in the game and only won two NBA titles
Wilt Chamberlain, while still considered by most to be the most dominant offensive force in history, only won two NBA titles in his career, one with the Philadelphia 76ers in 1967 and the other with the Lakers in 1972. Chamberlain often found himself on the losing end of battles with Bill Russell's Boston Celtics, who won 11 titles in 13 years, but Chamberlain was actually able to finally beat his longtime nemesis in the Eastern Conference Finals in 1967, scoring 29 points, pulling down 36 rebounds, and dishing out 13 assists in the deciding game to send the Sixers to the NBA Finals, where they defeated Chamberlain's former team, the San Francisco Warriors.
In the 1972 Western Conference Finals, Chamberlain's Lakers, who had set a new NBA record with 69 wins, took on Kareem Abdul-Jabbar and the defending champion Milwaukee Bucks. Wilt, on the back end of his career, was brilliant against Kareem, who was 11 years his junior, and scored 24 points and grabbed 22 rebounds in Game 6 to clinch the series. Chamberlain was the better player that series and Kareem knew it and acknowledged it. The Lakers went on to beat the New York Knicks in the NBA Finals. The Knicks exacted revenge a year later in the championship rematch.
Chamberlain would retire following the loss to the Knicks as the league's all-time leading scorer with 31,419 points, paving the way for a new big man in LA.
Wilt constantly criticized Kareem Abdul-Jabbar when he retired
Following the loss to Wilt Chamberlain and the Lakers in 1972, Kareem Abdul-Jabbar played three more seasons in Milwaukee before joining the Lakers in 1975. Jabbar had become the best player in the NBA and won his fourth MVP in his first year in LA. He led the Lakers to the NBA Finals in 1977 but lost to Bill Walton and the Portland Trailblazers. However, once Magic Johnson joined the team in 1979, the duo went on to win five NBA championships together.
On April 5, 1984, Jabbar broke Chamberlain's all-time scoring record and Wilt was right there to congratulate him. But things weren't as friendly as they seemed. Following his retirement, Wilt repeatedly bashed Kareem in the press, accusing him of not doing enough to help his teams win. He didn't score enough or rebound enough or play enough defense. When Kareem broke his record, he called for Jabbar's retirement, which wouldn't come for another five years, a time during which Kareem won three of his six NBA titles.
But Kareem certainly didn't take Wilt's criticism lying down. He called Chamberlain a traitor to the black race and slammed his support of the Republican party, including his support of Nixon in the 1970s. Kareem never quite understood Wilt's criticism and wrote an open letter to the man he once called his idol in his autobiography.
Kareem's open letter to 'Wilt Chumperlame'
With his playing career behind him, a career that saw Kareem Abdul-Jabbar score an NBA-record 38,387 points, he released an autobiography, "Giant Steps", in 1990 and torched Wilt Chamberlain. He dedicated an entire portion of his book to his former idol, calling the section "An Open Letter to Wilt Chumperlame."
While he praised Chamberlain in certain aspects, he took Wilt to town for often quitting on his teammates and passing the blame to others after big losses, originally citing Wilt's loss in the NCAA title game with Kansas in 1957. He bashed Wilt for ditching his Jayhawks teammates to join the Harlem Globetrotters for a year because he couldn't yet join the NBA, saying that "after any tough test in which you didn't do well, you blamed those around you and quit."
He then discussed how Wilt could have been so much more in the NBA than he was.
"In professional basketball, Bill Russell and the Boston Celtics gave you a yearly lesson in real competitive competence and teamwork. All you could say was that your teammates stunk and that you had done all you could, and besides, the refs never gave you a break. Poor Wilt.

"In 1967, your team finally broke through. That 76er team established records that are still standing today. But the following year, the Sixers lost and, predictable as ever, you quit. You came out to L.A. and got with a dream team. The only lack that team had was leadership at the center position. Bill and the Celts took one from you in '69, and the Knicks followed suit in '70. People are still trying to figure out where you disappeared to in that series. True to form, after the Knicks beat the Lakers in the world championship in 1973, you quit and haven't been seen on the court since."

Kareem Abdul-Jabbar on Wilt Chamberlain
But Kareem wasn't done there.
"Of course, you came out every so often to take a cheap shot at me. During the sixth game of the world championship series in 1988, you stated, 'Kareem should have retired five years ago.' I can now see why you said that. If I had quit at the time you suggested, it would have been right after a disappointing loss to the 76ers. And it would have been typical of one of your retreats.

"But after that loss, I decided that I had more to give. I believed in myself and in the Lakers and stuck with it. We went on to win three out of four world championships between '85 and '88. The two teams you played on that won world championships, in '67 and '72, never repeated. They never showed the consistency that the Lakers of the '80s have shown. And you didn't want me to be part of that.

"Given your jealousy, I can understand that. So, now that I have left, one thing will be part of my legacy: People will remember that I worked with my teammates and helped us win. You will be remembered as a whining crybaby and a quitter, stats and all."

Kareem Abdul-Jabbar on Wilt Chamberlain
Kareem Abdul-Jabbar and Wilt Chamberlain will forever be linked as two of the greatest centers in NBA history. It's just unfortunate that the two couldn't stay linked as friends.