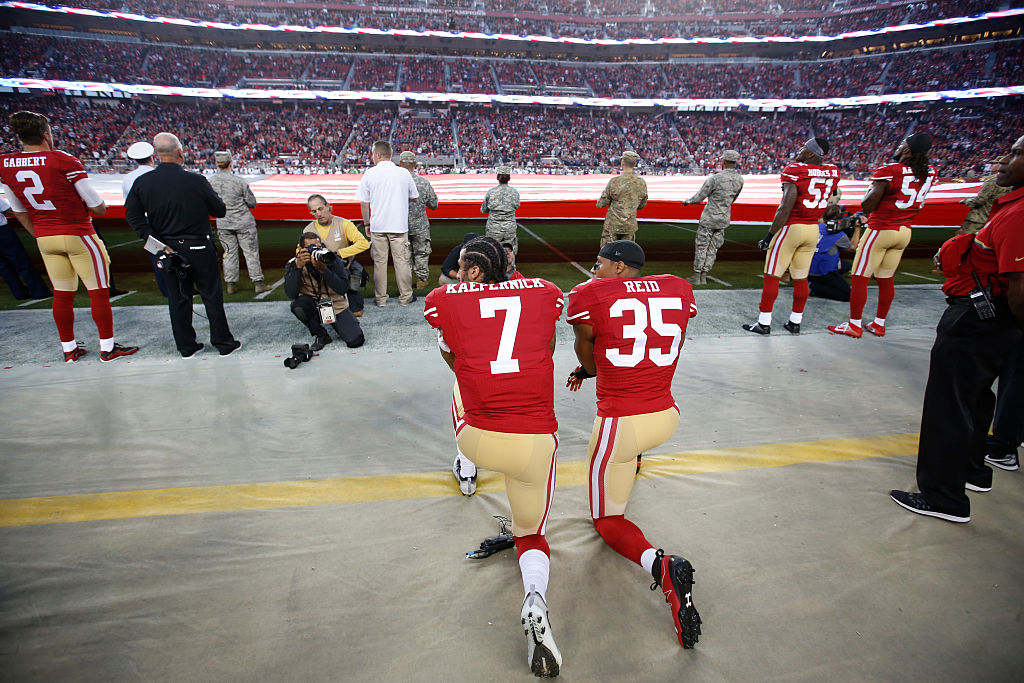 Regardless of What His Critics Say, Colin Kaepernick Told Us Exactly What He Was Protesting
While some have branded Colin Kaepernick's protests as disrespectful, the quarterback has spelled out exactly what he was protesting.
In the aftermath of George Floyd's death, Colin Kaepernick's famous protests have re-entered public consciousness. Many have held the former San Francisco 49ers quarterback up as an example of speaking out against racial injustice no matter the cost. Others, however, still take issue with the concept of kneeling during the national anthem.
At this point, though, the latter group doesn't have much of a leg to stand on. Over the years, Colin Kaepernick has told us exactly what he was protesting and why he chose to kneel during the national anthem.
Colin Kaepernick's protest cost him his NFL career
For years, the NFL's official position was that Colin Kaepernick remained unsigned for football reasons. We now know, however, that the quarterback's protests ended his football career.
After playing his college ball at the University of Nevada, the San Francisco 49ers traded up to select Kaepernick in the second round of the 2011 NFL draft. He started out his career backing-up Alex Smith but got his chance to shine midway through the 2012 campaign; Kaepernick led the Niners to the Super Bowl and kept the starting job.
While the quarterback's play declined by 2016, he still showed plenty of potential. Kaepernick was a solid dual-threat quarterback, racking up 12,271 passing yards, 2,300 rushing yards, and 85 total touchdowns in 69 NFL appearances; he did that on a less than talented 49ers team that changed coaches with troubling regularity. Even if you don't believe those are starting quarterback-quality numbers, they were good enough to remain in the league.
Kaepernick, however, didn't remain in the league. The quarterback started protesting during the national anthem in 2016; when he opted out of his contract in 2017, no team offered him a job. Recently, a former NFL executive confirmed what we all knew: owners deemed Kaepernick was bad for business and were collectively unwilling to sign him.
Colin Kaepernick told us exactly what he was fighting for
Even today, there's some debate about Colin Kaepernick's protests. Thankfully, the quarterback told us exactly why he was taking a knee.
"I am not going to stand up to show pride in a flag for a country that oppresses black people and people of color," Kaepernick said, according to NFL.com. "To me, this is bigger than football, and it would be selfish on my part to look the other way. There are bodies in the street and people getting paid leave and getting away with murder."
Some have painted Kaepernick's actions as disrespectful or said that he stated his love for America; the quarterback, however, has provided counterpoints to both those arguments. He began the 2016 season sitting through the national anthem, but began kneeling on the advice of former Green Beret and Seattle Seahawk Nate Boyer as a show of respect.
In regards to the latter point, Kapernick has said that his protests aren't about hating the American flag or the military.
The media painted this as I'm anti-American, anti-men-and-women of the military, and that's not the case at all,'' Kaepernick said in 2016, according to USA Today. "I realize that men and women of the military go out and sacrifice their lives and put themselves in harm's way for my freedom of speech and my freedoms in this country and my freedom to take a seat or take a knee, so I have the utmost respect for them. I think what I did was taken out of context and spun a different way.''
To drive the point home, he literally said, "Once again, I'm not anti-American. I love America."
As Drew Brees learned, the focus should be on what Colin Kapernick was protesting, not how he did it
On June 3, New Orleans Saints star Drew Brees entered the fray and said that he couldn't agree with anyone "disrespecting" the American flag. The quarterback was blasted by players and pundits alike and promptly apologized.
"Through my ongoing conversations with friends, teammates, and leaders in the black community, I realize this is not an issue about the American flag. It has never been," Brees wrote in his Instagram message to Donald Trump. "We can no longer use the flag to turn people away or distract them from the real issues that face our black communities."
While we'll have to see if Brees follows through on his apology or was simply trying to win the public relations battle, his contrasting statement did speak to an underlying issue around Colin Kaepernick's protests: some still view his actions as disrespectful and anti-American. As the Saints quarterback eventually came to realize, however, Kaepernick spelled everything out for us. His protests were never about the military or the American flag; they were about what happens in a country that calls itself "the land of the free."
It's easy to react viscerally to something like NFL players taking a knee during the national anthem; looking at Colin Kaepernick's own words, however, it's abundantly clear what he was fighting for and why he chose to protest as he did.
All stats courtesy of Pro-Football-Reference