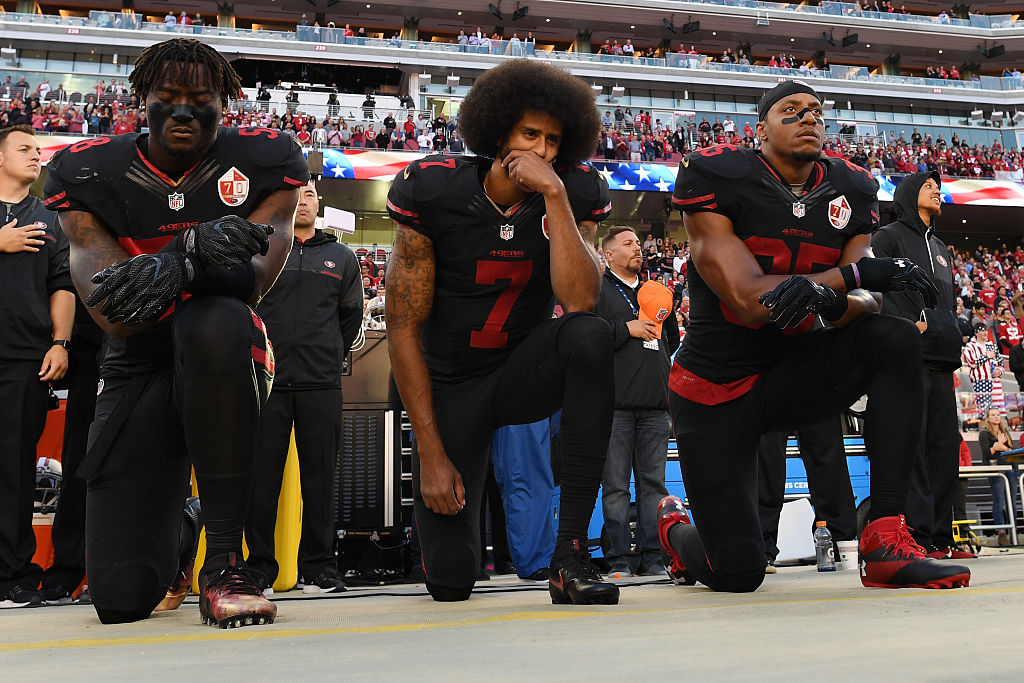 Colin Kaepernick Prophetically Planned to 'Break That Perfect Football Mold' Years Before Ever Taking a Knee
Years before he ever took a knee, Colin Kaepernick spoke to Peter King about wanting to break the mold and make a positive impact on the world.
These days, Colin Kaepernick's name calls to mind one specific image: the San Francisco 49ers quarterback kneeling on the sidelines. While that memory is undeniably more important than any athletic accomplishment, it has overshadowed Kaepernick's football career; at one point, he seemed like the next big NFL star, poised to take the league by storm.
During 2013, Peter King even wrote a story about Kaepernick and how the quarterback planned to "break that perfect football mold" and "have a positive influence." It's safe to say he did exactly that, even if it wasn't in the exact method that he had planned.
Colin Kaepernick's rise to stardom
During his time in high school, Colin Kaepernick shone as a baseball, football, and basketball star. While he could have joined the Chicago Cubs as a pitching prospect, he decided his future was on the gridiron and headed to the University of Nevada.
During his time with the Wolf Pack, it seemed like Kaepernick made the right choice. During his four seasons under center, the quarterback racked up 10,098 passing yards, 4,112 rushing yards, and 141 total touchdowns; that potential was enough to convince the San Francisco 49ers to trade up and select him early in the second round of the 2011 NFL draft.
While Kaepernick started his professional career on the bench, he got a shot in 2012 when Alex Smith suffered a concussion; the quarterback promptly led the 49ers to the Super Bowl, where they fell to the Ravens. When the next season began, Kaepernick remained under center. He went 12-4, throwing for 3,197 yards and 21 touchdowns, rushing for 524 yards and five additional scores, and making it as far as the NFC Championship game.
While things would eventually deteriorate—the 49ers kept changing coaches, and Kaepernick suffered a shoulder injury, among other factors—the San Francisco quarterback seemed like a future NFL star.
Plans to break the mold and make a positive impact
In July 2013, Peter King wrote a Sports Illustrated feature about Colin Kaepernick. While the quarterback was still years away from ever taking a knee, some of his quotes proved to be prophetic.
"I want to try to break that perfect football mold," Kaepernick explained. "I don't want to be someone who can be put into a category. I want to be my own person. I want my own style. I want to be someone who can't really be compared to anybody."
"And I want to have a positive influence as much as I can," the quarterback continued. "I've had people write me because of my tattoos. I've had people write me because of adoption. I've had people write me because they're biracial. I've had people write me because their kids have heart defects—my mom had two boys who died of heart defects, which ultimately brought about my adoption. So, to me, the more people you can touch, the more people you can influence in a positive way or inspire, the better."
While King's article did touch on issues like race, it framed Kaepernick through football; the San Francisco quarterback—unafraid to run and sporting tattoos—was juxtaposed against the traditional stereotypes of the position. Almost seven years later, though, the article seems different. Now that we know what transpired, it's rich with dramatic irony.
Colin Kaepernick accomplished his goal, with or without football
In 2013, Colin Kaepernick talked about breaking the mold and making a positive impact. While he probably planned to accomplish those goals on the football field, he ended up transcending sports.
During the 2016 NFL preseason, Kaepernick remained seated during the national anthem; with some advice from Nate Boyer, he decided to kneel instead. While that decision made him a target of national criticism, the quarterback didn't flag.
"I am not going to stand up to show pride in a flag for a country that oppresses black people and people of color," Kaepernick said, according to NFL.com. "To me, this is bigger than football, and it would be selfish on my part to look the other way. There are bodies in the street and people getting paid leave and getting away with murder."
That decision, of course, ended up costing Colin Kaepernick his football career. While he didn't quite revolutionize the quarterback position, he definitely accomplished his goal of inspiring and impacting as many people as possible.
All stats courtesy of Sports-Reference and Pro-Football-Reference