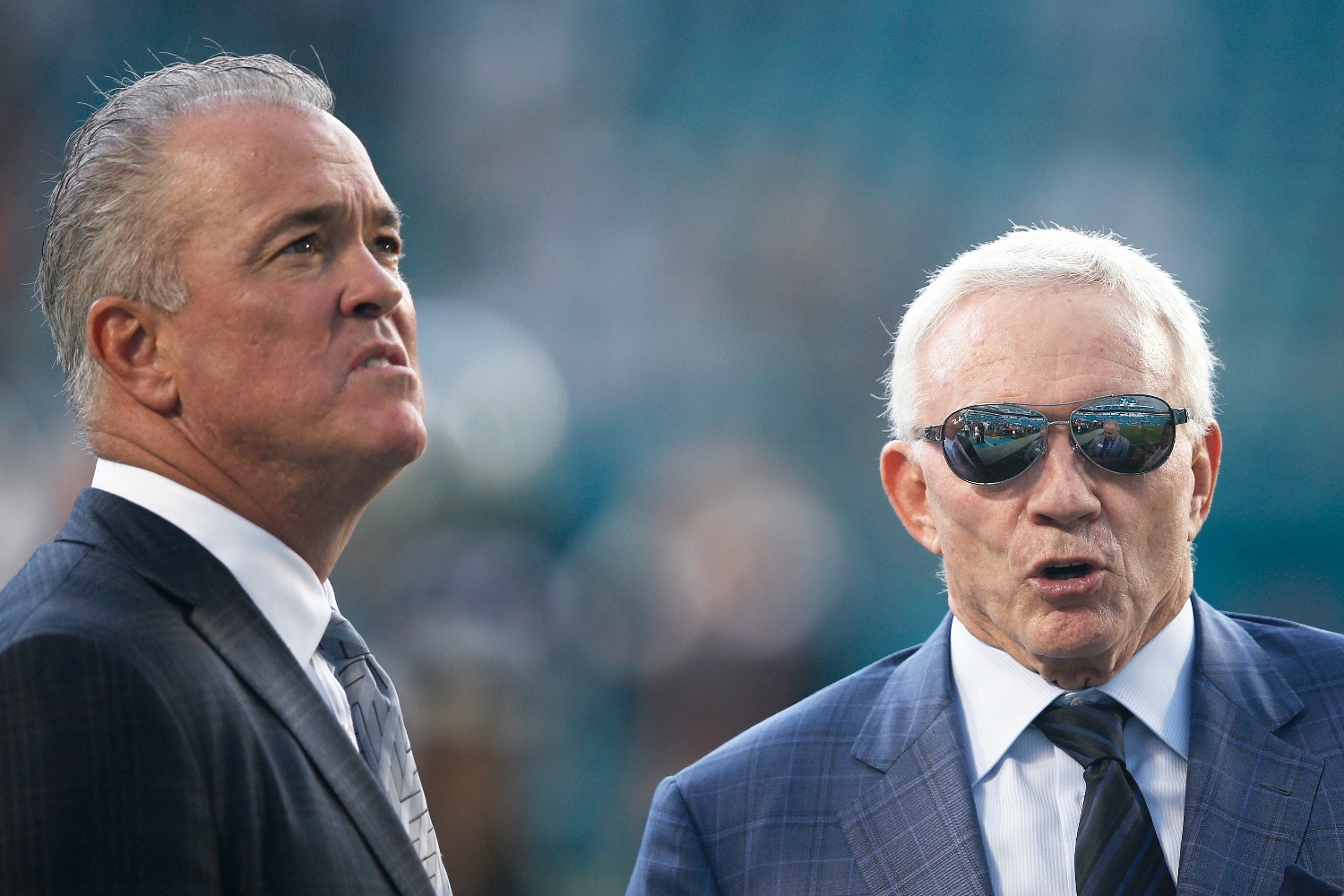 The Dallas Cowboys Just Suffered a Devastating Blow to Their Super Bowl Chances
The Dallas Cowboys just suffered a devastating blow to their Super Bowl chances with Gerald McCoy tearing his quad tendon.
Jerry Jones showed no hesitation in making bold moves this offseason to help put his team on a Super Bowl path. From drafting CeeDee Lamb in the first round to signing Aldon Smith, the 77-year-old owner went all-in over the last few months. However, the Dallas Cowboys just suffered a devastating blow to their Super Bowl chances with a season-ending injury to one of their biggest offseason additions.
But will that inhibit the Cowboys from capturing their first Super Bowl title since 1996?
The Cowboys put themselves on Super Bowl path with strong offseason
Cowboys fans endured years of disappointment under Jason Garrett. But this offseason, Dallas finally said goodbye to the underwhelming head coach and brought in Mike McCarthy. The former Green Bay Packers HC won a Super Bowl title with Aaron Rodgers and will look to take Dak Prescott's game to the next level.
Tabbing McCarthy as the team's head coach represented the first domino for Jerry Jones. He then locked up Amari Cooper on a five-year, $100 million to ensure that Prescott will have his No. 1 target for years to come.
Speaking of Prescott, the Cowboys failed to sign their starting quarterback to a contract extension of his own. The two-time Pro Bowler will play the 2020 season on the franchise tag.
However, that did not stop Dallas from spending millions on other players. When free agency began, the team scored a pair of Pro Bowl defensive tackles. The Cowboys signed Gerald McCoy to a three-year, $18.3 million deal. Dallas also brought in Dontari Poe on a two-year, $9 million contract to shore up its interior defensive line.
Unfortunately for Cowboys fans, they won't get a chance to see McCoy play this season.
Gerald McCoy suffers season-ending injury
The Cowboys appeared to have shored up their biggest weakness by signing Gerald McCoy and Dontari Poe. After all, the two athletic marvels have combined for eight Pro Bowl berths after entering the NFL as first-round picks. Together, the two boasted dominant potential, especially given the Cowboys' embarrassment of riches at defensive end.
That plan will not come to fruition this season, though. On Monday, Cowboys executive vice president Stephen Jones dealt a devastating blow to his fan base by announcing that McCoy suffered a ruptured right quadriceps tendon. The injury will require surgery, which shelves McCoy for the entire season.
Losing a player of his caliber stings incredibly. The six-time Pro Bowler joined the Cowboys after spending his entire NFL career in Tampa. When healthy, the 6-foot-4, 300-pounder provides excellent pass-rush skills. Plus, the 32-year-old brings maturity and leadership to the locker room.
With McCoy out for the season, that weakens a position group that already had question marks behind its two veteran additions.
Dallas won't make Super Bowl trip with current defensive tackles
Even though he had yet to play a snap in a Cowboys uniform, Gerald McCoy was expected to contribute heavily in 2020. His season-ending injury represents a devastating blow to Dallas' Super Bowl chances. While the Cowboys enjoy excellent depth at defensive end with DeMarcus Lawrence, Aldon Smith, Everson Griffen, and Tyrone Crawford, they have major issues at defensive tackle.
With McCoy gone for the year, that leaves rookie Neville Gallimore, second-year pro Trysten Hill, and veteran Antwaun Woods as the only other defensive tackles on the roster other than Poe.
Gallimore possesses intriguing ability, but counting on the third-rounder to play significant snaps in his first NFL season seems incredibly optimistic. Hill also has excellent physical tools. However, the former UCF lineman barely saw the field as a rookie and has a long way to go to prove worthy of his second-round pedigree.
Ultimately, Dallas may need to go shopping again to fill a huge hole left behind by Gerald McCoy. Marcell Dareus, Damon Harrison, and Jarran Reed could be viable solutions. At the same time, the Cowboys have just over $5 million in cap space to work with, which could limit their options.
At the end of the day, Gerald McCoy's injury hurts the Cowboys' Super Bowl chances. The team already had questions at defensive tackle and will now have to find a replacement for one of their major offseason acquisitions. Let's see if Jerry Jones works some magic to keep his team in contention.
All salary information courtesy of Over The Cap.