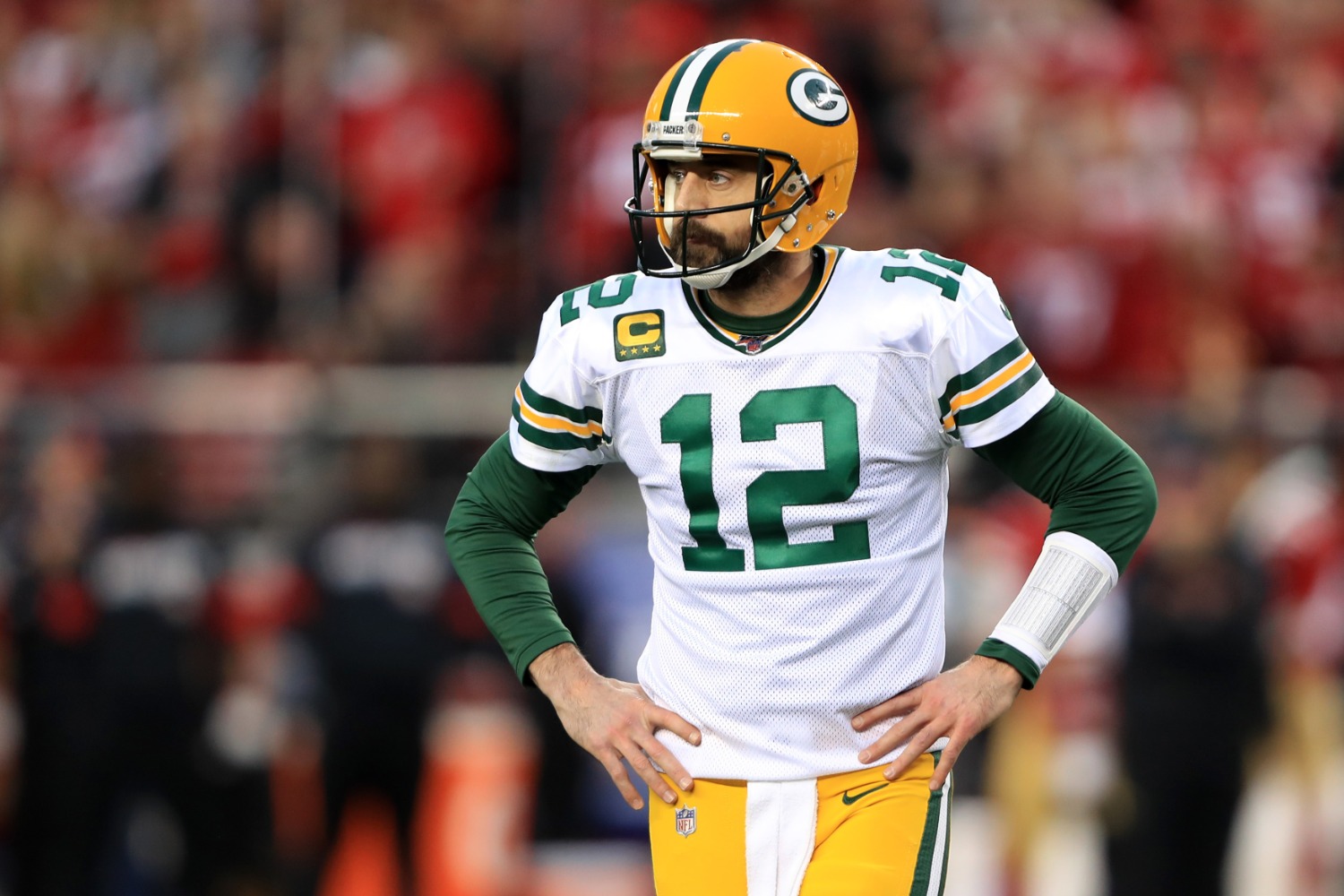 Aaron Rodgers Just Got Exposed For His Most Unforgivable Career Failure
Aaron Rodgers has certainly accomplished a lot in his decorated NFL career. But the Packers star just got exposed for an unforgivable flaw.
Aaron Rodgers will certainly get a bust in Canton one day. In all likelihood, he should retire as one of the most statistically impressive quarterbacks in NFL history. However, while the Green Bay Packers star possesses immense physical talent and terrific regular-season production, he just exposed for his most unforgivable career failure.
And given the team's controversial decision to draft Jordan Love, it brings up the question: Can Aaron Rodgers fix that flaw on his resume before it's too late?
Aaron Rodgers has been a star in Green Bay
Faced with the unenviable task of replacing Brett Favre, Aaron Rodgers already faced an uphill battle after dropping all the way to the 24th pick of the 2005 NFL draft. Three years of sitting on the bench gave him plenty of motivation to prove the rest of the league wrong for passing him over.
Once he took over as QB1, he flourished. In fact, Rodgers took off immediately as one of the NFL's top quarterbacks. He earned his first of eight Pro Bowl selections in just his second season as a starter. And in just his third year under center, he led the Packers to their first Super Bowl championship since Favre accomplished the feat in 1996.
Since earning a Super Bowl ring in 2010, the 6-foot-2, 225-pound gunslinger has carved out a reputation as arguably the most gifted passer in the NFL. Capable of ripping a 50-yard touchdown bomb from anywhere on the field, Rodgers has given Packers fans plenty to cheer about over the last decade.
However, for all of his individual accomplishments—including two NFL MVP trophies, two first-team All-Pro selections, and a spot on the NFL 2010s All-Decade Team—Aaron Rodgers still has an unforgivable flaw on his Hall of Fame resume.
Rodgers just got exposed for an unforgivable career failure
Nobody doubts No. 12 from a pure arm talent perspective. In fact, not even Tom Brady would argue that Rodgers possesses more physical ability. Yet, the Hail Mary aficionado still has a fatal flaw on his resume that cannot be forgiven. At least, not unless he does something about it, and quickly.
On ESPN's Get Up!, former NFL players Rob Ninkovich and Marcus Spears weighed in on whether Rodgers has underachieved in his career. After all, a quarterback with his rare skill set and ability should have more than one Super Bowl championship, right? Both Ninkovich and Spears exposed that fatal flaw from Rodgers' tenure in Green Bay.
"If he is, according to Pro Football Focus, the No. 1 quarterback in the postseason, you would think that they'd have more than one Super Bowl appearance," Ninkovich said.
While the former Patriots defender seemed to place more blame on the Packers, Spears pointed out that a number of other quarterbacks have made multiple Super Bowl appearances while Rodgers has led Green Bay to just one since joining the organization 15 years ago.
"Didn't we say that Aaron Rodgers would win multiple Super Bowls in Green Bay?" Spears asked. "When you're telling me Aaron Rodgers has been there this long and he's been to one and that's not underachieving, Russell Wilson's been to two, even though he lost one."
Will the Packers QB win a second Super Bowl title in Green Bay?
Ultimately, Aaron Rodgers will have no trouble getting elected to the Pro Football Hall of Fame one day. After all, he did bring the Lombardi Trophy back to its rightful place once. His raw stats certainly make him a shoo-in, first-ballot candidate.
Yet, his otherwise stellar resume still has that major flaw of just one Super Bowl title. At this point, Rodgers' failure to lead Green Bay to even just a second Super Bowl appearance seems unforgivable given his prodigious talent.
When you consider that he has made the same number of Super Bowl appearances as Joe Flacco and Matt Ryan, it makes Rodgers' resume look less than impressive. Whether it's fair or not, quarterbacks get judged on wins. Ben Roethlisberger has two titles to his name. Eli Manning captured two and made millions before retiring. Peyton Manning collected two Super Bowl rings in four trips. And of course, Brady has made nine Super Bowl appearances and emerged victorious six times.
For Rodgers, time is running out for him to lead the Packers to another title. Green Bay drafted his successor months ago, and the team didn't add any appreciable upgrades on offense. That puts even more pressure on the eight-time Pro Bowler to step up in 2020.
If not, he could be out of Green Bay within a year or two. And at that point, it will be quite clear that Aaron Rodgers underachieved massively in his decade-plus tenure as the Packers' starting quarterback.