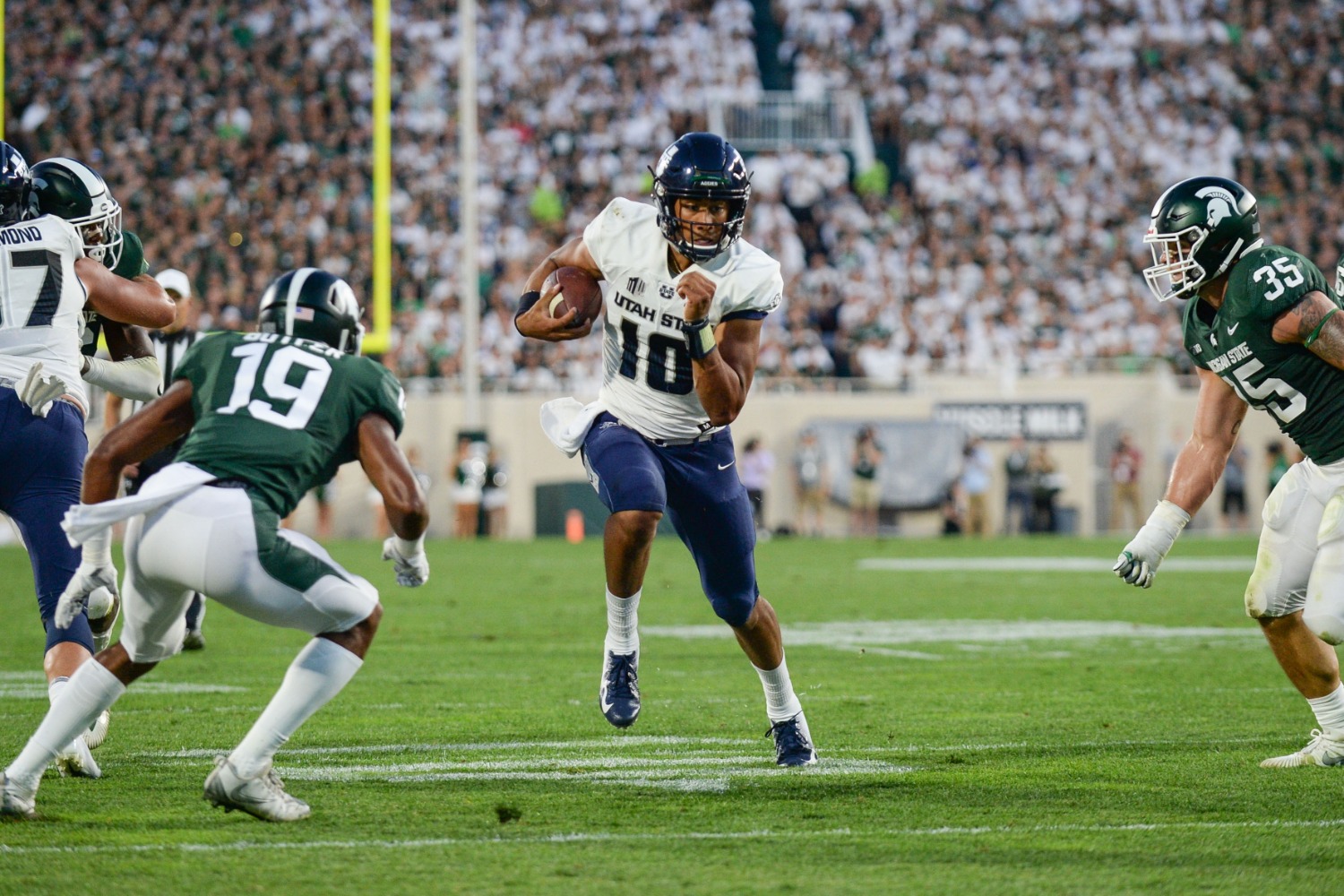 Brett Favre's Strange Plan for Jordan Love Will Set Packers Rookie Up For Career Failure
Jordan Love will never succeed for the Packers if the team listens to Brett Favre's plan to utilize the rookie in a Taysom Hill role.
Jordan Love hasn't even stepped foot on an NFL field yet. But apparently Brett Favre already has a plan for how the Green Bay Packers should utilize their top draft pick. Of course, any time Love touches the ball means one less opportunity for Aaron Rodgers to make a big play.
And if the Packers intend on improving on offense, they'll steer clear of the role Favre envisions for Love.
The Packers shocked the NFL world by drafting Jordan Love
Leave it to the typically boring Packers to make the most shocking selection in the first round of the 2020 NFL draft. But by trading up to take Jordan Love, Green Bay left fans, viewers, analysts, and even players and coaches speechless. After all, why invest another premium draft pick on a player who won't help Aaron Rodgers?
The move may have made sense if Love had been a can't-miss prospect. Remember, this is an organization that never expected Rodgers to fall to pick 24 way back in 2005. Apparently the Packers' front office thought that highly of Love as a prospect to invest a first-round pick on him despite that the fact that he has zero chance at displacing Rodgers anytime soon.
Speaking of Rodgers, though he did express some surprise at the pick, he has said all the right things to this point. Of course, he likely knows his contract and Love's rawness will ensure that he stays atop his Packers throne for at least another year or two.
However, that doesn't necessarily mean Love won't see the field at all in 2020. In fact, Brett Favre recently suggested a very specific role for Rodgers' understudy.
Brett Favre suggests Love should play the Taysom Hill role in Green Bay
Apparently Favre must really like the New Orleans Saints offense. The NFL legend recently spoke to TMZ Sports about how the Packers should use Jordan Love. And in doing so, he brought up a very specific role based on Drew Brees' backup in New Orleans.
"I think there's ways to incorporate it much like Taysom Hill with the Saints," Favre said. "Use him as a halfback, a halfback pass, but occasionally let him run it just to show that you'll do that. Something like that."

Taysom Hill, of course, has taken very few snaps as a quarterback despite being listed as one on the Saints' roster. He has, however, proven his worth as a multi-faceted gadget player in Sean Payton's offense. Hill has lined up at running back, tight end, wide receiver, and also played significant special-teams snaps.
However, keep in mind that the Saints didn't invest a first-round pick on Brees' versatile backup. Hill entered the league as an undrafted free agent. He never performed at a high-level as a passer in college. Instead, Hill has always relied on his elite athleticism to make plays with the ball in his hands.
Love, on the other hand, has a much different skill set that makes Brett Favre's suggestion seem completely foolish.
Green Bay would be foolish to follow Favre's plan
Aaron Rodgers might be on the decline, but the Packers would be downright foolish to consider taking away snaps from him in order to get the ball in Jordan Love's hands. Rodgers probably has played his best football already and may not stick around much longer in Green Bay.
Still, Favre's plan to use Love like Hill makes zero sense from a practical standpoint. While the Saints' secret weapon tips the scales at 6-foot-2, 230 pounds with 4.44 speed, Love checks in at nearly 6-foot-4, 224 pounds with 4.74 wheels. That represents a massive difference in body type and athleticism.
While Love has a long way to go in ironing out his mechanical and decision-making issues, let's not pretend that he's an elite, Cam Newton-like athlete. His tall, slender frame and marginal speed make him a poor fit for Hill's role.
At this point, it makes little sense for Matt LaFleur to start tinkering around with multiple-QB packages, or specific plays for Love as a runner. Green Bay already boasts a terrific two-headed running back tandem in Aaron Jones (1,084 rushing yards, 16 TD) and Jamaal Williams (713 yards from scrimmage, 6 TD).
Plus, the Packers drafted A.J. Dillon in the second round to add to the mix. Does it make sense to now expose your possible future franchise quarterback to unnecessary hits as a ballcarrier? And how will that help Jordan Love develop as a quarterback?
At the end of the day, Brett Favre may be a Packers legend, but his suggestion on how to utilize Love just doesn't add up.