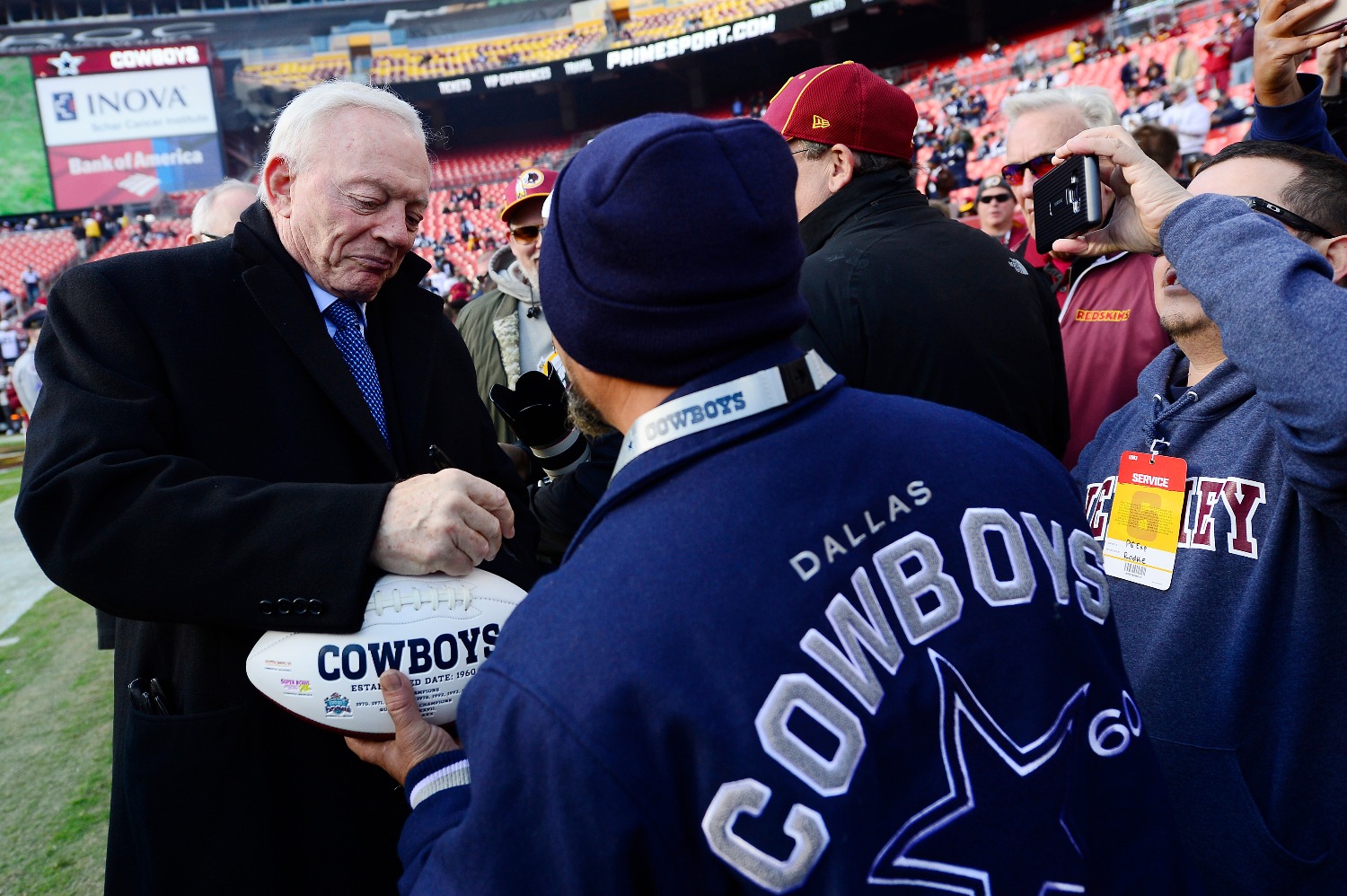 Jerry Jones Just Dealt a Devastating Blow to Dallas Cowboys Fans
Dallas Cowboys fans just suffered a devastating blow with Jerry Jones' team announcing that there will be no season tickets offered in 2020.
Fans of America's Team just got dealt a devastating blow courtesy of Jerry Jones. The NFL's most recognizable owner typically goes to great lengths to please his loyal fan base. After all, the man in charge of the Dallas Cowboys has never been shy about making big moves to put his team in position to win a Super Bowl title.
But on Thursday, Cowboys fans received sobering news about the team's season ticket policy that will leave AT&T Stadium looking quite different this year.
Jerry Jones has had a busy offseason
You can't fault Jerry Jones for a lack of effort this offseason. The Cowboys have made several high-upside moves that make them the favorites to win the NFC East. Getting rid of the perennially disappointing Jason Garrett represented a significant step forward for Jones' franchise. Mike McCarthy gives Dallas a well-respected coach with a championship pedigree.
Jones executed his first major transaction by re-signing Amari Cooper to a five-year, $100 million deal. The four-time Pro Bowler set career-highs in receiving yards (1,189) and touchdowns (eight) in 2019.
Dallas also added two former Pro Bowlers in Gerald McCoy and Dontari Poe. The veteran defensive tackles should shore up a run defense that gave up more than 100 yards per game 11 times last season.
Plus, the Cowboys knocked their 2020 NFL draft class out of the park. Jones stole CeeDee Lamb with the 17th pick. He scored another draft-day steal by landing former Alabama corner Trevon Diggs in the second round.
Of course, Jerry Jones' busy offseason didn't include a long-term deal with Dak Prescott. Still, the Cowboys' star quarterback enters the 2020 season with plenty of motivation to perform at a high level again with a potentially record-setting payday coming his way.
Dallas fans get dealt a devastating blow about the 2020 NFL season
With a roster teeming with talent on both sides of the ball, the Cowboys certainly look like a legitimate Super Bowl contender on paper. Dallas fans have plenty of reason for optimism about the 2020 season, especially with their NFC East rivals dealing with different distractions.
However, on Thursday, Jerry Jones dealt a devastating blow to his loyal fans when the Cowboys announced that they will not offer season tickets for the 2020 season. Of course, the COVID-19 pandemic brought upon this massive departure from the norm. Cowboys fans can opt-in for the opportunity to purchase a limited number of tickets for select games this season.
However, if season ticket holders decline that option, they will retain tenure, seat location, and associated benefits for the 2021 season. This represents a big blow for Cowboys fans who planned on traveling to AT&T Stadium to watch Dallas try and capture its first Lombardi Trophy since 1996.
Will the Cowboys live up to their Super Bowl potential?
Unfortunately for Jerry Jones and fans of America's Team, AT&T Stadium won't look the same in 2020. But even if Cowboys fans have to settle for watching their favorite NFL team on TV, that doesn't mean all is lost.
Dallas absolutely has the talent to make a deep playoff run in 2020. Swapping out Garrett for a battle-tested head coach like McCarthy makes the Cowboys a better team already. He should provide stability and leadership for a franchise that employed "The Clapper" for far too long.
Despite losing Travis Frederick to retirement, Dallas should feature one of the NFL's top offenses. Prescott, Cooper, and Ezekiel Elliott should remind Cowboys fans of Troy Aikman, Michael Irvin, and Emmitt Smith. Throw in 2019 breakout star Michael Gallup (66 catches, 1,107 yards, 6 TD) and Lamb and you have the makings of a top-five offense.
On the other side of the ball, Dallas did lose top cornerback Byron Jones. However, the defensive line can make up for that with a potentially dominant unit bolstered by Poe and McCoy. Don't forget about Aldon Smith, who at one time looked like a future Hall of Famer before off-field issues derailed his promising career.
Ultimately, season-ticket holders suffered a devastating blow on Thursday. But Jerry Jones has done more than enough this offseason to put his team in position to make a Super Bowl run. And if Prescott and the Cowboys hoist the Lombardi Trophy in February, then it will all be worth it.