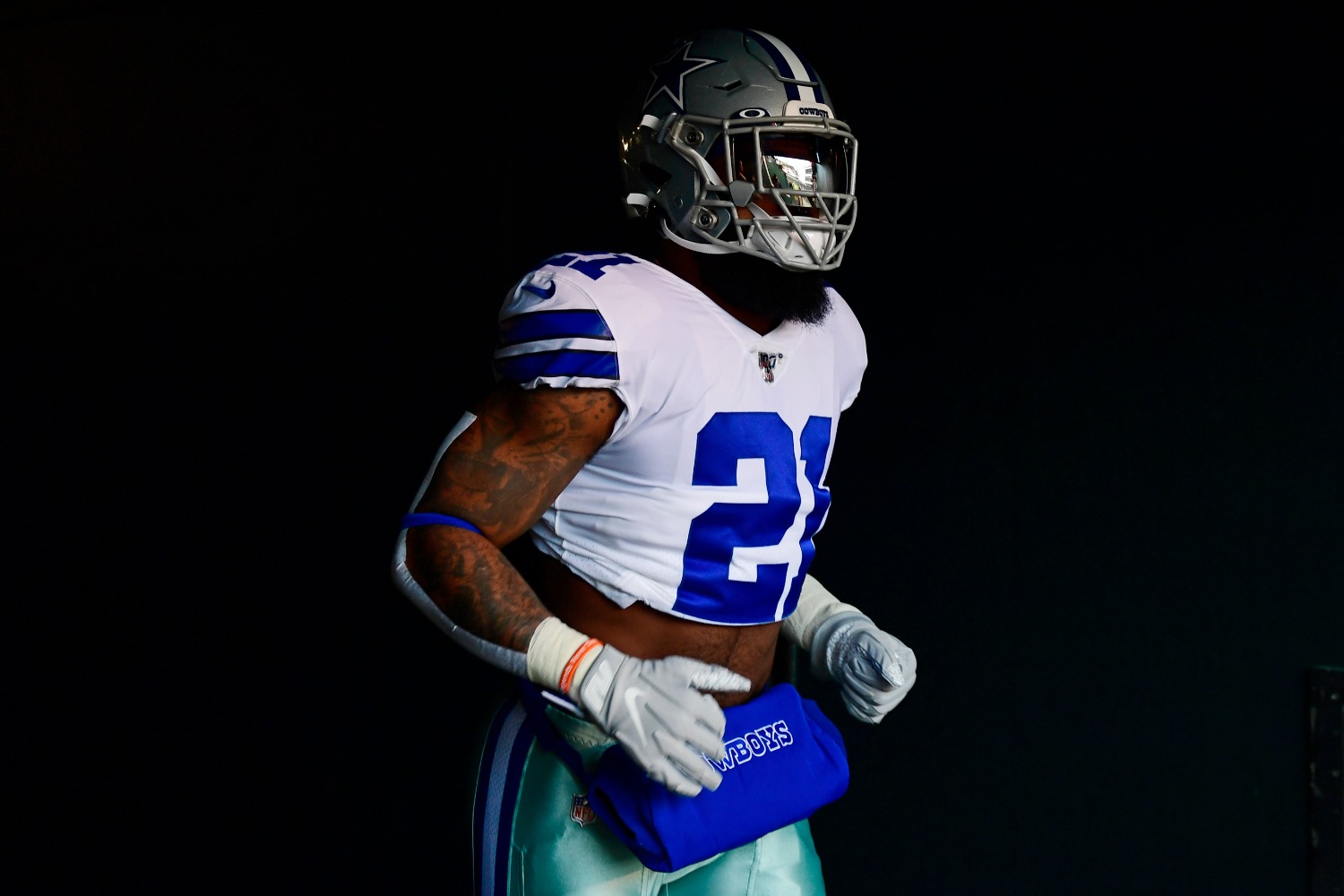 Ezekiel Elliott Threatens to Sue Sports Illustrated in Latest Dramatic Offseason Incident
Ezekiel Elliott threatened to sue Sports Illustrated, but the Cowboys running back really brought the problem upon himself.
Let's just say Ezekiel Elliott probably can't wait for football to start again. The star Dallas Cowboys running back has had a strange offseason. First, he caught flak for partying with Dak Prescott. Then he tested positive for COVID-19. Meanwhile, the Cowboys still haven't locked up his partner in crime to a long-term deal.
To add to the drama, Elliott recently threatened to sue Sports Illustrated for a headline he deemed defamatory. Let's take a closer look at Ezekiel Elliott's tumultuous offseason and latest legal drama.
Ezekiel Elliott has had a tumultuous offseason
Is it ever a quiet offseason in Dallas? This year, the drama has been through the roof. While most of the attention has fallen on Dak Prescott's contract negotiations, Ezekiel Elliott has found himself in the headlines too.
First, the star Cowboys running back and his quarterback caught major flak for partying at Prescott's house. With the COVID-19 pandemic teaching us the meaning of social distancing, Elliott and Prescott clearly violated the state of Texas' "safer-at-home-orders" as well as CDC guidelines.
To make matters worse, just two weeks ago, Elliott tested positive for COVID-19. While he didn't experience debilitating symptoms, it certainly brought up the partying fiasco again.
Finally, a woman who cleaned Elliott's pool at his Texas home filed a lawsuit claiming that his three dogs violently attacked her. Court documents revealed that the woman seeks damages between $200,000 to $1 million. In all likelihood, the case probably won't get too far off the ground.
But in a strange twist of fate, Ezekiel Elliott recently threatened to file a lawsuit of his own in a totally unrelated matter.
The Cowboys running back recently threatened to sue Sports Illustrated
Your reputation means everything. So when Sports Illustrated writer Jimmy Traina published a post entitled "Ezekiel Elliott Forgets to Log Off, Admits to Being 'Faded' on Twitch: Traina Thoughts", that rightfully upset the Cowboys running back. Elliott had been live-streaming on Twitch when he said, "Bro, I'm low-key faded, bro," before logging off.
Traina interpreted that phrase entirely wrong, at least according to Elliott. While the Cowboys RB later said "faded" refers to having a few drinks, Traina suggested he had been high on marijuana. The mistake won't get swept under the rug. In fact, according to TMZ Sports, the three-time Pro Bowler has no intention of letting this go.
"We are extremely disappointed with the irresponsible journalism and willingness of Sports Illustrated (and others) to defame Mr. Elliott in an attempt to get readers to click on their websites," said Frank Salzano, Elliott's lawyer. "Mr. Elliott will not tolerate slanderous conduct and intends to take the appropriate legal action to address it."
Can Elliott put his offseason drama behind him once football starts?
On paper, the Cowboys absolutely have the firepower to make a deep postseason run. Some might even say they should be the favorite to win the NFC. But in order for that to happen, Jerry Jones needs his $90 million running back to focus on football.
In terms of his on-field production, Ezekiel Elliott has never had any issues of living up to expectations. However, the former Ohio State star has been at the forefront of several controversial incidents dating back to his college days. Not everything falls on his shoulders, but the fact that he continues to be involved in legal matters provides an unnecessary distraction in Dallas.
Dallas boasts arguably the most complete offense in the NFL. And with additions like Aldon Smith and Gerald McCoy on defense, the Cowboys have few holes on their roster. Let's just see if Ezekiel Elliott can put his dramatic offseason behind him and step up as the leader the Cowboys pay him to be.