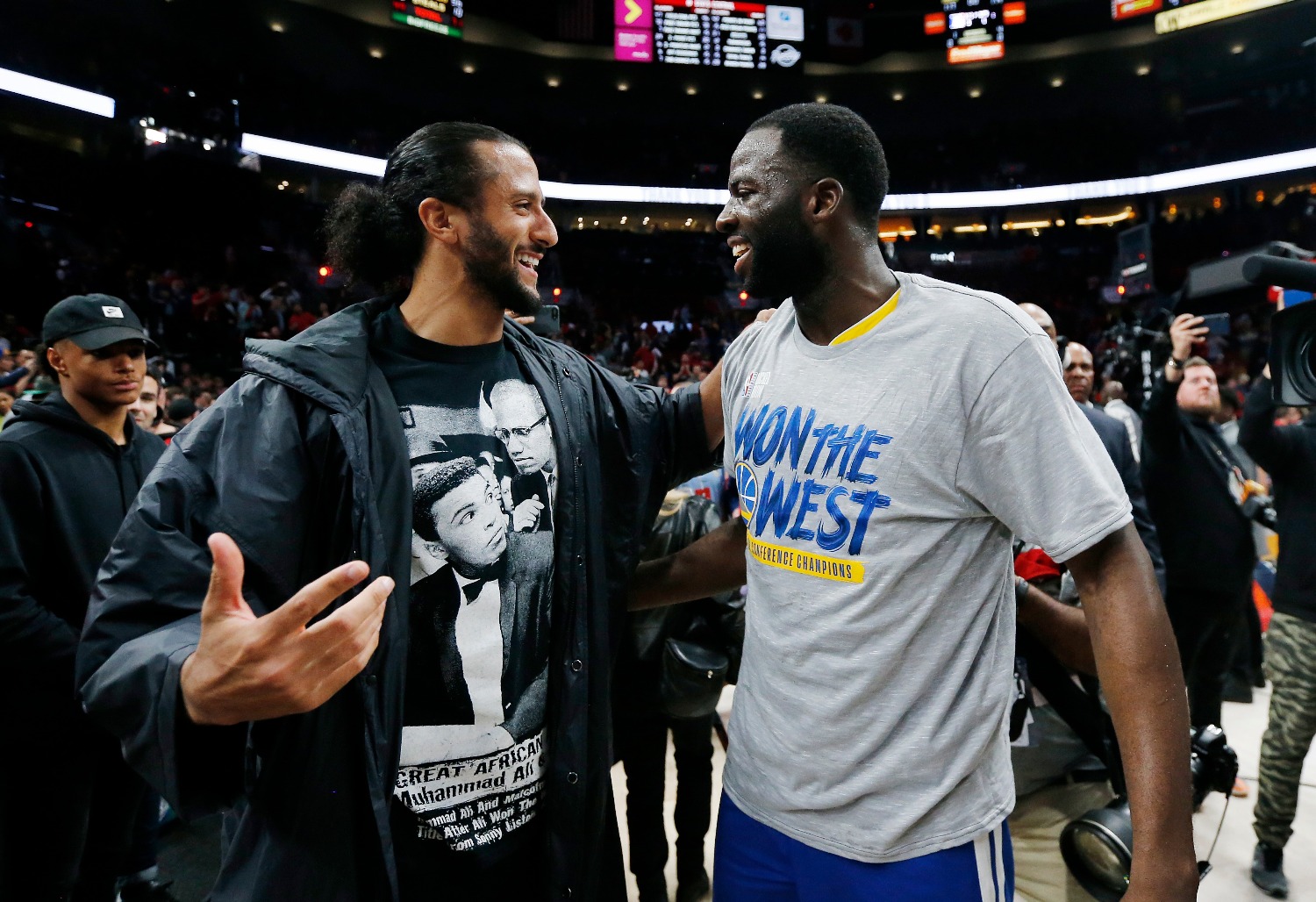 Colin Kaepernick Just Became an Ironic Part of NBA History
The NBA boycott ironically occurred on the anniversary of Colin Kaepernick's first protest. In doing so, NBA players validated his mission.
Wednesday marked the four-year anniversary of Colin Kaepernick's first protest against police brutality. Ironically, another historical action took place in the sports world that once again involved that same issue. In light of the Jacob Blake shooting, NBA players elected not to play their scheduled slate of games Wednesday night. Now, Kaepernick and the NBA boycott will be linked together forever in history as athletes around the world continue to speak up about police brutality, racial inequality, and social injustice.
Colin Kaepernick's first protest
While most people associate Colin Kaepernick with taking a knee, his first form of protesting police brutality did not occur in such fashion. In fact, the former San Francisco 49ers quarterback's first noticeable protest involved staying seated during the national anthem during an August 26, 2016 preseason game.
Kaepernick explained the basis of his decision by stating he would not stand up to show pride in a flag for a country that "oppresses Black people and people of color."
That first form of peaceful protest set the stage for Kaepernick to take a knee during the national anthem. He first took a knee on Sept. 1, 2016, when the 49ers took on the then-San Diego Chargers in their final preseason game.
Taking a knee in order to protest police brutality and shed light on issues of race ultimately cost Kaepernick his NFL career. However, athletes around the world have continued to support his mission through various initiatives and peaceful protests of their own.
Kaepernick becomes ironic part of history with NBA boycott
Following the Jacob Blake shooting, many NBA players expressed strong emotions about police brutality. Given their platform as professional athletes, NBA stars like LeBron James and Donovan Mitchell have the ability to draw further attention to key issues that persist in our country.
Ultimately, NBA players sent a powerful message on Wednesday with a historic decision. Even with three playoff games scheduled, that did not take precedence over taking a stand against police brutality. The NBA boycott resulted in all three games getting postponed. The league also postponed Thursday's slate of playoff matchups.
Ironically, the NBA boycott occurred on the same day that Colin Kaepernick protested police brutality four years ago. Any discussion about his first form of protest will naturally include the NBA's historic decision that fell on the anniversary of him sitting during the national anthem. While the specific circumstances may be different, the NBA boycott only adds another layer to the police brutality narrative that Kaepernick brought to everyone's attention in 2016.
Athletes refuse to stay silent on critical matters. In this case, NBA players showed that they will not just "shut up and dribble." Rather, they sent a message that change must occur and that police brutality of any form—especially against the Black community—can not be tolerated.
Athletes continue to speak out against police brutality
While the NBA boycott has generated plenty of discussion about police brutality, racial inequality, and social injustice, other athletes have also expressed their opinions about these topics following the Jacob Blake shooting.
Aaron Rodgers sent a powerful message after the Green Bay Packers' leadership council met on Monday to discuss the situation going on so close to home.
"There's a systemic problem, and until the problem is fixed, this is going to be an all-too-common sighting in this country," Rodgers said. "There's antiquated laws that are prejudicial against people of color in this state. I think the governor and the folks at the Capitol need to take a hard look at some of those systems that are in place."
Cam Newton offered his view of the ongoing issues during a press conference on Wednesday.
"What's going on in this country of ours at times is extremely disgusting," Newton said. "And until we find a fix, then more than ever we have to unify as one as much as possible. From the Black Lives Matter campaign to the social injustice, bringing awareness with that, to just everybody becoming more aware of certain things, and not necessarily turning their ear, turning their face with things that are extremely blatant."
Ultimately, Colin Kaepernick started a dialogue by remaining seated. He sparked even more discussion by taking a knee. Four years later, he just became part of the NBA boycott story. But until changes occur, the conversation that Kaepernick started should never cease.
Like Sportscasting on Facebook. Follow us on Twitter @sportscasting19.