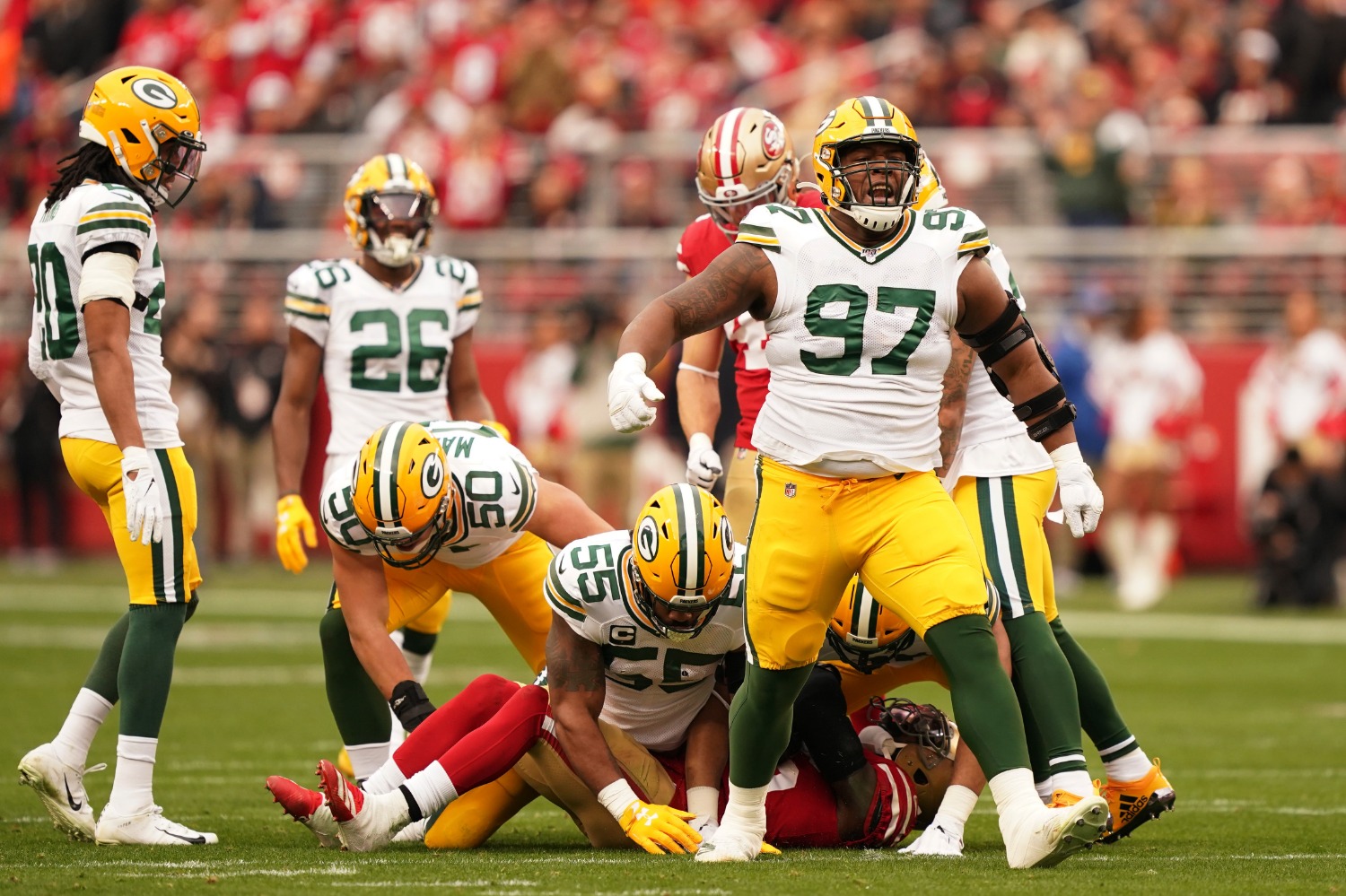 The Green Bay Packers Just Sent a Terrifying Message by Spending $70 Million
By committing $70 million to Kenny Clark, the Packers sent a terrifying message that their defense is ready to dominate in 2020 and beyond.
All offseason, the discussion in Green Bay has surrounded the future of Aaron Rodgers. Of course, that became a major story following the team's surprising selection of Jordan Love in the 2020 NFL draft. However, given their deficiencies at wide receiver and tight end, the Packers do not strike fear into opponents on offense as they did in Rodgers' heyday.
But by committing $70 million to Kenny Clark, the Packers just sent a terrifying message to the rest of the NFL that Rodgers won't be the key to a Super Bowl run. Instead, it's all about their star-studded defense.
Kenny Clark's path to the Packers
A highly coveted high-school recruit, Kenny Clark stayed right at home to play at UCLA. He showcased dynamic ability as a true freshman before elevating his game as a sophomore. In his final season on campus, the athletic nose tackle racked up career-highs in tackles (73), tackles for loss (10.5), and sacks (5.5).
Heading into the 2016 NFL draft, the 6-foot-3, 310-pounder ranked as one of the top defensive lineman available. Still, he slipped all the way to the 27th pick. Ultimately, the Packers scored a major steal.
Though Clark played just 32% of the Packers' defensive snaps as a rookie, he has quickly developed into one of the best in the business. Since taking over as a full-time starter in 2017, Clark has racked up 16.5 sacks, 26 quarterback hits, and 24 tackles for loss. He earned his first Pro Bowl berth last season after playing in all 16 games for the first time.
Green Bay signs Clark to $70 million extension
Heading into the final year of his rookie deal, Kenny Clark scored a substantial raise on Saturday. The Packers signed the talented nose tackle to a four-year, $70 million deal. Adam Schefter reported via Twitter that the deal includes a $25 million signing bonus. Clark will make $37 million over the next two seasons—a significant bump for a player who has earned only $9.3 million in his four-year NFL career.
Now under contract for the next five years, Clark carries a ton of pressure to live up to his hefty deal. As the highest-paid nose tackle in history, he needs to provide more than just run-stuffing skills to make the investment worthwhile.
But given his rapid rise and the talent around him, Clark should have no problem providing the Packers with a great return on their $70 million investment. Breaking the bank to that degree represents another bold move for a franchise that has transformed the way it does business since Ted Thompson left.
For years, the Packers had a reputation as a frugal organization. Green Bay rarely made big splashes in free agency and often let players walk for bigger deals. However, by spending $70 million on Kenny Clark, the Packers just sent a terrifying message to the rest of the NFL about how they plan to win.
Packers send a terrifying message that they will win on defense
Aaron Rodgers deserves credit for everything he has done in Green Bay. He overcame the awkward situation of sitting behind Brett Favre. He won a Super Bowl in his third year as a starter. Plus, Rodgers has continually led the Packers to the playoffs despite underwhelming supporting casts.
However, the 36-year-old has exhibited signs of decline over the last few years. Green Bay already shifted toward a more run-based offense in Matt LaFleur's first year at the helm. The addition of Love certainly added further intrigue into how the team views Rodgers.
By committing $70 million to Kenny Clark, the Packers sent a terrifying message that their defense is ready to take over.
Last season, Green Bay added two dynamic pass-rushers in Za'Darius Smith and Preston Smith. The Smith tandem combined for 25.5 sacks, 60 quarterback hits, and 28 tackles for loss. Clark's ability to command double-team blocks certainly contributed to the tandem's success.
The Packers also boast a potentially elite secondary. Jaire Alexander has yet to earn a Pro Bowl or All-Pro selection, but the 2018 first-round pick should change that this season. Former second-round pick Kevin King finally stayed healthy and led the team with five interceptions. His 15 passes defended ranked only behind Alexander.
Plus, 2019 first-round pick Darnell Savage should continue to make strides in his second season. Veterans Christian Kirksey and Adrian Amos also provide leadership and a wealth of experience to balance out a star-studded defense.
While the Packers may be Aaron Rodgers' team, they won't win with their offense. Instead, their defense will carry them in 2020 and beyond.