Dak Prescott Fires a Shot at Former Dallas Cowboys Head Coach Jason Garrett
Dak Prescott spoke to the media this week at Dallas Cowboys training camp in Frisco, Texas, and seemed to take a slight dig at former head coach Jason Garrett when praising the new man in charge, Mike McCarthy.
Jason Garrett was let go by the Dallas Cowboys after more than two decades with the franchise
Jason Garrett began his tenure with the Dallas Cowboys in 1992, first as a member of the practice squad, and then won two Super Bowl rings as a backup to Hall of Fame quarterback Troy Aikman. Garrett spent seven years in Big D as a player and returned to the franchise as the offensive coordinator under Wade Phillips in 2007.
He was named the assistant head coach the following season and was then named interim head coach when Phillips was fired midway through the 2010 campaign following a 1-7 start. Garrett led the Cowboys to a 5-3 finish over the final eight games and was named the full-time head coach ahead of the 2011 season.
In nine and a half seasons as the head coach of the Cowboys, Jason Garrett posted an 85-67 regular-season record. He led the team to three NFC East titles but those were the only seasons in which Dallas made the postseason with Garrett at the helm. The team went 2-3 in those three playoff appearances and never made it past the divisional round.
While many thought that Jerry Jones should have let Jason Garrett go on numerous occasions over the years, the team stuck with him. But following a disappointing 8-8 season in 2019, the Cowboys finally decided to part ways with him, ending a 21-year relationship, and replaced him with former Green Bay Packers head coach Mike McCarthy. Less than two weeks later, Garrett took the offensive coordinator position with the New York Giants.
Dak Prescott played four seasons under Jason Garrett
Taken in the fourth round of the 2016 NFL draft after setting numerous records at Mississippi State, Dak Prescott was named the Dallas Cowboys' starter as a rookie after Tony Romo went down in training camp with an injury. Prescott played extremely well, helping the Cowboys to a 13-3 record with 3,667 passing yards and 23 touchdowns against just four interceptions, also adding six scores on the ground. He edged out teammate Ezekiel Elliott for NFL Offensive Rookie of the Year and made Tony Romo's decision to head to the broadcast booth much easier.
Over the next three seasons, Dak Prescott continued to put up big numbers, although they didn't always translate to victories. The Cowboys have gone 27-21 in the last three years, with just one playoff appearance, and the biggest topic of discussion surrounding the team in the last year has been Prescott's contract, or lack thereof as the case may be. Unable to come to terms on a long-term extension, Prescott will play the upcoming season on the franchise tag, which will pay him $31.4 million.
Did Dak Prescott take a dig at his former head coach?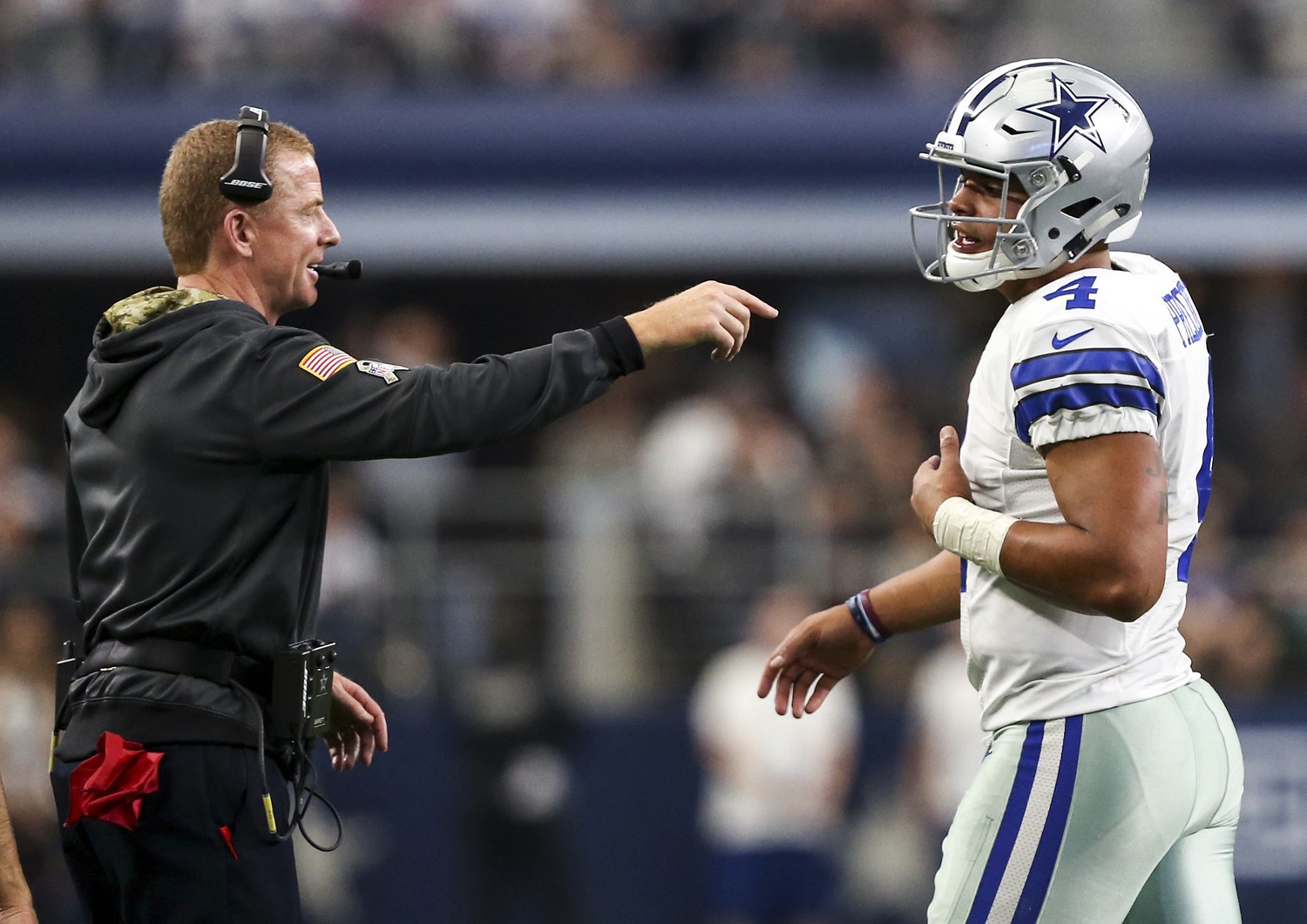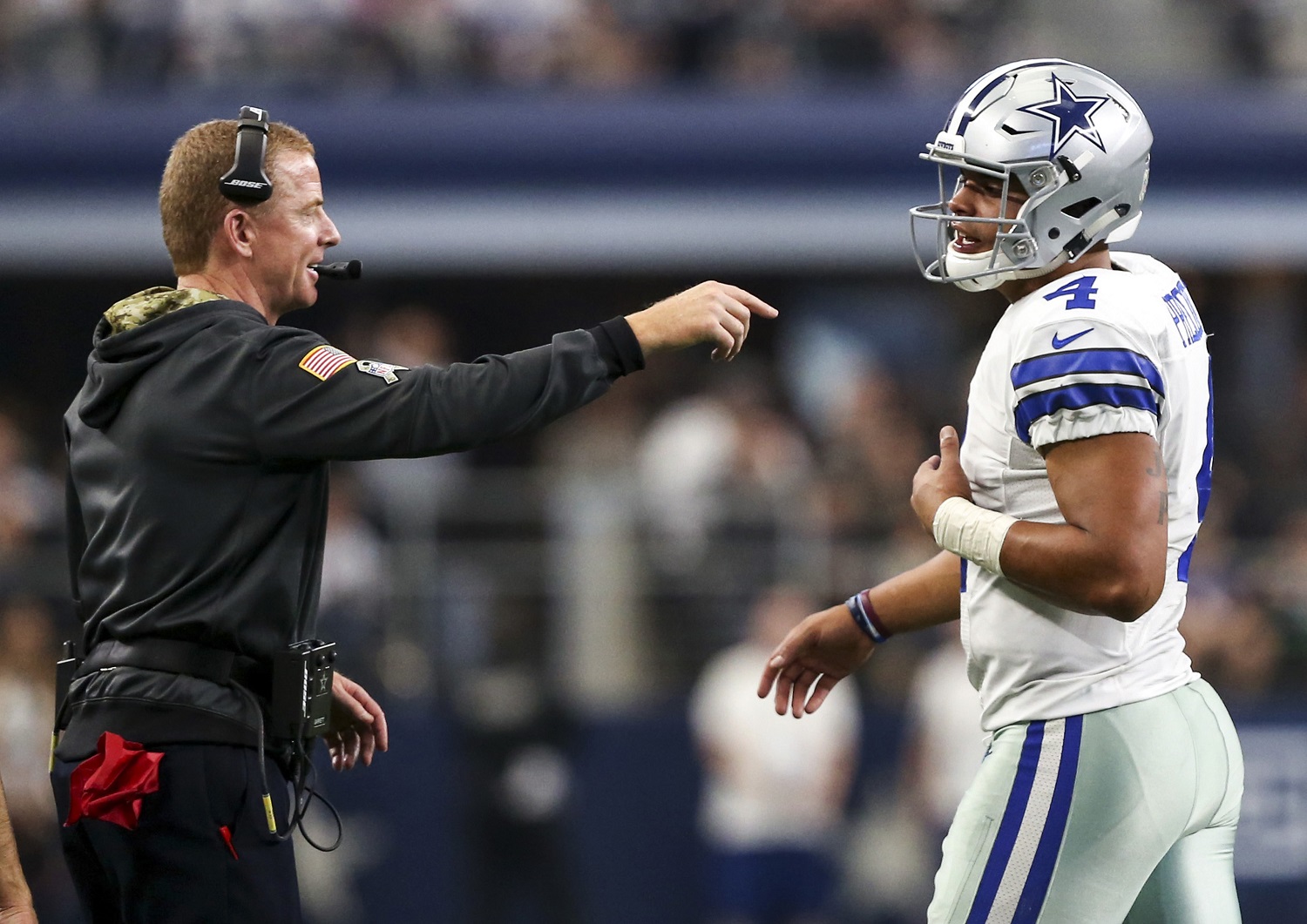 While some reports have said that Dak Prescott was unhappy when the Dallas Cowboys let Jason Garrett go, he seems to have gotten over it if that were the case. Speaking to the media this week, Prescott praised McCarthy and his staff and even seemed to take a little dig at his former head coach in the process (h/t The Athletic).
"I think from the offensive line to the receivers out wide, everybody knows why and everybody knows their purpose and everybody knows where they need to be and the whole point of that within the play. I think that just gives us all knowledge. We're somewhat veteran guys, young guys who have played a lot of football early in their careers, but I wouldn't say that we've been as smart as we've needed to be within the game of football. I think that's what these coaches have come and added and just got us all speaking the same language. I think that's going to be huge."

Dak Prescott
Interesting comments, for sure. While Prescott certainly put up big numbers in four years under Jason Garrett, he seems to be saying that he's already become a smarter player with Mike McCarthy after a couple of weeks. What do you think? Did Dak take a shot at his former coach?
Dak Prescott and the Dallas Cowboys face off with Jason Garrett and the New York Giants on October 11.