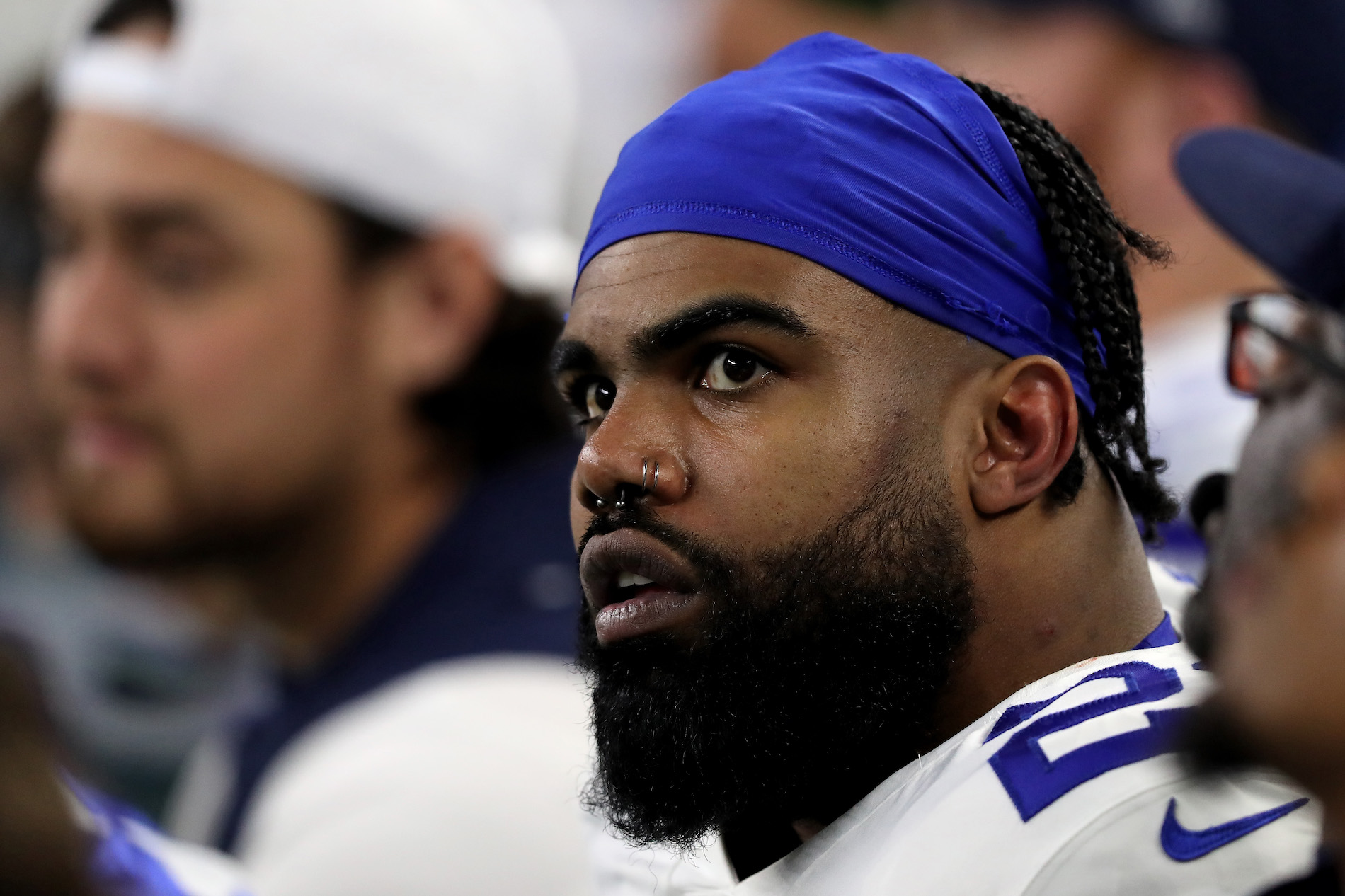 Cowboys RB Ezekiel Elliott Just Got Disrespected by Madden
Ezekiel Elliott is arguably the best running back in the NFL, but Madden didn't even rank him in the top three at his position.
It's Madden ratings season, which means it's also complain about Madden ratings season. Almost no one in the NFL is ever satisfied with their ratings unless they score the infamous 99. That's just how competitive they are. NFL fans around the country have also been dissecting every last player and complaining about who got disrespected. A popular name has been Cowboys RB Ezekiel Elliott. Despite being maybe the most dominant running back in the league, Elliott didn't even receive a top-three rating at the position.
No one has more rushing yards than Ezekiel Elliott since 2016
Since Ezekiel Elliott began his NFL career in 2016, no other running back has more rushing yards than the Cowboys bruiser. Elliott has 5,405 rushing yards in his first four seasons as a pro, and he led the NFL in rushing in both 2016 and 2018.
Over his young career, Elliott has averaged 96.5 rushing yards per game. Elliott is almost a sure thing to reach 100 total yards every time he steps on the field, which is something you can't say about many other NFL running backs.
Elliott also has a knack for finding the end zone. He has 48 total touchdowns in 56 career games played. It's impossible to talk about the top three running backs in the league without mentioning Elliott. Well, unless it's Madden.
Ezekiel Elliott just got disrespected by Madden
Elliott has been the most efficient running back in the entire NFL since he joined the league in 2016. There's an argument to be made that Elliott should be the No. 1 rated RB in Madden 21, but that's now how the ratings team saw it.
Elliott scored a 92 rating for the upcoming version of Madden, which puts him fourth behind Christian McCaffrey, Derrick Henry, and Nick Chubb. McCaffrey deserves to be the top-rated running back, sure, but Henry and Chubb ahead of Elliott? That's a stretch.
Henry had an incredible finish to the 2019 season, so there's a bit of recency bias there. He's a dominant pure runner, but Elliott has been the more consistent back for four years.
Chubb has been the lone bright spot on offense for the Cleveland Browns, but he's not as prolific a pass-catcher as Elliott has been. Elliott is simply the better all-around player than both Chubb and Henry, but his newest Madden rating doesn't reflect that.
Elliott isn't even in the top 10 in break tackle rankings
How many times have you seen Ezekiel Elliot bolt up the middle and run over a poor safety in the open field? How about when a linebacker gets into the backfield but Elliott spins out of trouble to turn a loss into a gain?
Elliott is one of the best in the NFL at making the first man miss. When he gets going downhill, there's no stopping the 230-pound beast.
Although he's a load to bring down, Madden doesn't find Elliott to be an elite tackle-breaker. His break tackle rating is just an 87 for Madden 21, which puts him outside the top 10 in the category.
Madden disrespected Elliott more than maybe any other running back across the league. Don't be surprised if the Cowboys' stud comes back in 2020 with a chip on his shoulder.
All stats courtesy of Pro Football Reference