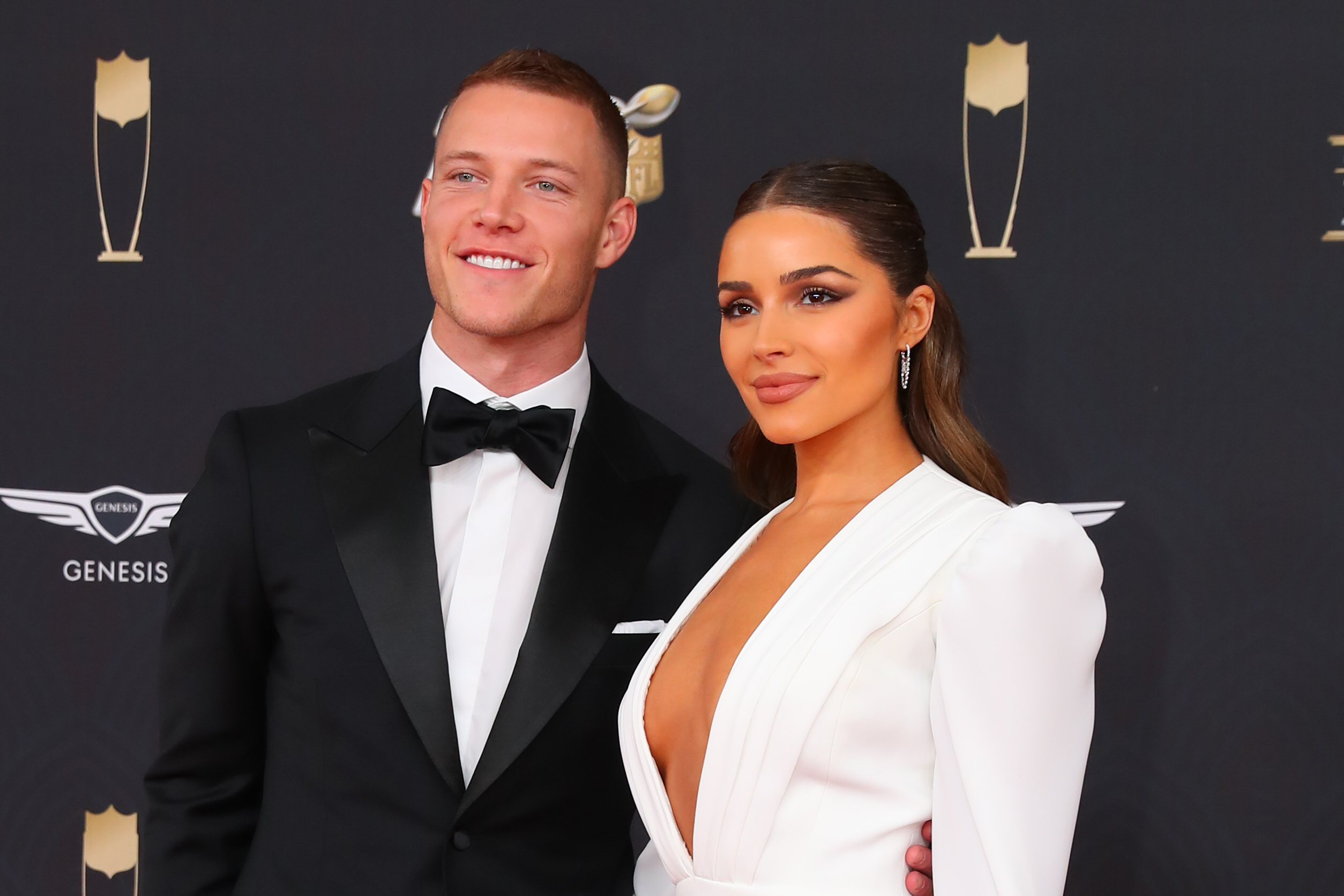 Christian McCaffrey's Girlfriend Revealed as 2020 Sports Illustrated Swimsuit Cover Girl
For Christian McCaffrey, life is good. He became the highest-paid running back in NFL history in April. Now, his girlfriend graces the cover of the Sports Illustrated Swimsuit Issue.
Christian McCaffrey is considered by many to be the best back in the NFL after the 2019 season, when he earned both Pro Bowl and All-Pro honors. In April, he was rewarded with a four-year contract extension making him the highest-paid running back in NFL history. As if things couldn't get any better for McCaffrey, now the sports world gets a glimpse into McCaffrey's personal life this coming week as his girlfriend graces the cover of the popular Sports Illustrated Swimsuit Issue. 
Christian McCaffrey's early but very impressive career
Three years ago, the Carolina Panthers selected Christian McCaffrey out of Stanford with the No. 8 overall pick in the 2017 NFL Draft. McCaffrey was a superstar at Stanford where he rushed for over 2,000 yards in 2015 and 1,600 yards in 2016.
Since joining the Panthers, McCaffrey has continued that success and proven to be a dual threat out of the backfield as a runner and receiver. After seeing limited action in his rookie season, he started all 16 games in 2018. He rushed for 1,098 yards on just 219 carries for a very impressive 5.0 yards per carry average. He scored seven touchdowns on the ground and added six more through the air.
Last season, McCaffrey established himself as one of the best backs in the NFL. He had another stellar season averaging 4.8 yards per carry, and more impressively, rushed for 1,387 yards and 15 touchdowns. He also added four touchdown receptions. 
Christian McCaffrey setting all kinds of records
Christian McCaffrey's bloodlines are well documented with his father, Ed, a 13-year NFL receiver who made one Pro Bowl and won three Super Bowl titles with the 49ers and Broncos. The younger McCaffrey has already equaled his father's Pro Bowl appearances and also added the more prestigious All-Pro honor to his resume.
While McCaffrey is a running back, he also got his father's receiving skills making him the total package. His combination rushing-receiving numbers and records are astounding. In his three seasons, McCaffrey has set numerous NFL records, including most receptions by a running back in a single game (15), most receptions in a single season (116), only running back to have two seasons with 100 or more receptions, and the list goes on. 
In April, the Panthers acknowledged all those records and how special McCaffrey is by offering him a four-year contract extension through 2025 that makes him the highest-paid NFL running back, earning $16 million per season.    
McCaffrey's girlfriend on cover of Sports Illustrated Swimsuit issue
Christian McCaffrey and former Miss Universe Olivia Culpo were first reportedly linked together in the summer of 2019. Culpo, who previously dated Detroit Lions wide receiver Danny Amendola, showed up in October 2019 sporting a No. 22 Panthers jersey.
A month later, the 23-year-old McCaffrey shared a photo of his 27-year girlfriend on the set of her Sports Illustrated Swimsuit shoot on his Instagram account. "Proud of you! @oliviaculpo," it read. 
Now that the issue is complete and scheduled to be released next week, McCaffrey shared a new photo of the pair enjoying their time paddle boarding at some tropical destination with crystal-clear blue waters. He expressed how proud he was of his girlfriend and her accomplishment. 
"When your gf is on the cover of @si_swimsuit, you do a victory lap on paddle board. A constant inspiration to everyone who knows you!" 
Christian McCaffrey has worked hard to achieve his status as one of, if not the best back in the NFL. He has been rewarded handsomely for his efforts with a big payday. His girlfriend's achievement making the cover of the prestigious Sports Illustrated Swimsuit Issue is just the cherry on top.