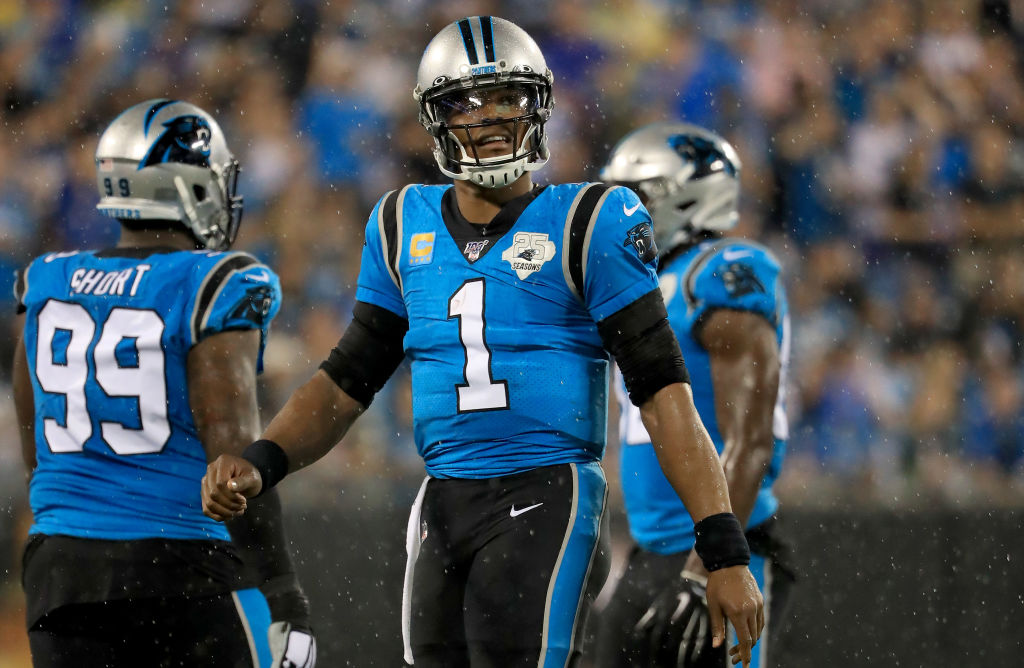 The Carolina Panthers Just Threw Serious Shade at Cam Newton on Twitter
While Cam Newton and the Carolina Panthers have parted ways, that didn't stop the club from throwing some Twitter shade at their former quarterback.
While Tom Brady leaving the Foxboro may have stolen the headlines this offseason, the New England Patriots weren't the only team to make a quarterback change this offseason. After a rollercoaster nine seasons, the Carolina Panthers and Cam Newton also parted ways. That separation, however, hasn't been completely amicable.
On Wednesday, the Carolina Panthers Twitter account fired off a seemingly harmless tweet, asking fans to pick the franchise's GOAT. Many followers, however, took the post as a shot at Cam Newton.
Cam Newton's time with the Carolina Panthers
As any sports fan can tell you, injuries can ruin even the most talented player's career in the blink of an eye. Unfortunately, it seems like that is what happened to Carolina Panthers quarterback Cam Newton, albeit in slow motion.
Coming out of college, Cam Newton looked like an NFL star; he was big, strong, and capable of making a play with his arms or his legs. The Carolina Panthers apparently agreed as they made the quarterback the first overall pick of the 2011 NFL draft. In his first season under center, Newton threw for 4,051 yards and 21 touchdowns, rushed for 706 yards and 14 additional scores, and took home Offensive Rookie of the Year honors.
Despite that hot start, Newton's NFL career never stabilized. He took a step back in 2012, but seemed to return to form in 2013; he battled through injuries in 2014, but posted MVP-caliber numbers following year and led the Panthers to a Super Bowl.
After Newton tore his rotator cuff at the end of the 2016 season, however, things seemed to start consistently trending downward. Cam played all of the 2017 campaign, but looked short of his best; he then had to have follow-up surgery, which ended his 2018 season early. Then, a mysterious lower-body issue, which turned into a Lisfranc fracture, cost him most of 2019. In March 2020, the Panthers finally released Newton; he's still yet to find a job.
The Carolina Panthers threw some Twitter shade at their former QB
Toward the end of their business relationship, Cam Newton and the Carolina Panthers organization weren't on the best terms. That tension may have come back to the forefront on Wednesday, thanks to a seemingly innocuous tweet.
In the afternoon, the Panthers' official Twitter account fired off a message asking followers to like, retweet, or comment to cast their vote for the franchise's GOAT. The nominees were Julius Peppers, Steve Smith Sr., and Luke Kuechly.
While there may have been logistical reasons at play—if you're using the 'like, retweet, comment' format, you can only have three choices—many fans noticed that Cam Netwon was conspicuously absent. The tweet's replies have since been filled with GIFs and images of the quarterback, plus countless messages calling out the Panthers organization.
Cam Newton might be out of a job, but he still deserves some respect
It's probably safe to assume that neither Cam Newton nor the Carolina Panthers are happy with how their relationship ended. That reality, however, can't change the fact that Newton was a pretty good quarterback during his time in Charlotte.
During his nine seasons in Carolina, Newton threw for 29,041 yards, 182 touchdowns, and 108 interceptions; he also rushed for 4,806 yards and found the endzone 58 times on the ground. He led the Panthers to a Super Bowl appearance and took home both the Offensive Rookie of the Year award in 2011 and league MVP honors in 2015.
No one is trying to claim that Newton was a perfect quarterback. Whether you want to highlight his injury issues, inaccurate passing, or his postgame sexism, there were plenty of blemishes on his time in Carolina. Those realities, however, shouldn't overshadow what he meant to the Panthers franchise and its fan base.
Based on the replies to the Panthers' tweet, that fan base won't forget Cam Newton anytime soon.
Stats courtesy of Pro-Football-Reference