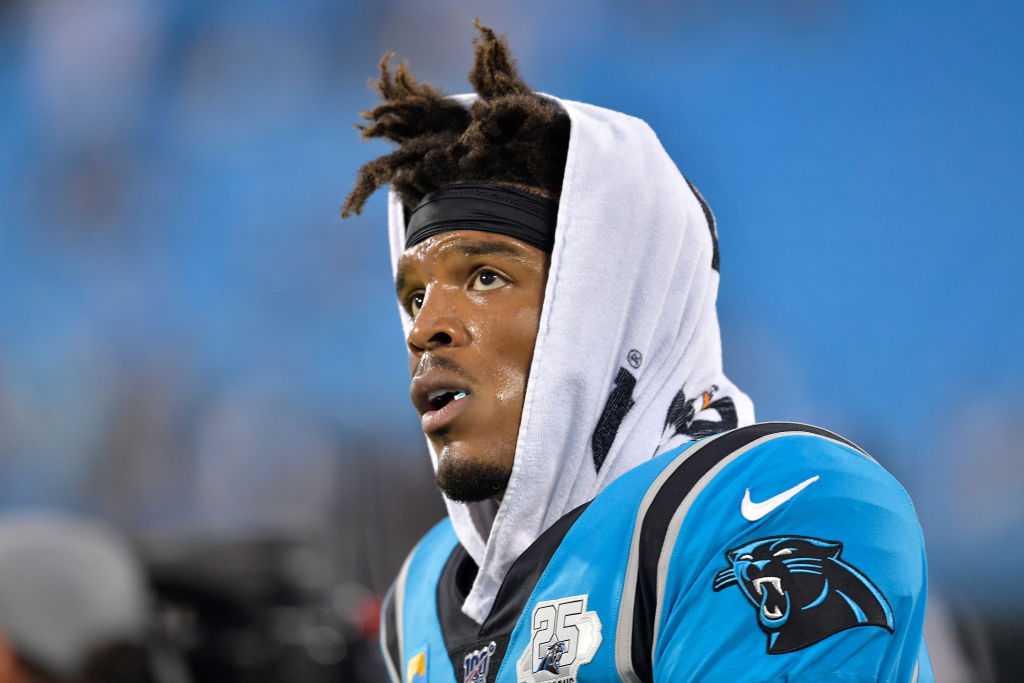 How Cam Newton Went From NFL MVP to Cut by the Panthers 4 Years Later
Cam Newton was the most unstoppable player in the NFL just four years ago, but he was just cut by the Panthers to save cap space.
It seems like just yesterday Cam Newton was the reincarnation of Superman. He was the most unstoppable force in the entire National Football League, a 6-foot-5, 245-pound bruiser of a running back who also happened to have a rocket for an arm. There was nothing Newton couldn't do. He rode that dual-threat dominance to an MVP award, a 15-1 record, and a Super Bowl appearance in 2015-16. Four years later, Newton was just kicked to the curb by the team he brought to the promised land. What went so wrong for Newton in those four years that turned him from an MVP to a disposable NFL player?
Cam Newton was supposed to be the new face of the NFL
Cam Newton's MVP season was unlike anything the NFL world had seen since Michael Vick with the Atlanta Falcons. The combination of an MLB pitcher's arm and a track and field star's speed made NFL defenses quiver in fear. Even then, Newton's game was more advanced because of his sheer power.
Newton could run through smaller defenders like Mike Alstott in his prime. He was a hybrid quarterback, running back, and fullback all in one. Newton had the talent and bright personality to take over as the face of the NFL.
In the 2015-16 season, Newton threw for 3,837 yards and 35 passing touchdowns. He also added 636 rushing yards and a team-high 10 rushing touchdowns. He led the Panthers to the highest-scoring offense in the league, and his 45 total touchdowns led the NFL as well. For reference, Lamar Jackson was responsible for 44 touchdowns last season.
What was even more impressive than the stats Newton accumulated throughout the year was his clutch play in the fourth quarter of games. Newton led four game-winning drives in 2015-16 for the Panthers.
Injuries derailed Newton's promising career
Cam Newton and the Panthers lost the Super Bowl in his MVP season to the Denver Broncos, but no one thought Newton was going anywhere. He was revolutionizing the quarterback position, and he would surely be back in the Super Bowl soon.
That turned out to be far from the truth. Newton tore his rotator cuff in December of his 2016-17 season and struggled mightily as he played through the injury. His passing efficiency dipped significantly, and he stopped running the ball at his normal rate, making him more one-dimensional.
Newton was no longer Superman. He had morphed into Clark Kent before our very eyes.
Newton returned the next season fully healthy and had a bounceback year, but the injury bug returned in 2018. Newton suffered a grade 1 knee strain in January of 2018 and later suffered another shoulder injury in October. He again played through the pain until two weeks before the end of the season.
Most recently, Newton played just two games in 2019 before a foot injury sidelined him for the entire season. Little did he know at the time, but Newton wouldn't play another snap for the Panthers.
What's next for Cam Newton?
Cam Newton's fall from a Super Bowl appearance to becoming a player the Panthers couldn't even trade is jarring. No other teams were even interested in giving up a draft pick for the 30-year-old QB. Even the Panthers chose an XFL standout over their former starter.
Newton undoubtedly still has the talent to contribute to a winning football team in 2020. The only question is whether he can play smart and stay healthy. If he can, who's to say he can't return to his 2015-16 form?
Now that teams can scoop Newton up as a free agent, don't expect the former MVP to last long on the streets. The Redskins and Patriots are two teams who have shown interest in Newton. He could possibly reignite his great success with Ron Rivera in Washington or start a new chapter in New England with Bill Belichick. Either way, Newton is a generational talent who has had some bad luck along the way. He won't be down for long.