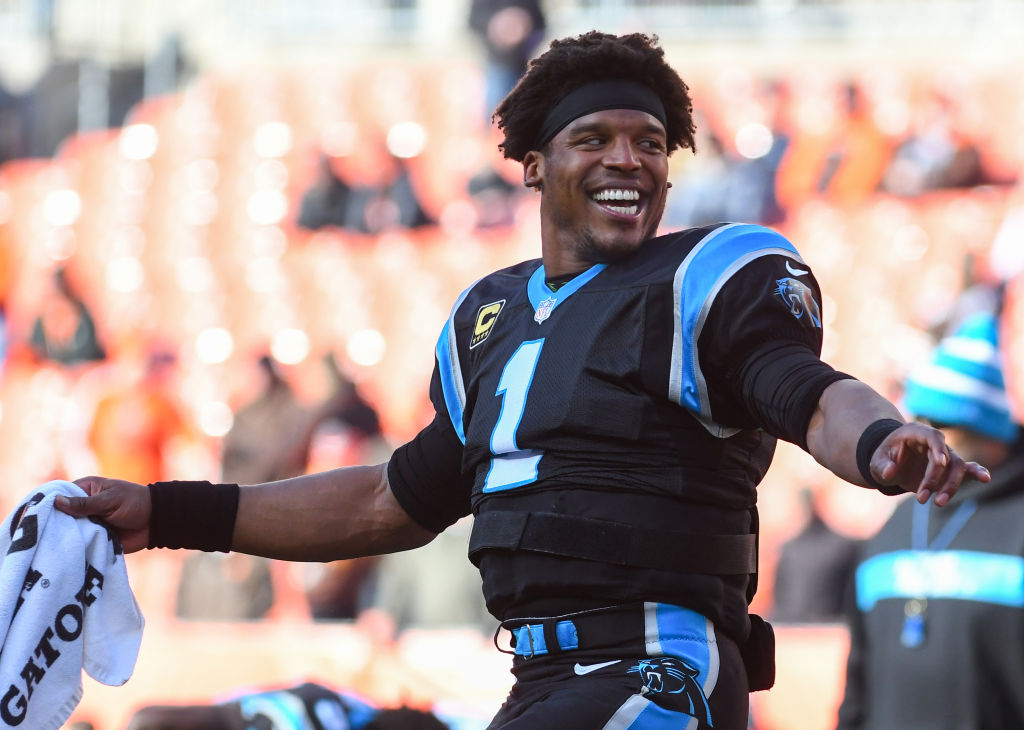 Is Cam Newton the Washington Redskins' Solution?
The Wahington Redskins need to add a veteran quarterback for 2020. Cam Newton's name has been getting mentioned a lot this week.
The Washington Redskins will have to bring in a quarterback at some point soon since they're down to one certifiably healthy body at that position. The question is whether they'll be in the market for a No. 1 guy or a No. 2. If the quarterback's name happens to be Cam Newton, does he arrive as the starter or the backup?
Yes, it's potentially another year of quarterback roulette for the Redskins, who once went more than two decades with essentially three starting quarterbacks but now go through them more quickly than Spinal Tap went through drummers.
Dwayne Haskins isn't entrenched as the starter
Dwayne Haskins finished 2019 as the starting quarterback for the Washington Redskins, partly by design and partly by default. With Alex Smith not recovered from his 2018 knee injury, Washington opened last season with Case Keenum at quarterback.
Playing for his sixth team in five seasons, Keenum wasn't nearly as bad as the Redskins were in their 1-7 start. He finished the year with a 64.8% completion rate and 91.3 passer rating, though Keenum threw for just 11 touchdowns.
With the Redskins going nowhere, Dwayne Haskins was inserted as the starter at midseason. Taken 15th overall in the 2019 draft, Haskins wasn't ready for extensive duty after a college career that consisted of one season as a starter. Granted his Ohio State stats were superb, but 14 college starts don't prepare a quarterback for the NFL.
With the Redskins under new sideline management, Haskins normally wouldn't be considered a sure thing to remain as coach Ron Rivera's starter. He's there by default for the moment.
Is Cam Newton an option for the Washington Redskins?
The Washington Redskins have no idea whether Alex Smith will ever play quarterback for them again. Case Keenum and Colt McCoy have moved on to the Cleveland Browns and New York Giants, respectively.
Drafting a quarterback in April is always an option, but that would leave the Redskins with a rookie and a second-year player at their most important position. That's why the names of veteran quarterbacks are being thrown around and why Cam Newton's name is moving toward the top of the list if the rumors are to be believed.
Newton is all but done in Carolina, where the Panthers have signed Teddy Bridgewater. The 10th-year pro's body of the work hasn't been much more than average other than the 15-1 season in 2015. But bringing Newton in as the starter would give Dwayne Haskins time to watch and learn for at least another half a season.
The Washington Redskins used to be stable at quarterback
If the Washington Redskins bring in Cam Newton or another quarterback that demotes Dwayne Haskins to understudy, he would become the team's ninth starting quarterback in just four seasons. Kirk Cousins held the job for all of 2017; Alex Smith, Josh Johnson, Colt McCoy, and Mark Sanchez held the job in 2018; and Case Keenum, Dwayne Haskins, and McCoy started games last fall.
Contrast that instability with the period of 1964-84. Beginning with Sonny Jurgensen and continuing with Billy Kilmer and Joe Theismann, the Redskins went through 21 seasons with three starters with the exception of six appearances by four others.