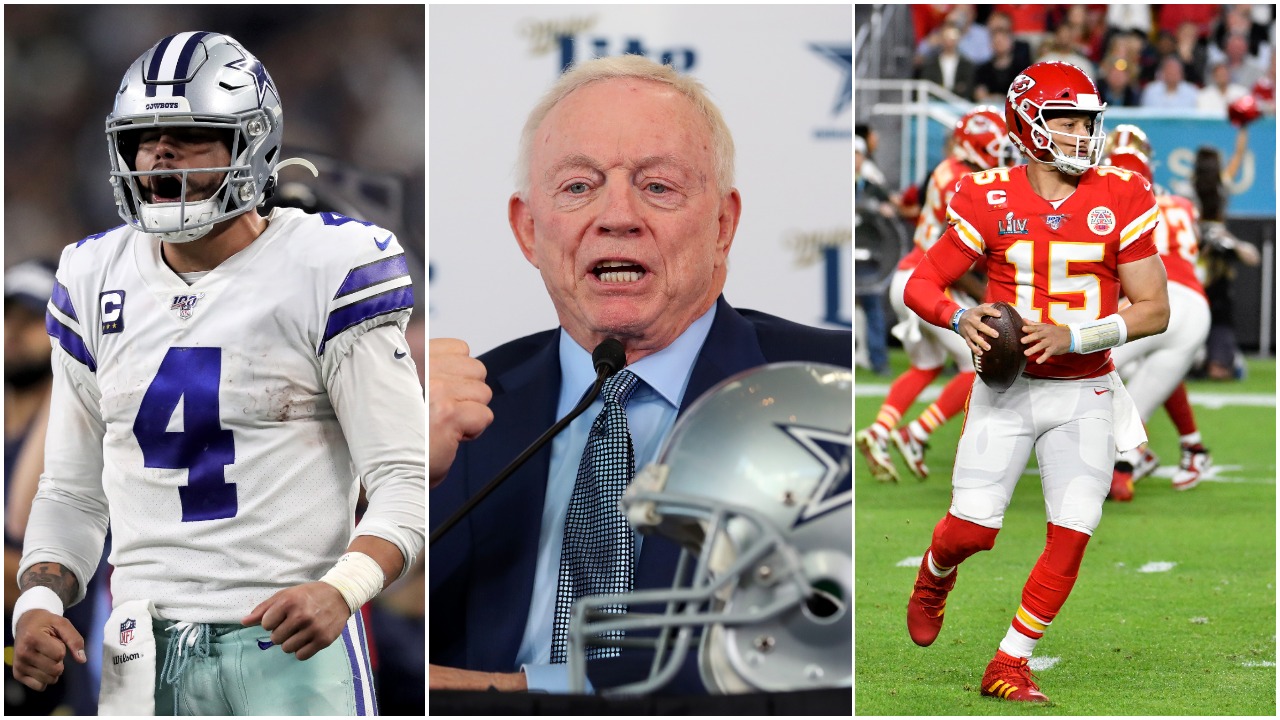 Why Jerry Jones Shouldn't Be Sweating Patrick Mahomes' New Contract as It Pertains to Dak Prescott
A look at why Dallas Cowboys owner Jerry Jones shouldn't be sweating Patrick Mahomes' new contract as it pertains to signing Dak Prescott.
Monday was a big day in NFL news as the Kansas City Chiefs have locked up quarterback Patrick Mahomes for the next dozen years, tacking on a monster 10-year extension to the two years the reigning Super Bowl MVP has left on his existing contract. Naturally, social media is on fire and many are wondering just how this new megadeal will affect negotiations between Dallas Cowboys owner Jerry Jones and his star quarterback, Dak Prescott, who still haven't been able to come to an agreement on a long-term deal.
But, honestly, Jerry Jones shouldn't care one bit about Patrick Mahomes' new contract as it pertains to Dak Prescott.
Patrick Mahomes just signed a massive 10-year extension with the Kansas City Chiefs
On Monday afternoon, ESPN's Adam Schefter tweeted out that the Chiefs are set to pay Patrick Mahomes more than $400 million (later updated to more than $450 million with the possibility of $503 million) over the course of a 10-year contract extension, which will keep the 2018 NFL MVP in Kansas City through the 2031 season. Mahomes has two years left on his existing contract worth $27.6 million after the Chiefs picked up the fifth-year option on his rookie deal in April.
With the new deal, Patrick Mahomes becomes the fourth quarterback since 2011 to sign an extension before the start of his fourth season, joining Ryan Tannehill, Carson Wentz, and Jared Goff. That's something that obviously didn't happen for Dak Prescott ahead of last season.
Jerry Jones hasn't been able to sign Dak Prescott to a long-term deal
Jerry Jones likely thought he was going to lock up Dak Prescott ahead of the 2019 season when he offered him roughly $33 million per season. But Prescott chose not to take the deal and played last year for the $2 million salary on his rookie deal.
This past March, Jones was essentially left with no choice but to slap the franchise tag on Prescott, which will pay him more than $31 million in 2020. It took Dak more than three months to actually sign the tender but he will be in training camp when it (hopefully) begins later this month.
If the two sides can't come to a long-term agreement by July 15, things will have to wait until after the season. So there's certainly a chance that all of the drama that's already played out with this thing will just happen again next year.
Jerry Jones shouldn't care about Patrick Mahomes' contract when it comes to getting the Dak Prescott deal done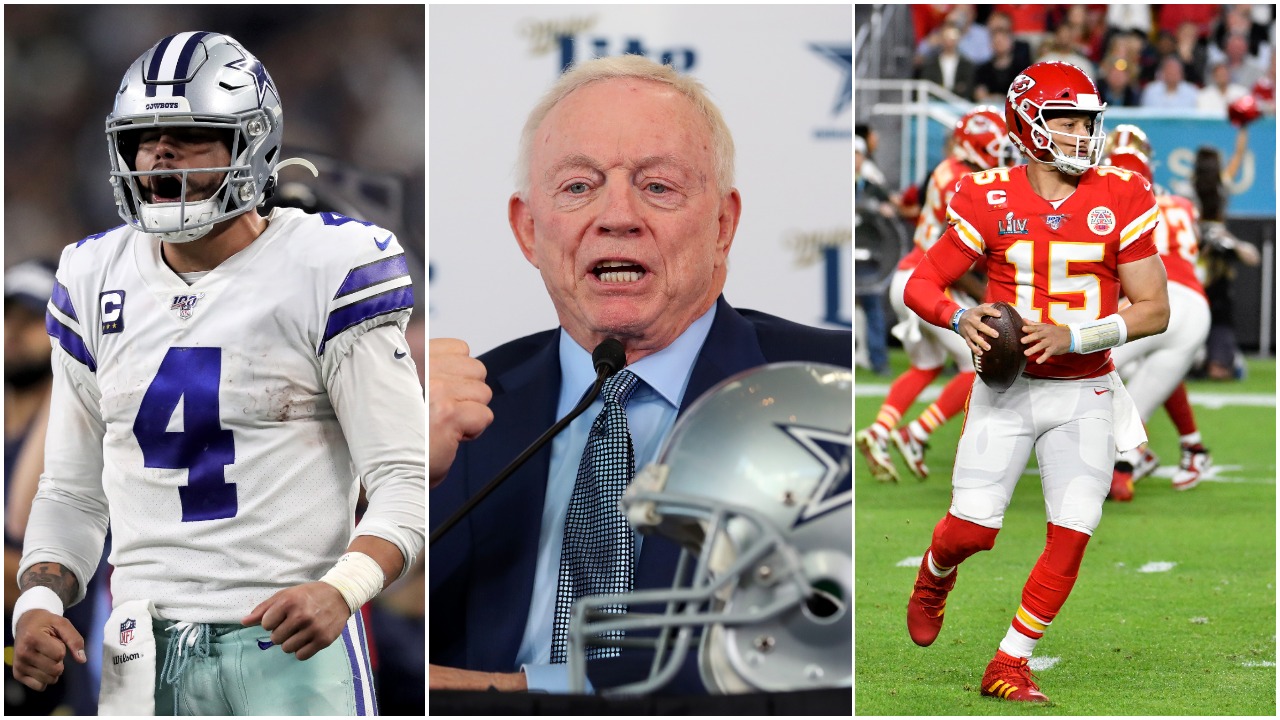 Jerry Jones remains adamant that the Dak Prescott deal will get done at some point. And maybe it does and maybe it doesn't. But despite what seemingly most of Twitter says right now, he shouldn't be concerning himself with this new Patrick Mahomes deal for a number of reasons.
For one, there's the money issue. Some reports have suggested that Prescott is looking to become the NFL's highest-paid quarterback. That seemed like it could have been a possibility a few months back but that certainly can't be the case now. If Jones gives Dak more money than the Chiefs just gave Mahomes, he's even crazier than we all thought. And that's saying something. In the last two seasons, Mahomes won the NFL MVP and led Kansas City to their first Super Bowl win in half a century, a game in which he just happened to lead three touchdown drives to erase a 10-point deficit in the fourth quarter.
In those same two seasons, Prescott had an 18-14 record and won one playoff game. Not exactly the same, is it? Is he a good quarterback? Yes. But does he deserve to be paid like a guy like Mahomes? Absolutely not. If anything, the pressure on Jerry Jones to make Dak the highest-paid QB in the NFL has gone down, not up.
Secondly, Jerry Jones can't be looking at the length of the Mahomes deal as any kind of factor. Prescott seems to want a shorter deal than the Cowboys are currently willing to offer anyway so looking at how Kansas City has locked up Mahomes for a dozen years should have zero impact on Jones' next offer, if another offer even comes before the aforementioned July 15 deadline.
The next nine days should certainly be entertaining.