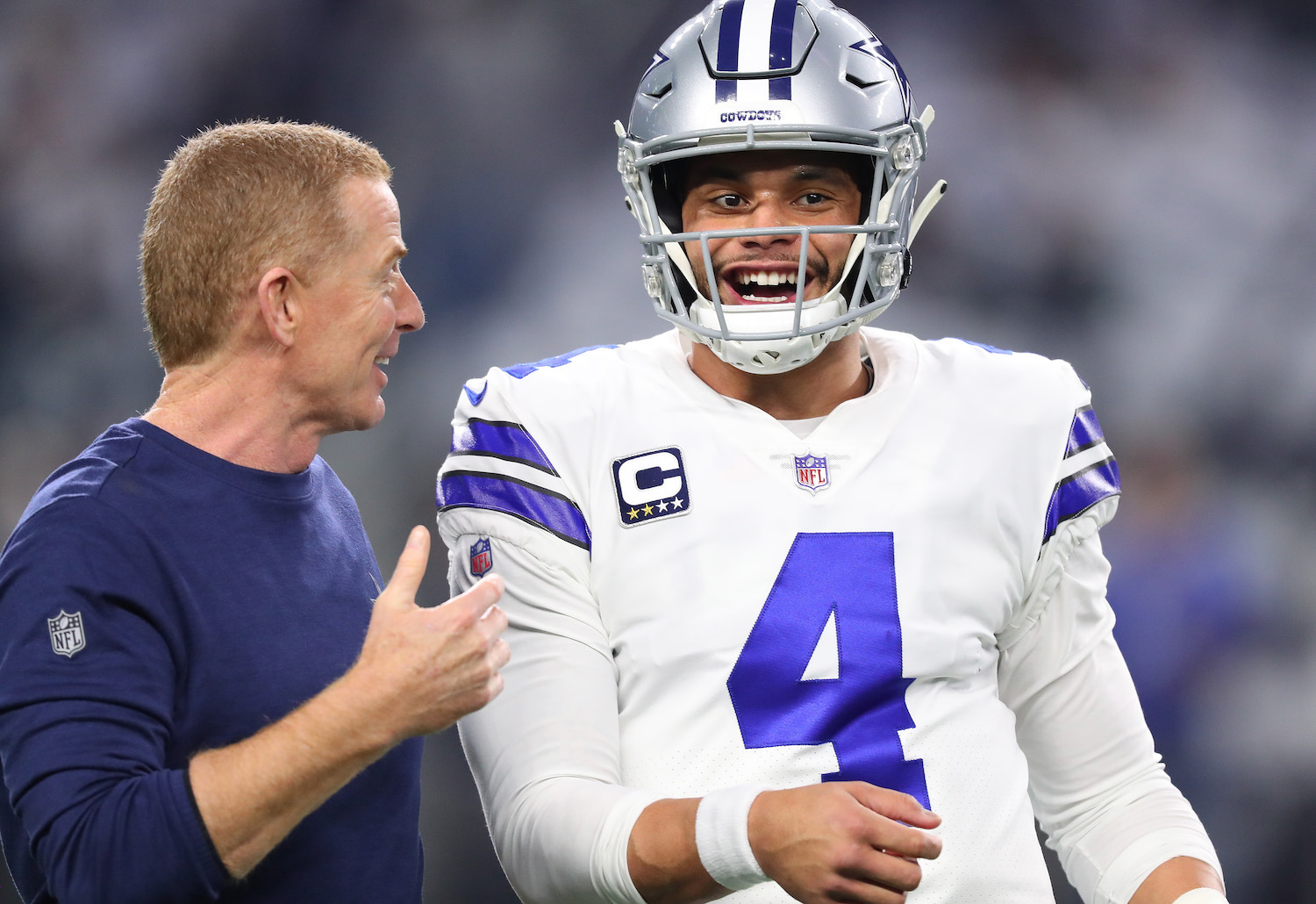 Dak Prescott Unhappy Since Dallas Cowboys Fired Jason Garrett According to a Former Coach
When Dak Prescott and the Dallas Cowboys failed to reach a long-term deal, it showed there's a breakdown in communication and trust. One reason why is Prescott hasn't been happy since Jason Garrett was fired as head coach.
Dallas Cowboys quarterback Dak Prescott is expected to report to training camp this coming week to start preparing for the 2020 NFL season. While he signed a $31.4 million franchise tag in late June, the two-time Pro Bowl quarterback and Dallas Cowboys were unable to come to terms on a long-term deal. Those failed negotiations resulted in rampant speculation by the media and Cowboys fans about Prescott's future with the club. A new report indicates Prescott isn't happy with the situation in Dallas, and it all started back in January when Jerry Jones fired Jason Garrett. 
Dak Prescott's 2019 numbers
Dak Prescott and the Dallas Cowboys started off the 2019 season in impressive fashion with a 35-21 win over the New York Giants. Prescott had one of the best performances of his career completing 25-of-32 for 405 yards and four touchdowns. It was an encouraging sign that many hoped was a continuation of the year before when the Cowboys finished 10-6 and made it to the second round of the playoffs.
Prescott followed up his season-opening performance with a pair of solid starts the next two weeks, both ending in victories for the Pokes. Then, the Cowboys hit a three-game skid, which was largely attributed to Prescott's play on the field. During the three losses, Prescott managed just two touchdown tosses and accounted for four interceptions. 
Unfortunately, those first six weeks of the season were a portend of things to come for the remainder of the 2019 campaign. The Cowboys never managed to find any sustained consistency on offense and struggled the rest of the season, finishing with an 8-8 record and missing the playoffs. It was viewed as a major step backward by the front office.
Jason Garrett gets fired 
Jason Garrett will go down in history as a true Dallas Cowboy as his entire career in the NFL has been colored in silver and blue. He first started with the club as a backup quarterback for seven of his eight NFL seasons from 1993-1999. In 2007, he transitioned to a coach as the Dallas offensive coordinator under Wade Phillips. He served in that role until 2010, when he replaced Phillips as interim coach.
The following year, Jerry Jones gave Garrett the keys to the car. Over his entire coaching career, he compiled an 85-67 record. However, Garrett's downfall was his inability to make the playoffs, taking the team to the postseason just three times in nine seasons.
"We are extremely grateful to Jason Garrett for his more than 20 years of service to the Dallas Cowboys as a player, assistant coach and head coach," Jones said in a statement at the time of Garrett's firing. "His level of commitment, character, and dedication to this organization has been outstanding at every stage of his career." 
Garrett was hired by the New York Giants a few weeks later to serve as the team's offensive coordinator. 
Dak Prescott unhappy since Cowboys fired Garrett 
When Jerry Jones and the Dallas Cowboys decided to move on from Garrett, it didn't sit well with Dak Prescott, according to one Cowboys insider. Former Dallas Cowboys scout and employee Bryan Broaddus has spoken with multiple former coaches about the ever-evolving situation in Dallas. According to Broaddus, one former coach described a close relationship between the quarterback and his former head coach.
"Garrett was Dak's biggest fan and supporter and he said he and Kitna were really behind him. Especially when Jerry Jones would question him and ask, 'Is he our guy?'" the coach told Broaddus, who shared the information on radio station 105.3 The Fan in Dallas. 
Broaddus said the Garrett-Prescott relationship was strong since the quarterback joined the Cowboys. The only coaching-related issue Prescott ever had was with quarterbacks coach Jon Kitna.
"Garrett absolutely loved him. Dak also loved Garrett. Dak bumped heads with Kitna early in this thing when Kitna was trying to help him. But Garrett would come to (Dak's) his defense," Broaddus said the coach told him.
The coach said Prescott and Kitna worked through their differences and Kitna was "the real reason we saw development out of Dak Prescott" last season. When asked about Prescott's frame of mind when Garrett was relieved of his duties, the coach said the quarterback wasn't pleased. 
"In talking to (these coaches), Dak was disappointed that Garrett was relieved of his job," Broaddus said.
With Garrett and Kitna both gone, and Mike McCarthy now in charge, it will be interesting to see how Prescott performs in 2020. If he regresses, everyone will know why. If he performs better, not only will it show he's overcome his disappointment, it will also put him in line for a potentially big payday.