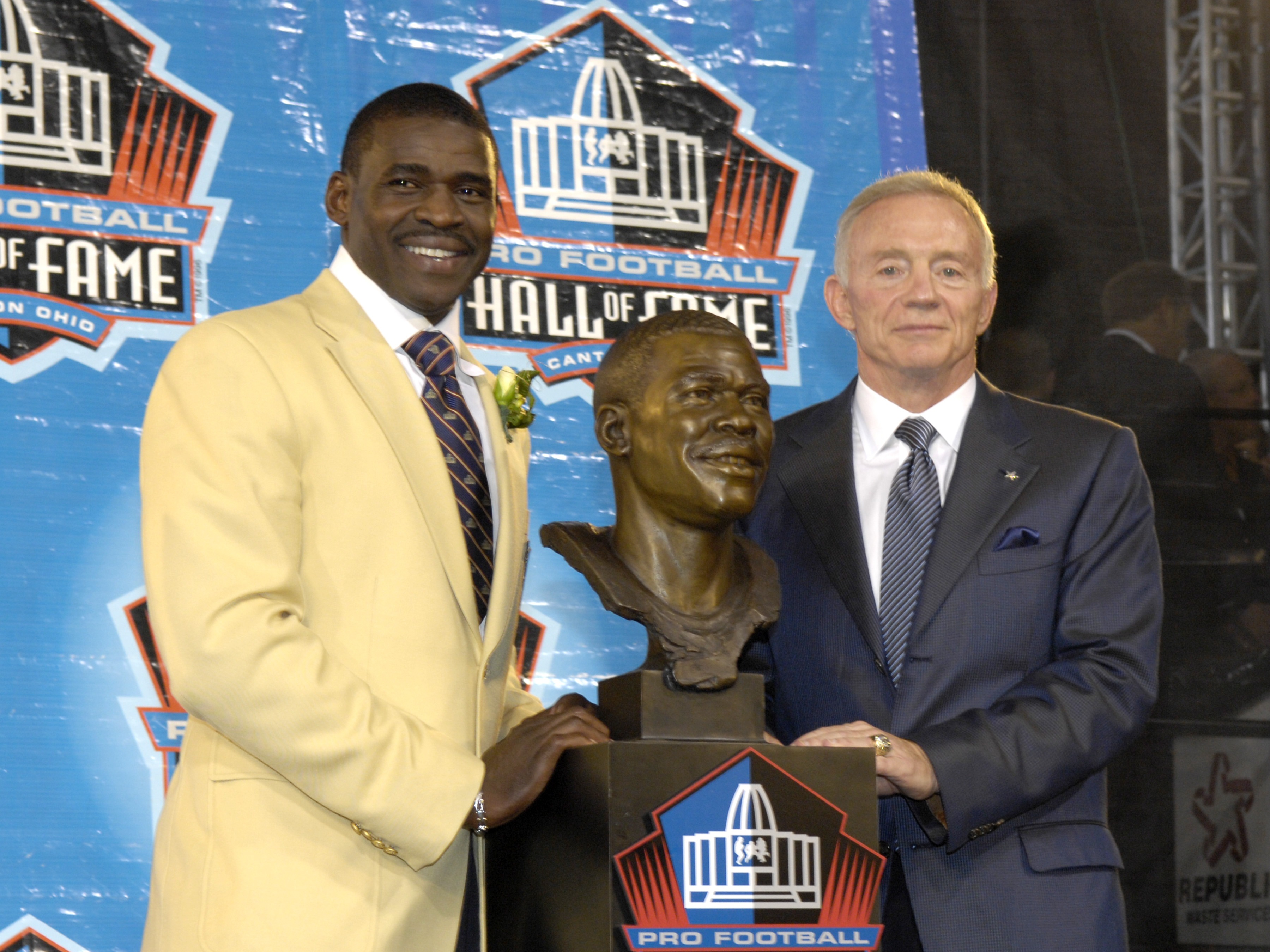 How Jerry Jones Sparked an Angry Michael Irvin to Launch a Trash Can at Reporters in Locker Room Rant
When Jerry Jones fired Jimmy Johnson, it set off a chain reaction of events. One came from an angry Michael Irvin who attacked the media including a trash can-throwing incident.
Jerry Jones has never been one to hesitate in doing what he wants without regard for what others think. In 1994, Jones did just that when he fired Jimmy Johnson after back-to-back Super Bowl titles. The decision mystified fans and the rest of the league and sent ripple effects throughout the NFL that would last for years.
Jerry Jones' decision also upset many players within the Cowboys organization. They couldn't understand why the owner would get rid of the single person most responsible for their success. Despite a wealth of talent, Johnson's departure spelled trouble for the team's future on the field. Immediately after the firing, tensions boiled over in the locker room and wide receiver Michael Irvin erupted in a tirade largely directed at the media. Irvin explained the incident on "The Darren Woodson Show" podcast. 
Jerry Jones fires Jimmy Johnson
The Dallas Cowboys were kings of the NFL kingdom in February 1994 after winning back-to-back Super Bowl titles over the Buffalo Bills. The core group of players on both sides of the ball was returning, including the offensive trio of Troy Aikman, Emmitt Smith, and Michael Irvin. There didn't appear to be any real threat to their reign except for themselves. 
In late March, Jerry Jones, after a night out enjoying some adult beverages, told a Dallas Morning News reporter that "there are 500 coaches who could have won the Super Bowl with our team." That understandably didn't sit well with Johnson.
The tension escalated in the following days with the two both using the media as the tool to spread their message on the deteriorating situation. Jerry would make the headline one day. Jimmy would respond a couple of days later. It all finally came to a head and Jerry allowed Jimmy out of his 10-year contract in year five. Wanting to move on quickly, Jones gave the former coach a $2 million severance package.   
Michael Irvin responds throwing trash can at media
When the news broke in Dallas Cowboys headquarters, the players were beside themselves. The once-thought unstoppable train had just lost its conductor. And several players blew their steam out in the locker room. One of the most agitated was Michael Irvin, who viewed Johnson as a father figure. When reporters came in the locker room to ask questions about the breaking news, Irvin was understandably upset. He didn't bother to hide that. And he held many of them responsible.
"The media were all in the locker room and when I heard that morning what had happened. I said, 'What the f. What are you-' and I knew there were some issues back and forth," Irvin told Darren Woodson on his podcast 'The Darren Woodson Show." "I know the media and Jerry said this, and Jimmy said that. Man, I was so hot, and honestly, at first, I tossed the trash can to get them out of the locker room. I had put some blame on the media. 
"They stoked the fire somewhat with all of that. Once you get to the top, now you've got to fight everybody trying to get you off of it. And I saw that as everybody. Media, too. So yeah, I was upset. And when they came in, they were trying to get interviews, and I said 'I'm going to get out of here.' And yeah, I tossed the garbage can to help them get out of there. All of this is garbage symbolically what it was saying. I'm tossing garbage at the garbage that just put me in a garbage situation. That's what that was in the media."
Jerry Jones hires Barry Switzer and what might have been
A day after he fired Jimmy Johnson, Jerry Jones hired Barry Switzer. Interestingly, Switzer lost only three games as the Oklahoma coach from 1985 to 1987. All three of those games were to Jimmy Johnson's Miami squad. 
Under Switzer, the Cowboys underachieved in the 1994 season, losing to the San Francisco 49ers in the NFC Championship game. The following season the Cowboys reached the pinnacle again and won their third title in four seasons. From that point forward, it was a steady decline. 
And years later, players look back on that time, the decision, and the resulting effect, and imagine what might have been. In their interview, Woodson tells Irvin he "firmly believes we could have won four or five straight, with Jimmy at the helm."
"We definitely should have won four in a row," Irvin agreed. It didn't happen. Instead, Switzer won the one title in 1995, went 16-16 over the next two seasons, and resigned in 1997. And all Cowboys players and fans can only help but wonder what might have been.