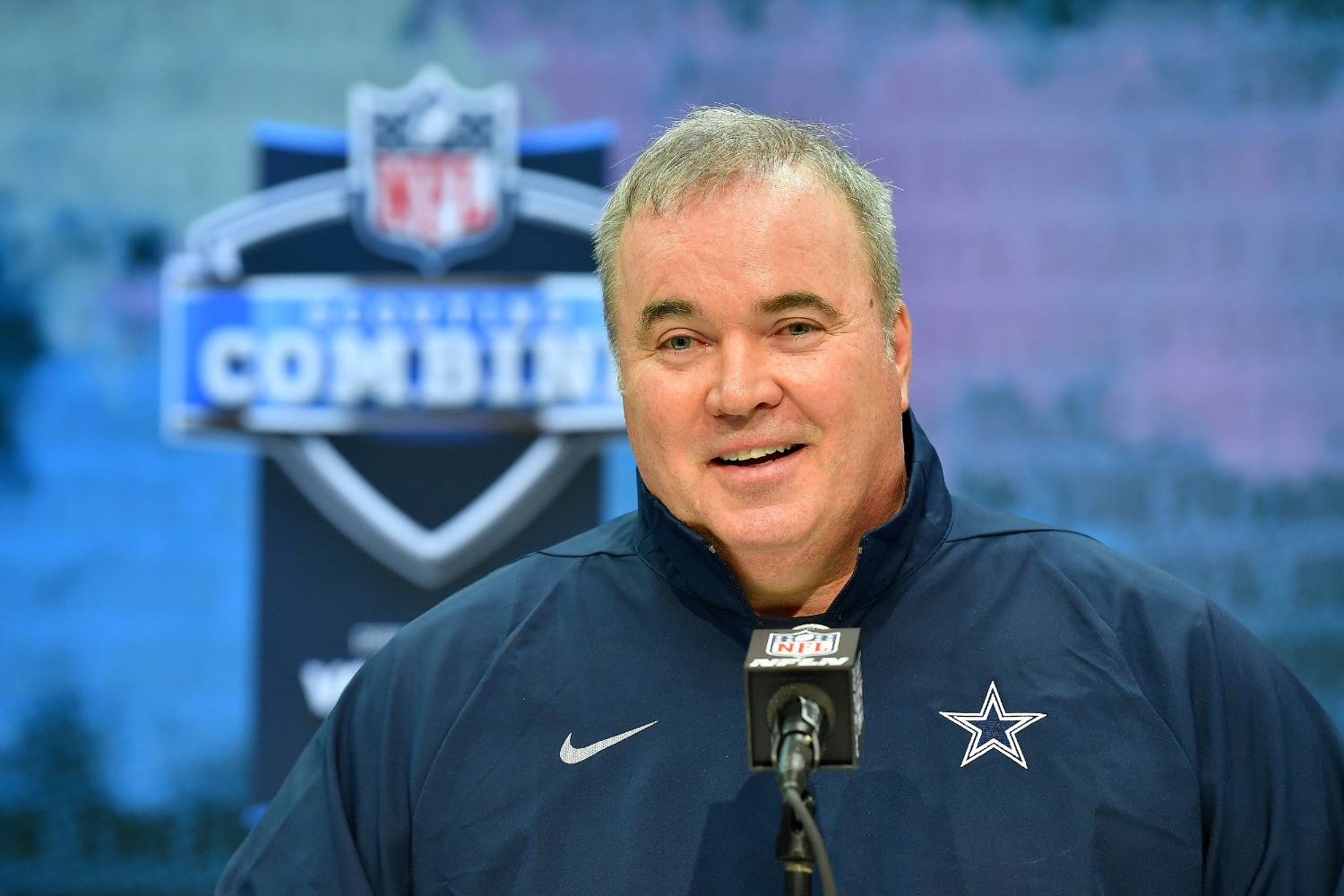 Mike McCarthy Delivers Powerful Endorsement of the Cowboys' $2 Million Reclamation Project
Aldon Smith hasn't played football since 2015. Yet, he has already earned a powerful endorsement from Cowboys HC Mike McCarthy.
As Mike McCarthy begins a new chapter of his career as the head coach of the Dallas Cowboys, one of his players seeks a fresh start, too. Aldon Smith once looked like a potential Pro Football Hall of Fame inductee early in his career. But personal issues rendered the Pro Bowl pass-rusher a forgotten name. However, it has not taken long for the rejuvenated defensive end to earn a powerful endorsement from his new head coach.
Aldon Smith seeks career resurrection in Dallas
Just a few years ago, Aldon Smith ranked as one of the top defensive players in the league. The former top-10 pick became an instant star in San Francisco. Utilizing a rare blend of power and speed, he racked up 33.5 sacks in his first two NFL seasons.
Already a first-team All-Pro selection before he turned 24, Smith looked like a potential Hall of Fame candidate. Yet, his once-promising career got derailed by off-field issues. In fact, the former 49ers star has not played a down since 2015.
After spending years away from the game, the talented pass-rusher worked his way back into shape with the help of Jay Glazer. On April 2, he signed a one-year, $2 million deal with the Cowboys.
For Smith, the opportunity to join one of the top teams in the NFC represents a chance to remind everyone why he instilled fear in offensive linemen. For Dallas, signing a player of Smith's caliber for cheap makes for a low-risk, high-reward reclamation project.
Mike McCarthy delivers powerful endorsement of the Cowboys' latest reclamation project
Training camp gives coaches a chance to see players up close and personal. With COVID-19 altering the offseason dramatically, that only makes in-person evaluations even more critical. While it may be early, Aldon Smith has already made a powerful impression on his head coach.
In fact, Mike McCarthy gave a powerful endorsement of the Cowboys' $2 million reclamation project at Thursday's press conference.
"You can see his power and his length is extraordinary. I'm very, very happy with where Aldon is right now," McCarthy said. "You've got so much new around him. Not only hasn't he played, but he's done a great job in training and preparing for this opportunity."
The former Green Bay Packers head coach called the defensive end "impressive" while also giving credit to the rest of his staff and players for what they've accomplished in virtual meetings during an unprecedented offseason.
McCarthy's powerful endorsement of Aldon Smith should give the defensive end plenty of motivation to stay focused on making a successful comeback. And the Cowboys need Smith to step up more than ever after a recent injury to another offseason addition.
Smith must step up after Gerald McCoy injury
The Cowboys suffered a devastating blow to their defensive line on Monday when defensive tackle Gerald McCoy ruptured his quadriceps tendon. Losing a projected starter before the season begins took some wind out of the Cowboys' Super Bowl sails. However, that just means that Aldon Smith will have to elevate his game to ease the loss of the six-time Pro Bowler.
When Smith first came aboard, many viewed the signing as a luxury move. After all, the Cowboys already have a dynamic defensive end in DeMarcus Lawrence. However, with McCoy going down, that means Smith will have to make a huge impact to help ease the loss of the star defensive tackle. Of course, the recent signing of Everson Griffen should also pay dividends.
While Smith traditionally lines up at defensive end, Dallas could consider moving him to the interior in certain situations. The former top-10 pick got his weight up to 287 pounds while training for his NFL comeback. If he can maintain the explosive first step that made him one of the league's most terrifying pass-rushers early in his career, that could help him succeed as a 3-technique defensive tackle on passing downs.
Dallas could also move Griffen inside and let Smith stay on the edge. Either way, the Cowboys' latest reclamation project has a fantastic opportunity ahead. Only time will tell if Mike McCarthy's powerful endorsement of Aldon Smith will result in production on the field.
Like Sportscasting on Facebook. Follow us on Twitter @sportscasting19.