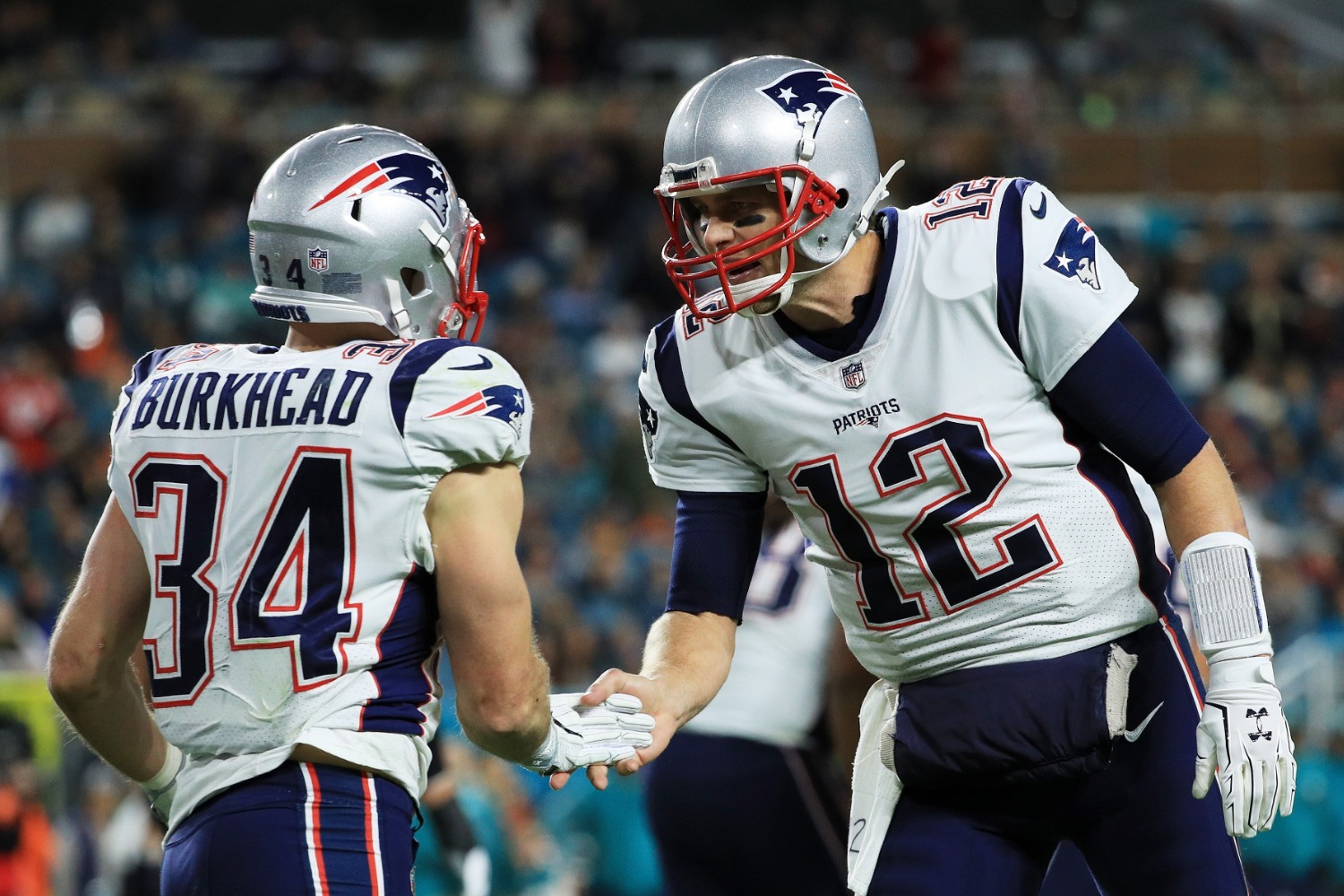 Tom Brady Came Painfully Close to Losing His Career Because of Rex Burkhead
Tom Brady's career nearly came to an end because of Rex Burkhead, but that didn't stop Brady from leading the Patriots to a Super Bowl berth.
While Rex Burkhead played a key role in helping Tom Brady win his sixth Super Bowl ring, he nearly ended his quarterback's career a year earlier. Luckily for New England Patriots fans, Brady managed to defy the odds returned to action. In doing so, he ended the Jacksonville Jaguars' brief stint as an AFC contender while leading the Patriots back to the Super Bowl.
Tom Brady and Rex Burkhead spent three years as teammates
After four years with the Cincinnati Bengals, Rex Burkhead signed a one-year, $3.15 million contract with the Patriots in 2017. A well-rounded back capable of contributing on all three downs, his versatility made him an ideal fit for Josh McDaniels' offense.
Burkhead's first year in New England did not go exactly as planned. He played just 10 games due to injuries. However, he flashed dynamic playmaking ability when he did get on the field. Burkhead finished the regular season with 264 rushing yards, 254 receiving yards, and eight total touchdowns.
In 2018, Burkhead once again struggled to stay healthy. However, he played a key role in New England's Super Bowl run. The veteran tailback scored three postseason touchdowns, including the game-winner against the Chiefs in the AFC title game.
Last year, Burkhead provided some much-needed energy for a Patriots offense that struggled to move the ball. In Tom Brady's final season in New England, Burkhead caught 27 passes and chipped in 302 rushing yards.
In three years together, Brady and Burkhead played in two Super Bowls and showcased excellent chemistry. However, Burkhead nearly ended his teammate's career during his first year in Foxborough.
Burkhead nearly ended his quarterback's career
After taking down the Tennessee Titans in the divisional round of the 2017 playoffs, the Patriots prepared to face a Jaguars team loaded with young stars on defense. Jacksonville finally made the playoffs for the first time in a decade and looked like a team on the verge of becoming a perennial title contender.
Yet, before the Patriots squared off against the NFL's second-ranked scoring defense, Tom Brady's career nearly came to an end because of Rex Burkhead. Just days before the playoff matchup, Brady suffered a gruesome thumb injury in practice while handing the ball off to Burkhead.
Author Jeff Benedict revealed the severity of the injury in a chapter from The Dynasty (H/T New York Post). It turns out that Brady's thumb injury caused some concerns that not only would his season be over but also his legendary NFL career. In fact, the quarterback himself feared he might be finished.
Though Brady avoided any fracture or dislocation, he needed 25 sutures to sew up the laceration caused by the ball jamming back and hyperextending his thumb. The reigning NFL MVP tried to assure a teary-eyed Burkhead that the injury was not his fault. Brady told his teammate not to worry and that he loved him.
Still, speculation swirled about Brady's status for the Jaguars game.
Brady got the last laugh against the Jaguars
Even leading up to kickoff, many wondered just how effective Tom Brady would be. After all, neither Bill Belichick nor his quarterback divulged any concrete information about the thumb injury that resulted from a handoff in practice to Rex Burkhead.
Ultimately, Brady did suit up against the Jaguars. And he managed to silence anyone who doubted whether he could play at a high level just days after suffering a nasty injury.
Facing arguably the best defense in football, Brady put on a clinic when it mattered most. He threw for 290 yards and two touchdowns—both of which came in the fourth quarter. Danny Amendola caught both scores, including a clutch toe-tapping reception with less than 3 minutes remaining.
The Patriots emerged victorious thanks to the late-game heroics from their star quarterback. Tom Brady then set the record for most passing yards in a Super Bowl. However, the Philadelphia Eagles won Super Bowl 53 by a final score of 41-33.
All statistics courtesy of Pro Football Reference.