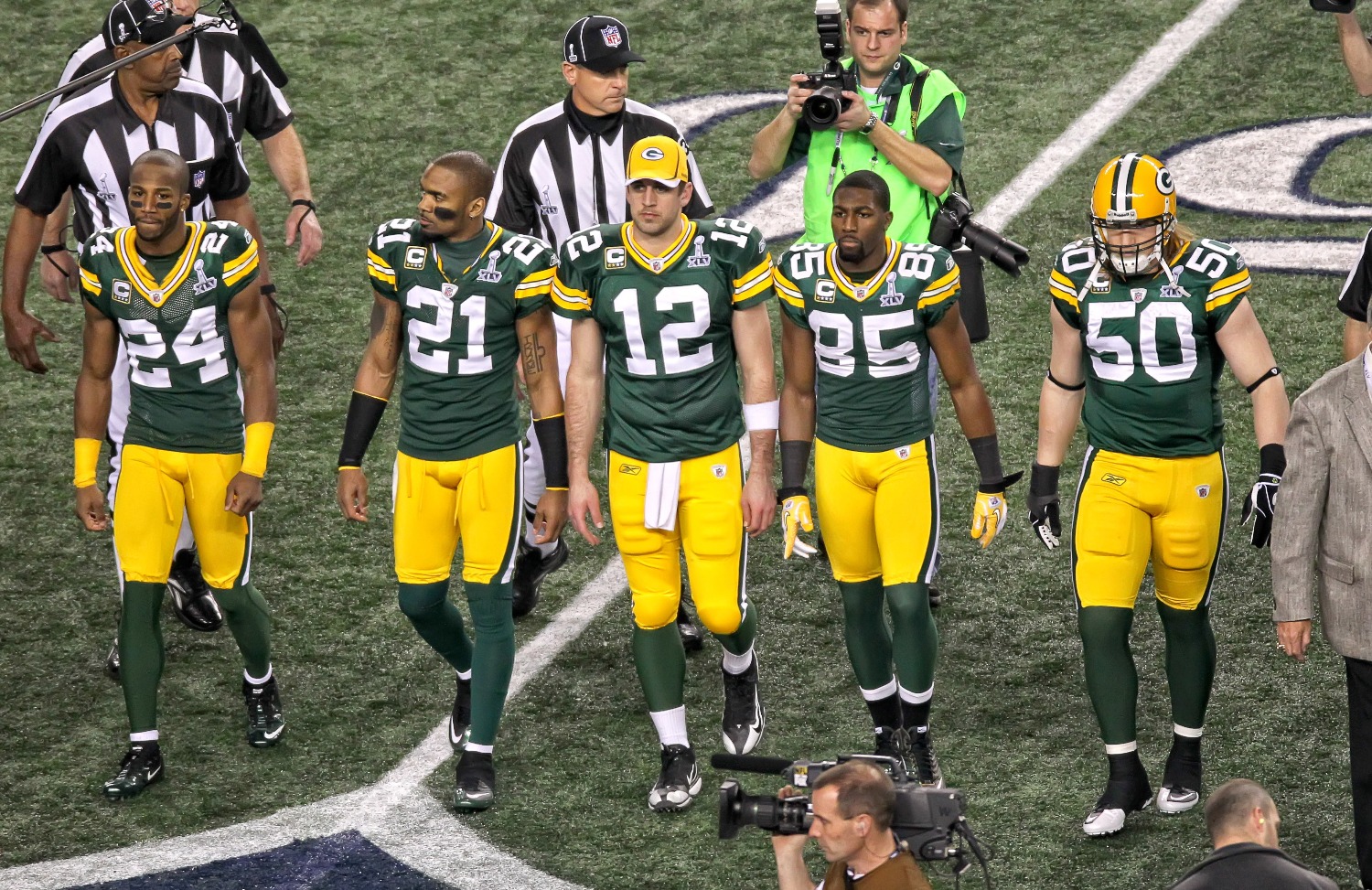 Aaron Rodgers Admits His True Feelings About Star Teammates Who Ripped Him
Aaron Rodgers admitted his true feelings about former Packers teammates Greg Jennings and Jermichael Finley, who have openly criticized him.
Aaron Rodgers has had countless teammates over the years. However, not all of them have spoken highly of him. In fact, two of Rodgers' top targets have openly criticized the Green Bay Packers star even after spending years catching passes from No. 12. Both Greg Jennings and Jermichael Finley have raised eyebrows in the past by airing their grievances about their former quarterback.
But recently, Aaron Rodgers finally admitted his true feelings about his former star teammates who have shown no hesitation in criticizing him.
Greg Jennings and Jermichael Finley became stars in Green Bay
Both Greg Jennings and Jermichael Minley enjoyed tremendous success in Green Bay. The former entered the NFL as a second-round pick out of Western Michigan. Jennings started his career catching passes from Brett Favre, but he enjoyed a more fruitful relationship with Aaron Rodgers.
In Rodgers' first season as a starter, Jennings set career-highs in catches (80) and receiving yards (1,292). He added nine touchdown grabs. He followed up with two more outstanding campaigns. In Green Bay's Super Bowl-winning season, Jennings caught 12 touchdowns during the regular season.
The 6-foot, 198-pound wideout delivered two clutch touchdown grabs against the Pittsburgh Steelers to help Green Bay win its first Super Bowl title since 1996.
While Finley did not play in the Super Bowl due to an injury, he stormed back with a fantastic 2011 campaign that included 55 catches for 767 yards and a career-high eight touchdowns. An athletic mismatch at tight end, the 2008 third-round pick appeared to be on the cusp of superstardom. However, a neck injury ended his NFL career at the age of 26.
Former Packers stars have openly criticized Aaron Rodgers
Aaron Rodgers helped turned Greg Jenning and Jermichael Finley into household names. Yet, the former Packers stars have been openly critical of their longtime quarterback.
In April 2019, Tyler Dunne of Bleacher Report published a lengthy piece detailing everything that went on with Rodgers, Mike McCarthy, and the rest of the Packers organization over the years. The story did not paint Rodgers in the best light, mostly due to the comments of his two former targets.
Jennings recalled an incident in 2012 that forever changed his view of Rodgers. According to the wideout, his own quarterback told an opposing player that his team should sign Jennings after the season ended. That soured the relationship.
"Had the shoe been on the other foot and I said, 'Hey, man, I should come and play with your quarterback,' he would've been so offended by that," Jennings said. "But when it comes out of his mouth—and we all know there's truth behind jokes—for him to say that and just act as though everything was the same? It just wasn't."
Finley offered a more blunt assessment of his former quarterback.
"He's not a natural-born leader."
Finley even compared Rodgers to an addict because of how much he cares about racking up yards and completions.
"I thought he'd be able to grow out of it, but, you give a guy more money, there's more attitude, more diva-ness," Finley said.
Rodgers admits his true feelings about his former teammates
Clearly, unresolved issues exist between Aaron Rodgers and his former teammates. And in a recent appearance on The Dan Le Batard Show with Stugotz, the 36-year-old admitted his true feelings about Greg Jennings and Jermichael Finley.
"I do not have a problem with either person," Rodgers explained. "I enjoyed playing with both guys. Greg was a fantastic player, and so was J-Mike. The physical giftedness of both those guys was phenomenal, and we had some incredible moments together."
Even though both of his former teammates have openly criticized him in the past, Rodgers suggested the media has played a large role in spinning a certain narrative.
"I think opinions have become facts instead of the actual facts of the subject that we are talking about," Rodgers said. "I think that's a place in our society where we've gone where it's more important to voice your opinion than to do research and figure out what the facts and the situation are."
Ultimately, it seems like an older version of Aaron Rodgers has a bit more wisdom and humility to reflect on his past words and actions. At the end of the day, Packers fans could probably care less about his relationship with players who no longer suit up on Sundays. All that matters is winning another Super Bowl title before Jordan Love takes over.