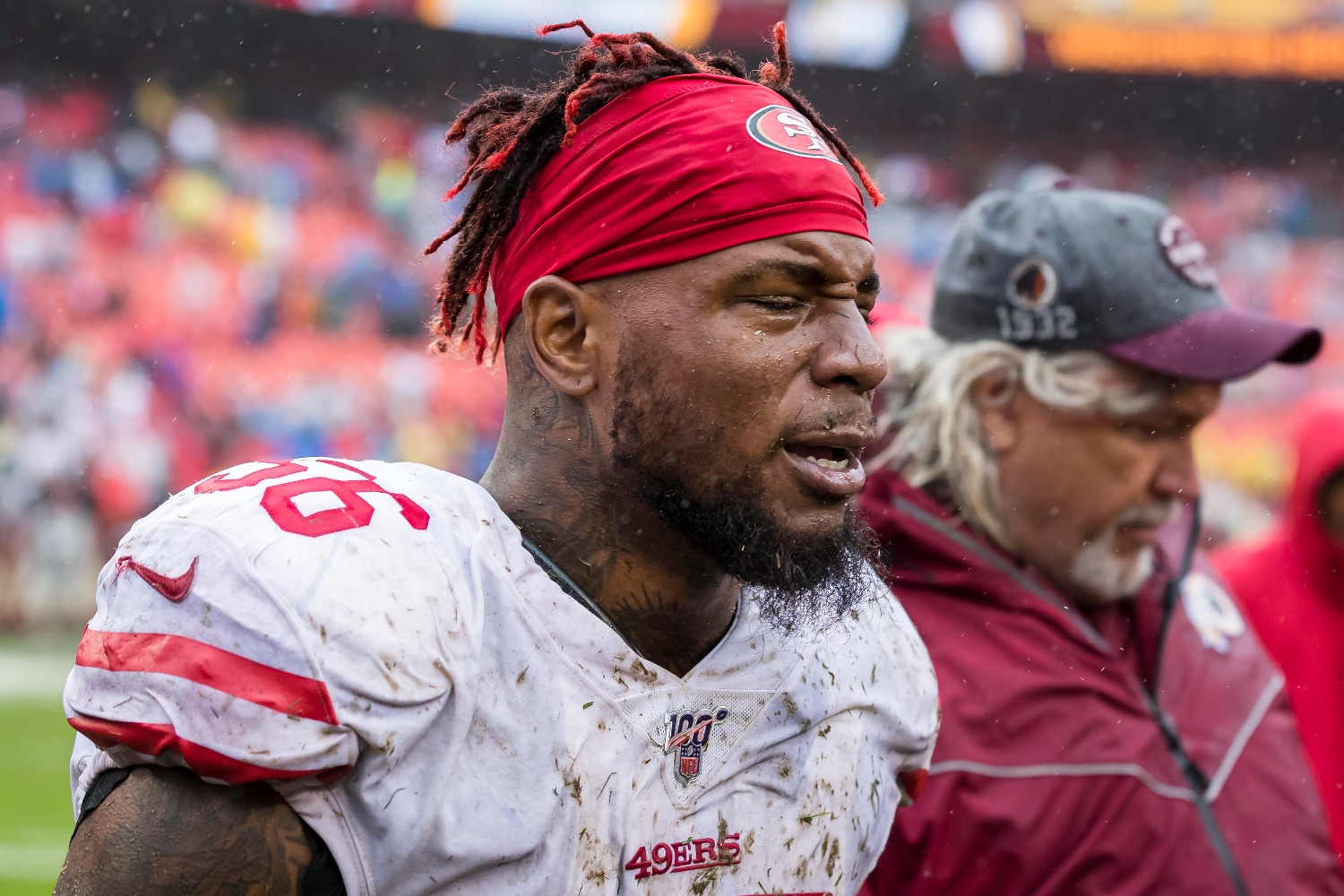 49ers LB Kwon Alexander Suffered a Heartbreaking Loss With His Brother's Tragic Death
During his rookie year with the Buccaneers, current 49ers LB Kwon Alexander suffered a heartbreaking loss with his brother's tragic death.
For Kwon Alexander, his rookie season included highs and lows. On the field, the Tampa Bay Buccaneers linebacker performed like a seasoned pro. However, Alexander's first year in the NFL also included the tragic death of his brother. Despite suffering a heartbreaking loss off the field, the promising linebacker used the tragedy to fuel the best performance of his career. But after earning a Pro Bowl berth and landing a lucrative contract with the San Francisco 49ers, Alexander still has one important item missing from his NFL resume: a Super Bowl ring.
Kwon Alexander became a Pro Bowler with the Buccaneers
After starring at LSU for three years, Kwon Alexander entered the 2015 NFL draft. The Buccaneers selected the speedy linebacker with the 124th overall pick. The 6-foot-1, 227-pounder wasted no time showcasing his dynamic skill set.
In 12 starts, Alexander racked up 93 tackles, three sacks, two interceptions, nine passes defended, two forced fumbles, and a fumble recovery. However, his promising season ended early due to a four-game suspension for violating the league's policy on performance-enhancing substances. Still, Alexander showed plenty of promise playing next to All-Pro linebacker Lavonte David.
In his second season in Tampa, he took his game to another level. Alexander racked up 145 total tackles as the Buccaneers' starting middle linebacker. In 2017, he followed up by earning his first (and only) Pro Bowl berth after Bobby Wagner had to get replaced due to an injury.
Having clearly established himself as one of the league's rising defensive stars, Alexander surely had a bright future ahead. However, well before he earned Pro Bowl honors, he had to overcome a heartbreaking loss just a few months into his NFL career.
Alexander suffered a heartbreaking loss with his brother's tragic death
For Kwon Alexander, his first year in the NFL featured an early obstacle. Six games into his career, the Buccaneers linebacker suffered a heartbreaking loss when his younger brother, Broderick Taylor II, tragically died.
On Oct. 31, the 17-year-old got fatally shot in the chest following a fight. According to WBRC, the shooter, Jerald Bailey, turned himself in the following morning. Bailey later got convicted of manslaughter and received a sentence ranging from 20 years to life in prison.
The fatal shooting occurred just two days before the Buccaneers were scheduled to play the Atlanta Falcons. Despite enduring a painful tragedy, Alexander still took the field. Or rather, he took over the field.
Playing with a heavy heart, the rookie delivered a dominant performance that earned him NFC Defensive Player of the Week honors. Alexander stuffed the stat sheet with 11 total tackles, one interception, one forced fumble, and a fumble recovery.
The Buccaneers defeated the Falcons in overtime thanks in large part to their young defensive star, who discussed the impact of his brother's death after the dramatic win. (H/T ESPN)
"It's been hard, man," Alexander said. "He was my little brother, but I know he'd want me to be strong for him, and I came out here and dedicated this game to him. [I was] very determined because [he] wanted me to do it. All he wanted me to do is ball, so dedicated it to him."
A new beginning with the 49ers
After four years with the Buccaneers, Kwon Alexander opted for a new beginning in 2019. He signed a four-year, $54 million contract to join forces with the 49ers. Unfortunately for Alexander, his first year in San Francisco did not go as planned.
A torn pectoral muscle forced the 49ers to place their expensive offseason addition on injured reserve. Alexander did return in time for the playoffs. Of course, the team came up just short of winning Super Bowl 54. San Francisco surrendered a fourth-quarter lead and watched Patrick Mahomes and the Kansas City Chiefs raise the Lombardi Trophy.
Now in his age-26 season, Kwon Alexander carries even more responsibility given the 49ers' rash of injuries. With Nick Bosa out for the year, that puts the onus on veterans like Alexander and Arik Armstead to lead the defense moving forward. Can they answer that challenge? Or will the 49ers struggle to slow offenses without their best player?
It's now up to Kwon Alexander and the rest of the defense to step up.
If not, the 49ers will once again watch another NFL franchise earn Super Bowl rings.
All statistics courtesy of Pro Football Reference.