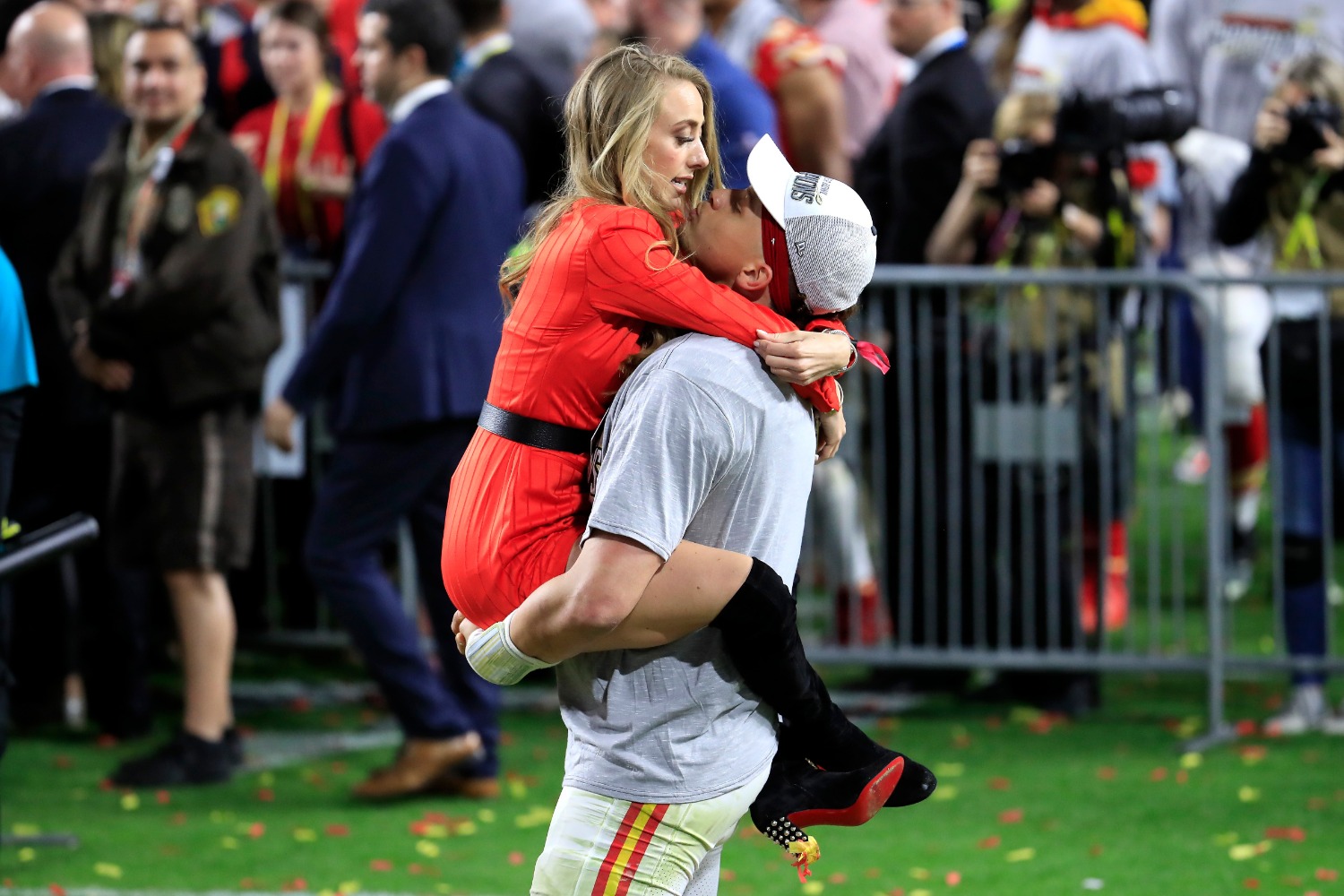 Patrick Mahomes Completes $503 Million Offseason by Getting Engaged
With a $503 million contract and a Super Bowl title, Chiefs star Patrick Mahomes capped off his incredible offseason with the ultimate ring.
While 2020 may be associated with the COVID-19 pandemic, Patrick Mahomes has had quite a successful year. From winning a Super Bowl title to becoming part-owner of the Kansas City Royals, the 24-year-old superstar just keeps adding accomplishments to his impressive resume. On Tuesday, the Kansas City Chiefs commemorated their championship by unveiling their Super Bowl rings.
Only nobody could have predicted that those flashy pieces of NFL history would get overshadowed by Mahomes giving the ultimate ring and getting engaged.
Patrick Mahomes just won his first Super Bowl ring
Patrick Mahomes took the NFL by storm in his first season as a starter. However, the Chiefs fell short in their quest for a Super Bowl title. In 2019, the rocket-armed quarterback watched his regular-season numbers slip from his 2018 MVP campaign. Yet, by the time the postseason rolled around, Mahomes reminded everyone why he's the most physically gifted quarterback to ever step foot on an NFL field.
Utilizing elite weapons like Travis Kelce and Tyreek Hill, Mahomes led a furious comeback against the Houston Texans that included 41 unanswered points. In the AFC title game, he played just well enough to take down Ryan Tannehill and the Tennessee Titans to earn a spot in Super Bowl 54.
Though Kansas City mostly got held in check by the San Francisco 49ers, Mahomes stepped up in the fourth quarter. The Chiefs scored 21 points in the final frame to secure a 31-20 victory. Mahomes took home Super Bowl MVP honors after leading the franchise to its first championship in 50 years.
Super Bowl MVP scores largest contract in sports history
Heading into the offseason, the Chiefs had to address Patrick Mahomes' contract. After essentially redshirting as a rookie and dominating in both 2018 and 2019, he clearly earned a raise. Some speculated that he could ask for a new deal that would be based on a percentage of the salary cap. Ultimately, that did not happen.
Still, no one should feel sorry for the NFL's biggest star. In early July, Mahomes inked a 10-year, $503 million extension to remain in Kansas City. The largest contract in sports history includes $25 million in incentives for winning the AFC championship and the NFL MVP award.
Surprisingly, Mahomes actually left money on the table in order to give the Chiefs flexibility to sign Chris Jones to an $85 million extension. And after locking up Kelce to a $57 million extension, the Chiefs appear primed to make Mahomes' dynasty dream come true.
Mahomes completes $503 million offseason by getting engaged
With a Super Bowl MVP trophy, the largest contract in sports history, and an ownership stake in an MLB franchise, Patrick Mahomes seemingly has done it all in 2020. Even during an offseason that has been drastically transformed by COVID-19, he just keeps making big-time moves.
On Tuesday, Mahomes made the biggest move of his life. And this time, it had nothing to do with winning a Super Bowl title or throwing a touchdown pass.
The Chiefs unveiled their Super Bowl rings at a ceremony at Arrowhead Stadium. But while he and his teammates received a ring, Mahomes gave out the ultimate one to longtime girlfriend Brittany Matthews.
According to her social media, Mahomes used a a stadium suite to pull off the proposal with a flower arrangement that spelled out "Will You Marry Me?" Mahomes posted a picture on his Instagram story of Matthews adorning her engagement ring with the caption "Ring SZN."
Considering he turns 25 on Sept. 17, his birthday will be even more meaningful now that he has secured a record-setting contract and the love of his life. If this offseason is any indication of what's to come, NFL teams should be terrified of Patrick Mahomes and the Chiefs.
Based on how everything has gone in 2020, we may just see a few more ring ceremonies in their future.
Like Sportscasting on Facebook. Follow us on Twitter @sportscasting19.