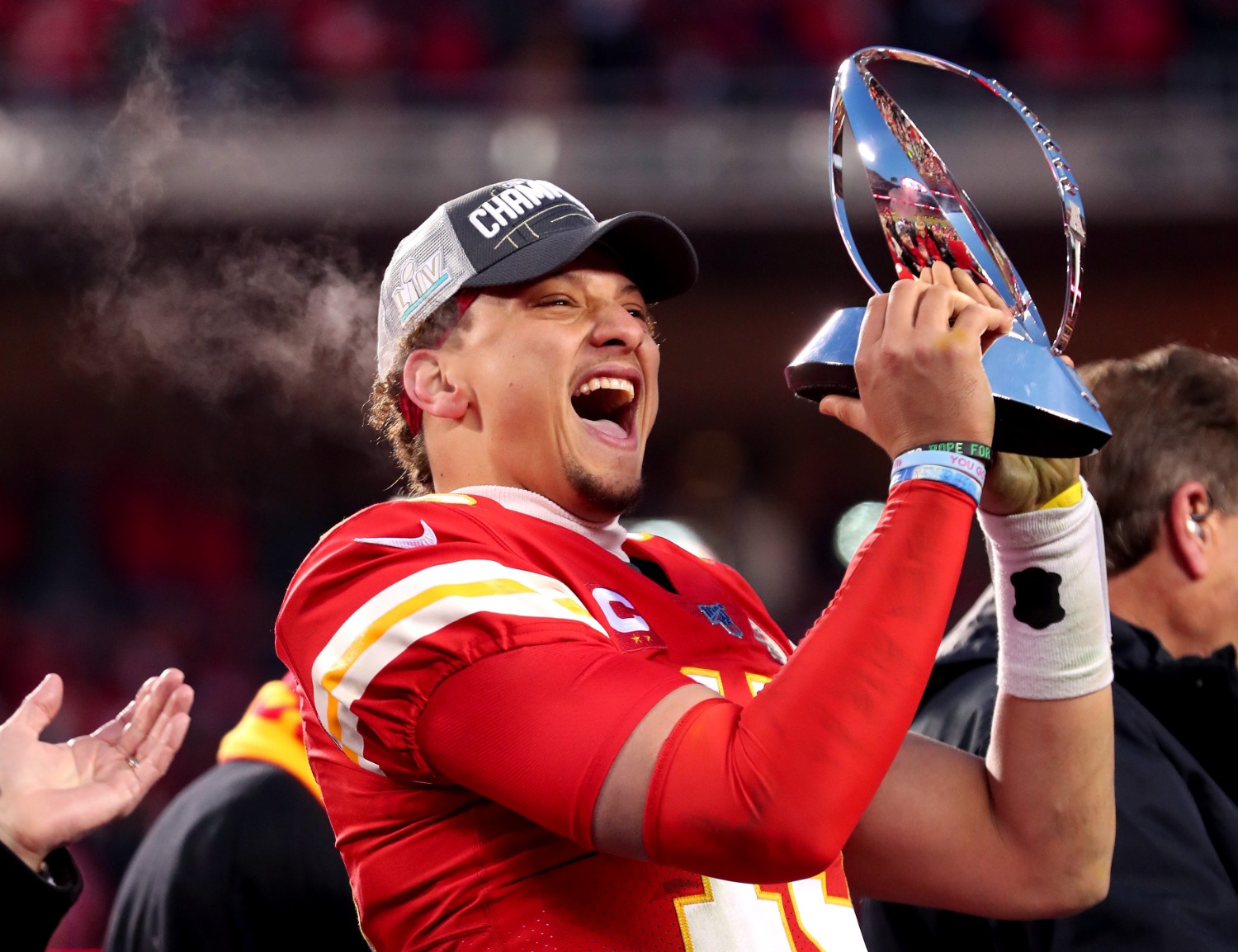 Patrick Mahomes Just Became the NFLPA's Greatest Weapon
Patrick Mahomes just added a powerful new position to his stellar resume by becoming the NFLPA rep for the Kansas City Chiefs.
When it comes to NFL stars, Patrick Mahomes still stands out from the pack. The Kansas City Chiefs quarterback has captivated NFL fans around the world since entering the league in 2017. The reigning Super Bowl MVP with a fat $503 million contract just added another powerful position to his impressive resume that now makes him the NFLPA's greatest weapon.
Patrick Mahomes has quickly become the NFL's biggest star
Even diehard Chiefs fans would have to admit that Patrick Mahomes' rapid ascent qualifies as a surprise. Sure, he possessed tantalizing physical tools that made him a first-round draft pick. But nobody expected the former Texas Tech QB to throw 50 touchdowns once he took over starting duties from Alex Smith.
And while his regular-season stats declined in his second year, that didn't stop the talented gunslinger from stepping up when it mattered most. Mahomes played at an MVP level throughout the playoffs and helped the Chiefs secure their first Super Bowl championship in 50 years.
Beyond his awe-inspiring play on the field, Mahomes has also grown into a superstar off the field. He overtook Tom Brady in jersey sales. He has a huge following on social media. He has major endorsements and shows up on advertisements and commercials. And he even inspired Post Malone to get a tattoo.
While the last bit may seem silly, it speaks to the influence that the 24-year-old has not only on the NFL but the world at large.
Mahomes adds a powerful position to his Chiefs resume
It didn't take long for Patrick Mahomes to become not only the face of the Chiefs but also the NFL. Given his star power and influence, people listen whenever he speaks about an issue. And now, the 2018 NFL MVP has a tremendous opportunity to affect change thanks to his new power position.
Speaking to reporters on Saturday, the NFL superstar with the largest contract in sports history revealed he now serves as the Chiefs' NFL Players Association player rep. Longtime punter Dustin Colquitt previously held the position. However, the Chiefs cut the 15-year veteran earlier this offseason.
So what exactly does a player rep do? Well, according to the NFLPA website, player representatives have an extensive list of responsibilities. Duties include sharing player concerns and needs with the Player Director and Executive Director, promoting NFLPA programs and services, advancing the policies and mission statement of the NFLPA, and taking the pulse of the locker room to generate topics for discussion.
While Mahomes' primary job requires his focus to stay on football, his new power position gives him the opportunity to do even more than he can on the field.
The NFLPA's latest addition carries huge influence to change the NFL
Moving forward, Patrick Mahomes now has a chance to use his new position as the Chiefs' NFLPA player rep to carry even more influence throughout the league. He already smashed all conceivable notions about player contracts with his $503 million deal. Could he encourage other players to opt for long-term security over shorter contracts?
In addition, if his duties include taking the pulse of the locker room and advancing the policies and of the NFLPA, you couldn't pick a more qualified candidate than the NFL's biggest star. Even at such a young age, it's clear that the NFL will hitch its wagon to Mahomes. You figure that other players will listen to him intently whenever he speaks up about an issue.
In an age where players continue to wield more power and stand up for what they believe in, having someone of Mahomes' caliber as an NFLPA player rep only strengthens that group. Heck, Roger Goodell had to acknowledge the Black Lives Matter movement in large part because Mahomes got behind Michael Thomas's cause.
Ultimately, Patrick Mahomes gets paid to throw touchdowns and win Super Bowls. But thanks to his new power position, he can leave a lasting impact on the NFL off the field, too.