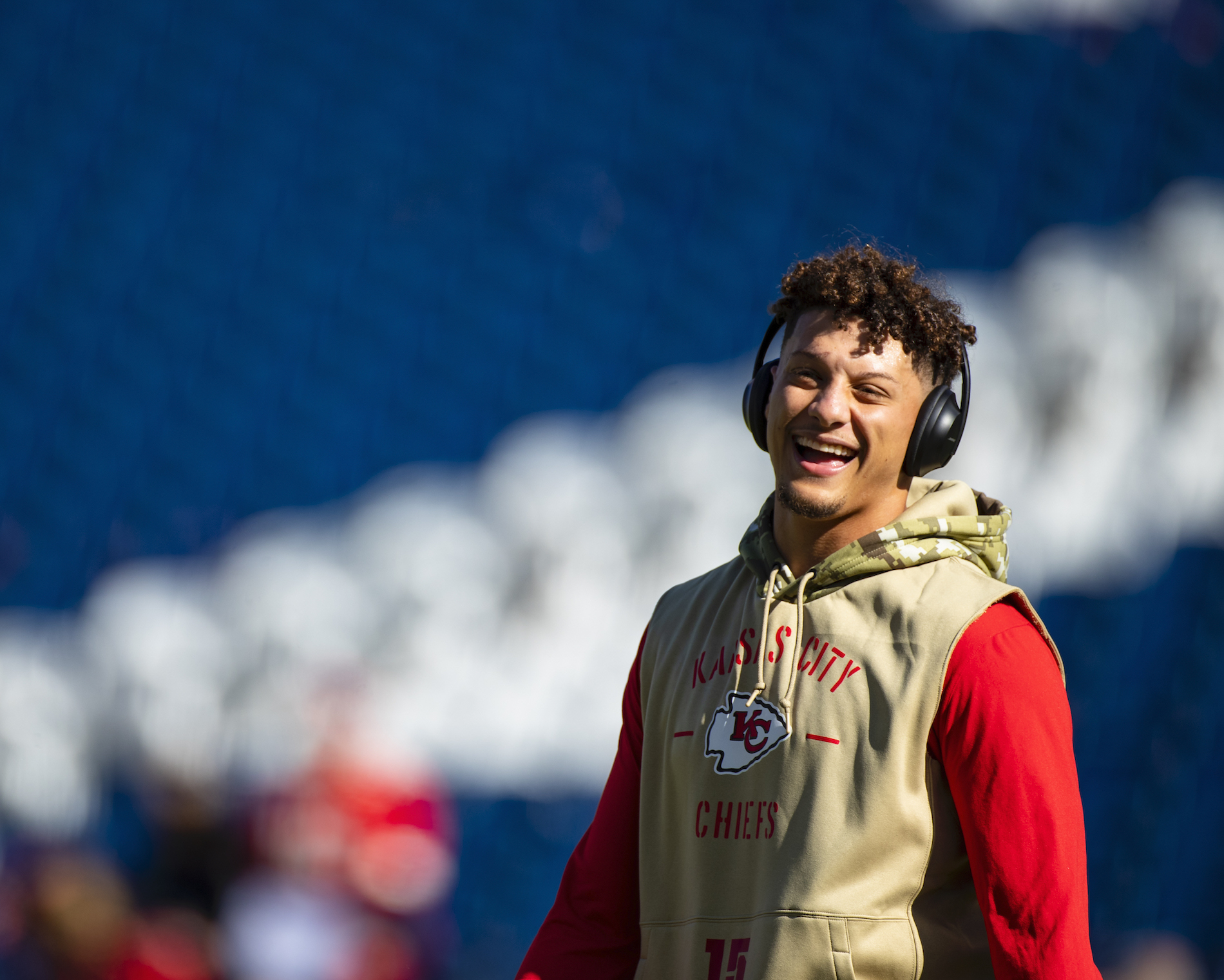 How a Drunken Beer Pong Bet Led Rapper Post Malone to Get a Patrick Mahomes Tattoo
Post Malone has a diverse tattoo collection, and one of them actually came from losing a bet to Patrick Mahomes on the beer pong table.
We all know Patrick Mahomes has one of the best arms in the NFL. It just made him half a billion dollars, so it must be something special. It also turns out Mahomes' rocket arm helps him excel in other sports, too. Most notably, beer pong.
During a friendly game between Mahomes, Travis Kelce, and rapper Post Malone before a concert, tensions started to rise as Malone couldn't beat the Chiefs duo. A bet was then put on the table, and the night ended with Malone getting a Mahomes-inspired tattoo.
Patrick Mahomes partied with Post Malone after the Chiefs' Super Bowl Parade
With Patrick Mahomes' new $503 million contract came media attention and fame that he's never seen before. On Tuesday, GQ Magazine published a feature story on the half a billion-dollar man and announced he would grace the cover of the August 2020 issue.
In the feature, GQ's Clay Skipper tells the story of Mahomes and Kelce partying with rapper Post Malone after the Super Bowl parade in Kansas City. Malone happened to be playing in town on the night of the parade, so he invited the Chiefs superstars backstage before the show.
Mahomes and Kelce gladly obliged. Malone, who is an avid beer pong player, challenged the QB/TE duo to a friendly game before the concert. Mahomes and Kelce couldn't miss. Malone paired up with everyone in the room to take the duo down, but they just kept winning.
Even when Malone got called to take the stage, he refused until he could avenge his numerous losses. In a fit of rage, Malone made a tattoo bet with the Super Bowl champs that he would soon regret.
Post Malone lost the bet and had to get Mahomes and Kelce tattoos
After nearly 15 beer pong games, Post Malone instructed Mahomes and Kelce to write their autographs on a piece of paper. The bet? Beat Malone again and he'll tattoo their autographs on his body.
Malone even had a tattoo artist in the room at the ready.
Sure enough, Mahomes and Kelce dusted the rapper at his own game yet again. After the concert, Malone stuck to his word and tattooed Mahomes' and Kelce's drunken scribbles on his body.
Malone will forever remember the night Mahomes and Kelce ran his own table at his own concert. If he ever forgets, all he has to do is glance at his new tattoos for a reminder.
Patrick Mahomes said he drank more than 20 beers that day
The Post Malone concert and backstage beer pong was surely a memorable night for Mahomes, but it wasn't even the best part of his day. Hours earlier, Mahomes was pouring beers down his throat while covering his eyes with ski goggles at the Chiefs Super Bowl parade.
The entire city egged him on as Mahomes cruised downtown in his float with the Lombardi Trophy in his arms. Mahomes told GQ he drank "way over" 20 beers that day, but many of them didn't make it into his mouth. Mahomes said he was covered in beer from head to toe after the parade.
And what better to do after a day of drinking than make a permanent tattoo bet with a famous rapper. Hey, at least he didn't lose. It turns out that's the one thing Mahomes isn't very good at.