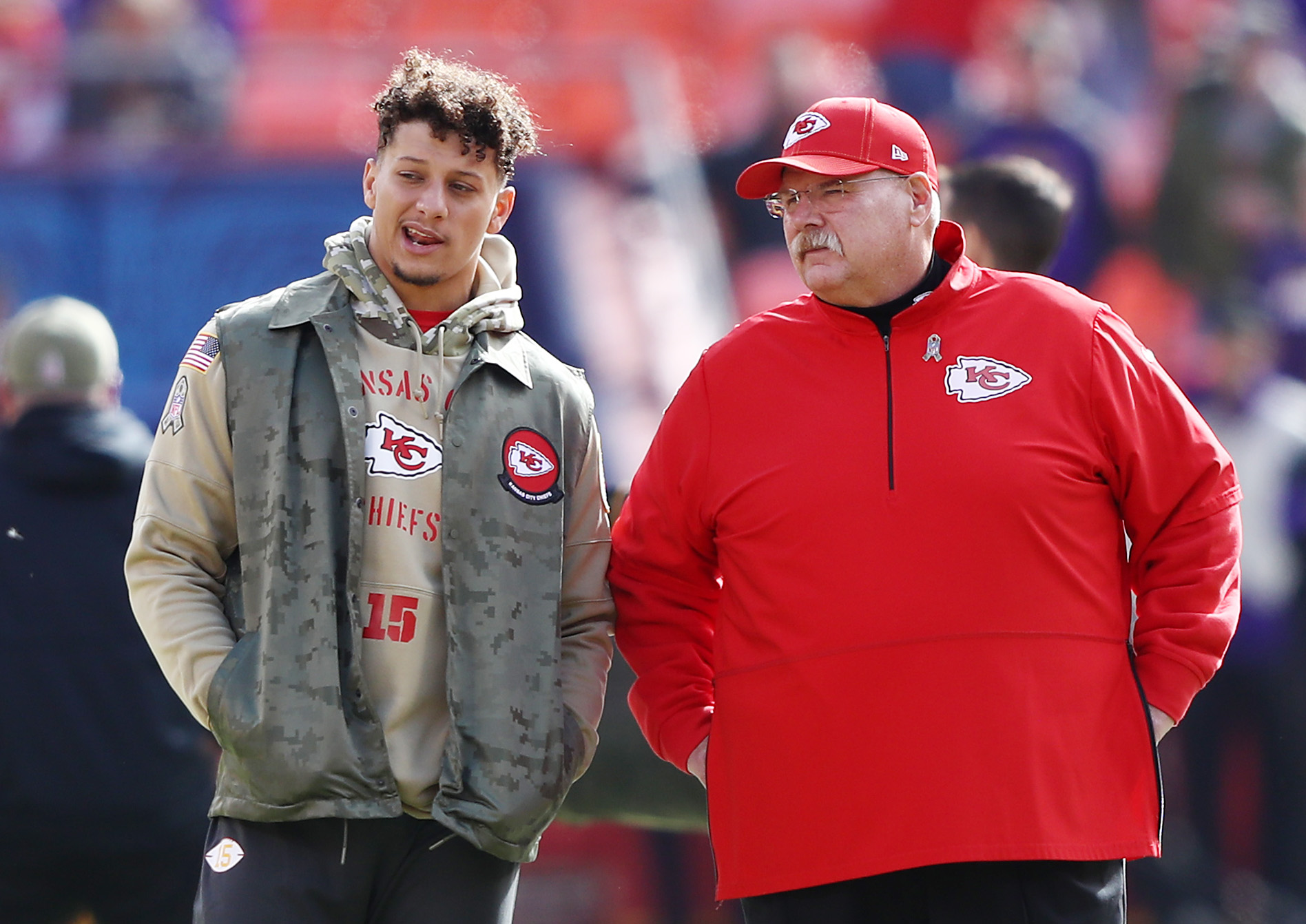 Patrick Mahomes and Andy Reid Won't Be Breaking Up Anytime Soon
With Patrick Mahomes tied down to a long-term deal, it doesn't look like Andy Reid will be leaving Kansas City anytime soon.
As everyone in the sports world knows, Patrick Mahomes recently inked a massive deal with the Kansas City Chiefs. While the quarterback has plenty of talent on his own, he's also found himself thriving in Missouri thanks to head coach Andy Reid. Although the Big Red didn't sign a contract extension this week, he won't be leaving KC anytime soon, either.
During his media availability after Mahomes' extension, Reid was asked his ability to keep coaching. Based on his response, Kansas City Chiefs fans should feel pretty good about their team's prospects.
Patrick Mahomes will be in Kansas City for the foreseeable future
Every NFL executive dreams of landing a franchise quarterback capable of leading the team to greatness. After three years in the pros, it's safe to say that Patrick Mahomes is one of those generational stars.
As we've all seen during his two seasons in the Chiefs' starting role, Mahomes is a legitimate talent. During 2018, the first-year starter threw for an eye-popping 5,097 yards and 50 passing touchdowns; 2019 wasn't as successful from a purely statistical perspective, he stepped up down the stretch and helped Kansas City end their Super Bowl drought.
On Monday, the Chiefs took the bull by the horns and inked their quarterback to a 10-year contract worth at least $450 million. While there's plenty of room to debate the decision—that's a massive commitment, even for a star player—it does ensure that, barring any freak scenarios, Patrick Mahomes will spend his prime in KC.
Andy Reid won't be going anywhere either
For all of Patrick Mahomes' individual talent, he hasn't become an NFL star on his own. Head coach Andy Reid has designed a perfect offense to take advantage of the quarterback's skill set. Thankfully for Chiefs fans, Big Red isn't ready to call it a career just yet.
After the Chiefs announced Mahomes' new deal, Herbie Teope of the Kansas City Star asked Reid if he could keep coaching into his "young 70s." Without making any direct commitments, the coach made it clear that he's ready to chase a few more championships before riding off into the sunset.
"Listen, I haven't got to that point mentally where I'm thinking about retirement. One of the great things about this job is when you look forward to coming to work and to deal with the players and coaches. I'm lucky enough to be around good players and coaches," Reid explained, according to NFL.com. "This guy here [Mahomes], makes it even better. He has a unique ability with what he does with his teammates. The Honey Badger [Tyrann Mathieu] was part of this too. … Both of those two guys make our jobs very enjoyable. I come to work and have two great leaders like that, along with other players who love to play the game. Listen, if it takes me into my 70s, then let's roll. Herbie, doggone it, I'm ready to go."


With Patrick Mahomes and Andy Reid, the Chiefs have something special
In the world of professional sports, nothing can be taken for granted. With Andy Reid and Patrick Mahomes working together, though, it seems like the Chiefs are in a pretty good place going forward.
After signing his new contract, Mahomes posted a video on Twitter tracing the chronology of his career; it ended with the statement, "we're chasing a dynasty." Purely from a footballing perspective, it's hard to argue with that statement. While it's impossible to know what the future will hold, the Chiefs are currently in good shape to keep pushing for titles. Their offense, with Reid calling the shots, is already world-class. The defense improved down the stretch under Steve Spagnuolo, and Mahomes himself can compensate for a multitude of issues.
For years, the Chiefs seemed like a franchise trapped in limbo; while they could put talented teams together, everything fell apart in the end. With Andy Reid and Patrick Mahomes, however, Kansas City has the stability and talent necessary to build something truly special.
Stats courtesy of Pro-Football-Reference