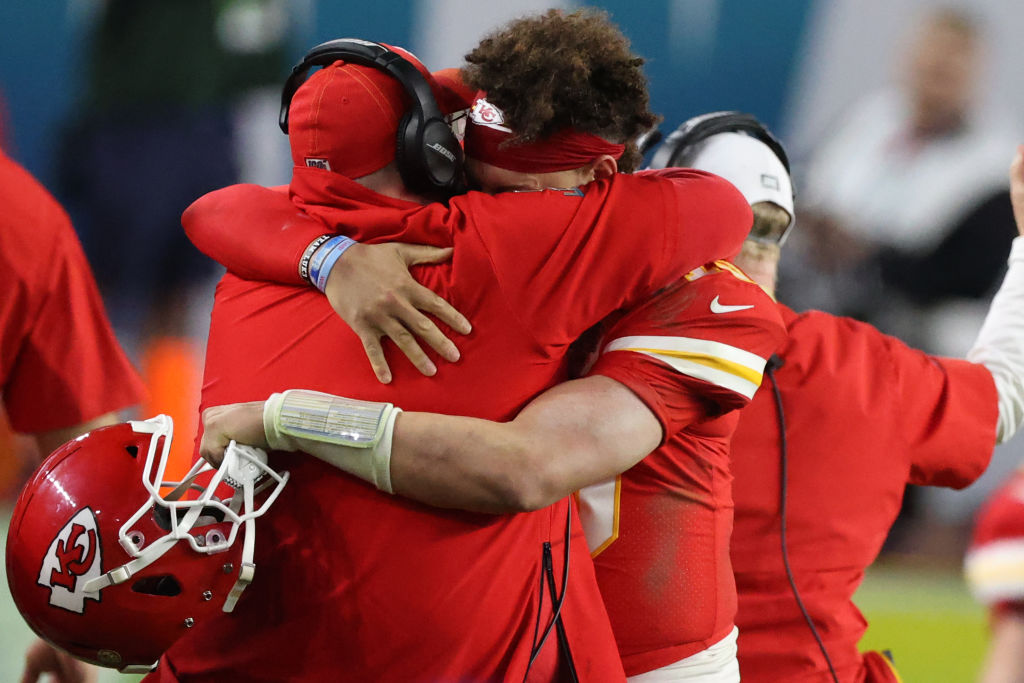 How Badly Did Patrick Mahomes Want This Super Bowl for Andy Reid?
Patrick Mahomes had plenty of motivation heading into the Super Bowl. No factor was bigger, though, than getting Andy Reid a championship.
When a team plays well, it's safe to assume everyone is getting along. While we generally talk about chemistry in terms of players working together, the guys on the field need to click with the coaching staff, too. Just look at the bond between Kansas City Chiefs quarterback Patrick Mahomes and his coach, Andy Reid.
The pair, of course, combined to lift the Lombardi Trophy on Super Bowl Sunday. With the season on the line, Patrick Mahomes had some extra motivation: he wanted to help Reid get over the hump and finally win a Super Bowl.
How Patrick Mahomes and Andy Reid won the Super Bowl
Early in the NFL season, the Kansas City Chiefs looked like they might be in trouble. After winning their first four games, the club dropped two straight contests at homes; then, in Week 7, Patrick Mahomes got hurt.
While some teams might have crumbled, Andy Reid and his Chiefs didn't falter. They would drop two more games—one with Matt Moore under center and another in Mahomes' return—then rattle off six straight wins to end the regular season. Thanks to some help from the Miami Dolphins, Kansas City entered the playoffs as the number two team in the AFC.
From there, fate seemed to be on their side. The New England Patriots and Baltimore Ravens crashed out of the playoffs, gifting the Chiefs an easy path to the Super Bowl; things weren't actually easy on the field, but Patrick Mahomes pulled off two comebacks to lead Kansas City back to the big game.
In Miami, it was more of the same. Mahomes struggled to find his rhythm, and the Chiefs fell behind. With the clock ticking down in the fourth quarter, though, momentum shifted; Kansas City rattled off 21 unanswered points to seal another comeback win. After decades of playoff struggles, both Andy Reid and the Chiefs organization had won a Super Bowl.
Patrick Mahomes wanted to win one for his head coach
At the start of the 2018 campaign, Patrick Mahomes officially took over as the Chiefs' starter. In less than two years, he's already accomplished both of his goals.
"I had two goals when I became the starting quarterback of the Kansas City Chiefs," he explained in his postgame press conference. "The first goal was to win the Lamar Hunt Trophy. I wanted to bring it home, the one that has our founder's name on it; I wanted to bring it to this family and this organization. And the second, most important thing was to get coach Reid a Super Bowl trophy."
"I mean he's one of the greatest coaches of all-time," Mahomes continued. "I don't think he needed a Lombardi Trophy to prove that, but just to do that, it puts all doubt aside. He's going to be listed as one of the all-time great coaches in history whenever he wants to be done, which I hope is not anytime soon."
The quarterback would go on to praise Reid's work ethic, explaining that no one arrives at work earlier or leaves later than the head coach. "He deserved it," Mahomes simply said.
Andy Reid won't be content with one Super Bowl win, though
For two decades, Andy Reid won just about everything except a Super Bowl title. Now that he's gotten the monkey off his back, it's time to try again.
After lifting the Lombardi Trophy, Reid told reporters that he wasn't thinking of riding off into the sunset just yet. A large part of that is due to Patrick Mahomes; when you have an elite quarterback under center, you've got a shot to win every season.
Predicting the future, especially when it comes to sports, is challenging at the best of times, but the Kansas City Chiefs are in a great spot. The club has an explosive offense and a much-improved defense. Patrick Mahomes is still young, and Andy Reid knows how to get the best out of him.
The Kansas City Chiefs had to wait 50 years for a Super Bowl title; Andy Reid had to wait over two decades. Come September, though, they'll be looking to make it two in a row.