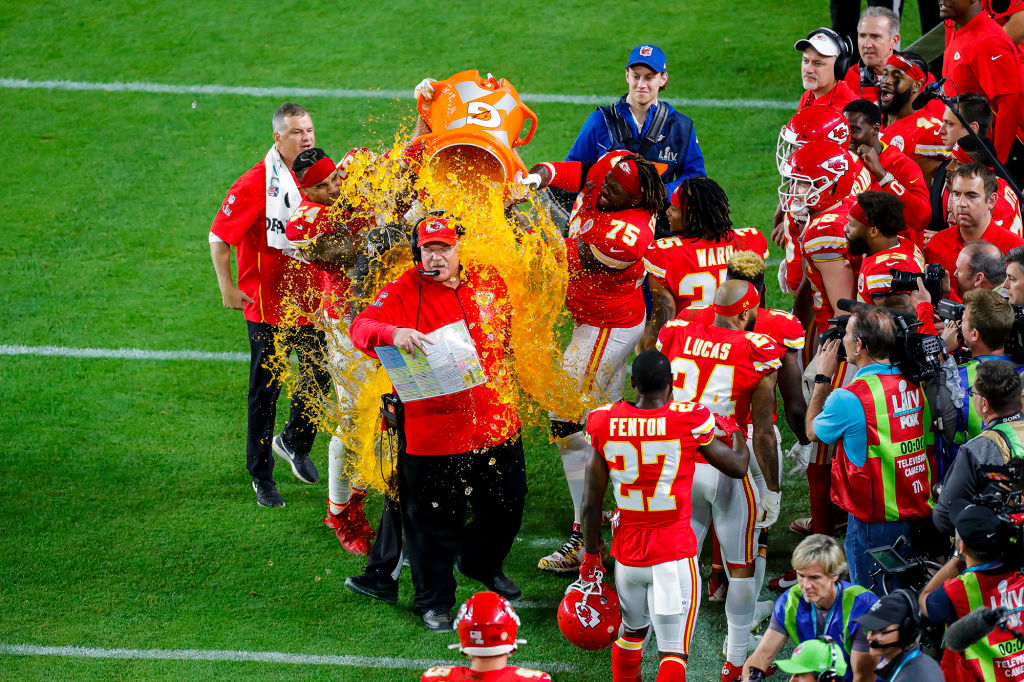 Andy Reid Confirms His Time in Kansas City Won't Be Over Anytime Soon
After two decades of trying, Andy Reid finally won a Super Bowl. The Kansas City Chiefs head coach, however, isn't ready to ride off into the sunset.
No matter your profession, there's no fighting against Father Time. That's especially true in the sports world; eventually, everyone will have to retire. While coaches generally hang around for a more extended amount of time than your average player, even they'll finally have to call it a career. Kanas City Chiefs head coach Andy Reid, however, isn't ready to ride off into the sunset.
On Super Bowl Sunday, Reid finally lifted the Lombardi Trophy as an NFL head coach. While it's been a long road to the top, he isn't about to retire now that he's won the big game.
Andy Reid's lengthy NFL coaching career
The old cliche says that if you love what you do, you'll never work a day in your life. Kansas City Chiefs head coach Andy Reid undeniably loves football, but he's put in plenty of effort to make it to the top.
After his playing career at BYU came to an end, Reid joined the Cougars' staff for an additional season as a graduate assistant. He then left Provo, and started moving between jobs with programs like Northern Arizona and UTEP; after nine seasons of paying his dues, however, he got a shot at the NFL.
In 1992, Reid joined the Green Bay Packers organization as an offensive assistant; he worked his way through the ranks, helping the club claim the Super Bowl XXXI title. With each passing season, Big Red's reputation as an offensive guru grew. Eventually, that helped him get a shot at the big time.
Andy Reid joined the Philadelphia Eagles in 1999, taking over a head coach. He couldn't change the club's fortunes overnight, but things started to move in the right direction. The Eagles went 5-11 during Reid's first season in Philly; after that, they made the playoffs during nine of his remaining 13 campaigns in town.
Reid's time in Philadelphia eventually came to an end, though; while many expected him to take a break, he threw himself right back into the fire by signing on with the Kansas City Chiefs. The coach immediately turned the franchise's fortunes around; things went to the next level once Patrick Mahomes joined the fold.
Andy Reid has no intentions of calling it quits
After nearly two decades on the NFL sideline, Andy Reid had done just about everything except for winning the big game. On Super Bowl Sunday, however, he finally claimed the Lombardi Trophy.
With that elusive championship under his belt, it would be understandable if Big Red wanted to ride off into the sunset on top of the NFL world. While that might sound like something out of a Hollywood movie, Reid is focused on winning another title, not lounging by the pool or hitting the early bird buffet.
"I've got this young quarterback over here that makes life easy," Reid explained after the Super Bowl. "You get one [championship], you want to go get another one. But we've got to backpedal for about a minute and enjoy this one and [then] we'll get busy on the next one."
A dynasty might be starting in Kansas City
Predicting the future is always risky, especially in sports. On paper, though, it seems like the Kansas City Chiefs could turn into an NFL juggernaut. There's no reason why Andy Reid would walk away from that.
While Reid is on the older end of the coaching spectrum—he'll turn 62 in March—he isn't stuck in the past. His offense is still capable of pushing the envelope and putting up points on any opponent; of the field, he allows his players the freedom to be themselves.
As Reid himself said, the coach is in a pretty good spot right now. He's working with a dynamic young quarterback and an explosive offense. The Chiefs' much-maligned defense turned into a Super Bowl-winning unit. There's no reason to walk away from a good thing.
For two decades, Andy Reid couldn't win the big game. Now, he's looking to do it again and again.