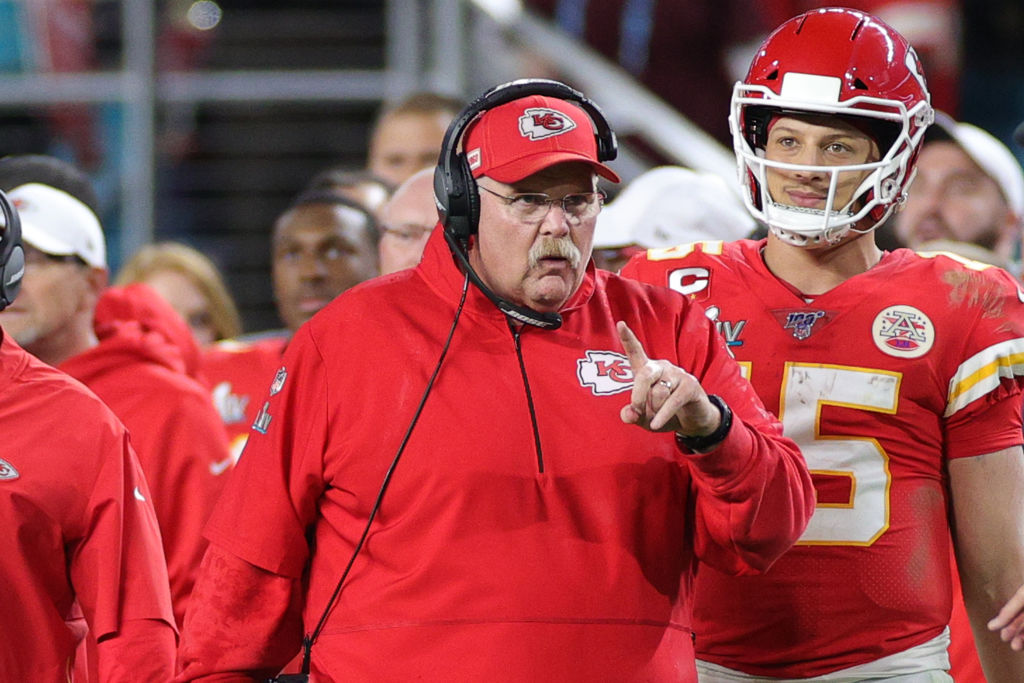 How Andy Reid Plans to Celebrate His Long-Awaited Super Bowl Victory
After over two decades of trying, Andy Reid finally won a Super Bowl. The head coach planned to celebrate the occasion in one specific way.
For most of his NFL career, Andy Reid couldn't win the big one. While the current Kansas City Chiefs head coach is a beloved character and a respected offensive mastermind, he always had one strike against him: he lacked a Super Bowl title. On Sunday, however, Big Red changed that once and for all.
While he received the traditional Gatorade shower and plenty of postgame plaudits, the head coach had one specific plan to celebrate. It turns out that, despite his success, Andy Reid's tastes aren't too different than your average football fan.
Andy Reid's long road to a Super Bowl title
As football fans, we're all intimately familiar with Andy Reid. That's because the mustachioed coach has spent more than two decades on NFL sidelines.
After paying his dues at colleges like Northern Arizona and UTEP, Reid made the jump to the pros in 1992. He joined the Green Bay Packers organization but promptly started moving up the ranks. Before long, he had established himself as one of football's best offensive minds.
On the back of that success, Reid got a shot as a head coach, taking over the Philadelphia Eagles in 1999. While it took a little time to get things off the ground, the club started soaring. Reid formed a dynamic partnership with Donovan McNabb, and the club became a postseason fixture. There was one catch, though, Reid couldn't win the big game.
In 2013, Big Red joined a struggling Kansas City Chiefs club; he instantly turned them into contenders. While there was still plenty of heartbreak—something both Reid and the Chiefs know all about—they both reached the promised land on Super Bowl Sunday.
How Andy Reid plans to celebrate his championship
While we all know about Andy Reid's coaching prowess, fashion sense, and impeccable mustache, the Kansas City head coach seems to have another talent: eating. It turns out that winning the Super Bowl works up quite an appetite.
During one of his countless postgame interviews, Reid shared his celebration plans. "I'll go get the biggest cheeseburger you've ever seen," the head coach explained. "It might be a double." That wasn't the coach's only culinary comment, though.
"Well, I joked about it, but I'm going to have a double cheeseburger tonight, with extra cheese," he clarified in his press conference. "I'm going to enjoy it with my family and the team, that's what I'm going to do. That's exciting."
Big Red deserves whatever meal he wants
While it's always dicey drawing conclusions about celebrities we only know from afar, it's safe to say that Andy Reid deserves to celebrate. After decades of falling short, the coach was finally able to lift the Lombardi Trophy.
By all accounts, Reid is one of football's good guys. He has an impressive win-loss record, but that's only part of his story. The head coach has battled through personal tragedies. He treats his players like extensions of his own family, urging them to stay the course during tough times. In a career where it's easy to turn into a dictator, he leans in the opposite direction. Reid inspires a mixture of love and respect; he's like the uncle you aim to please out of admiration rather than fear.
While Big Red's Hall of Fame credentials were already established, he guaranteed himself a place in the NFL pantheon on Sunday night. That definitely deserves a celebratory cheeseburger.