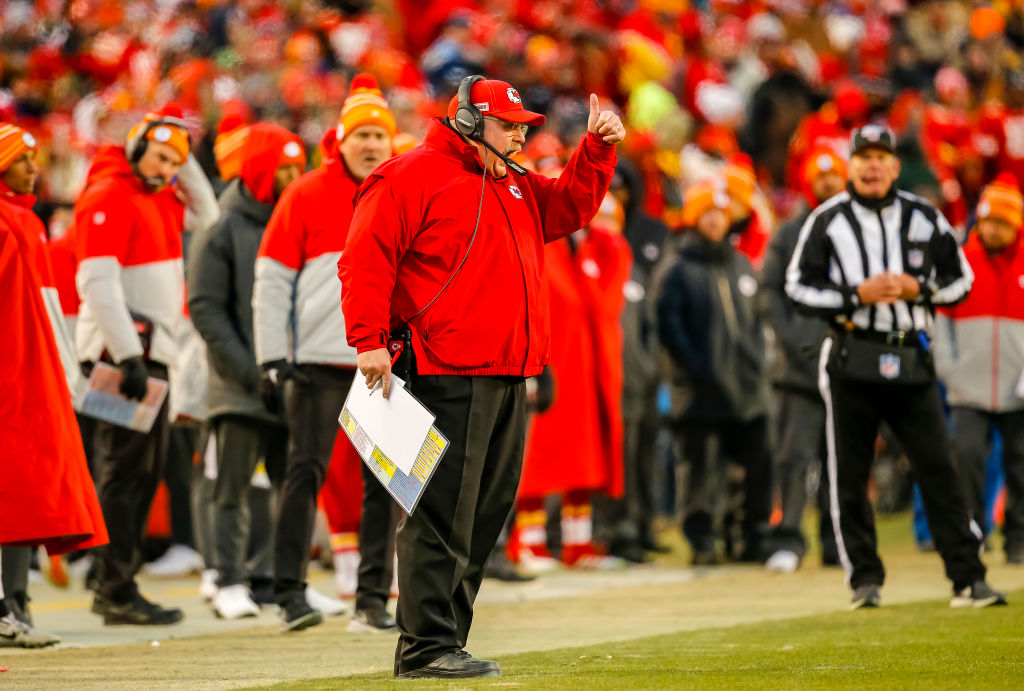 1 Factor Giving the Kansas City Chiefs Extra Motivation to Win the Super Bowl
While every NFL player wants to win the Super Bowl, every Kansas City Chiefs player has extra motivation: head coach Andy Reid's legacy.
During the Super Bowl, no player should struggle with motivation. You never know how many chances you'll get at eternal NFL glory; this may be your one and only shot to earn a championship ring during your career. While every Kansas City Chiefs player knows that reality first hand, they'll all have a little extra motivation on Sunday evening: their head coach, Andy Reid.
While Reid has done just about everything possible during his NFL career, he's never won the Super Bowl. His Kansas City Chiefs players want to change that.
Both Andy Reid and the Kansas City Chief need a Super Bowl title

The Kansas City Chiefs are a historic NFL franchise; Andy Reid is one of the league's winningest coaches. Both of them, however, desperately need to win the big game.

While the Kansas City Chiefs dominated the early days of the American Football League, success has been harder to come by in recent years. The club appeared in Super Bowl I and Super Bowl IV, winning the latter game; after that title, though, fortunes turned. The Chiefs have had plenty of talented players, ranging from Christian Okoye and Priest Holmes to Jamaal Charles and Eric Berry, but never could get over the hump. When the playoffs rolled around, Kansas City always found a way to choke.

Andy Reid also finds himself in a similar position. While Big Red has spent more than two decades in the NFL and has established himself as a premier offensive coach, he can't shake an unfortunate reputation. When the Big Game comes around, Reid is written off as a choker who's bound to mismanage the clock. Although that's not exactly fair—a head coach only has so much influence on a single-elimination game—he'll still want to lift the Lombardi Trophy to complete his CV.
The Kansas City Chiefs want to win one for their coach

While every Kansas City Chiefs player should be ready to take care of business on Sunday, they'll have a little extra motivation when they take the field. The team wants to help Andy Reid win his first Super Bowl as a head coach.

"One of the best coaches to ever coach football and to never have a Super Bowl as a head coach, that's one of the biggest things I feel like is on my list as far as things I'd love to happen this Sunday," defensive end Frank Clark told reporters. "I know the joy he's going to get. I've got more years to play, to give myself a shot doing this. Coach ain't old, but he's getting old. Just keeping it real— it's the nature of the game. You never know when someone's time is going to end, so you want a guy like him to be able to enjoy the benefits of winning that championship and be able to see that."  

"He's a Hall of Fame coach," fullback Anthony Sherman added, summing up the team's sentiments. "For him to be able to go down with a ring and a championship, it'd be a great feeling for a lot of these guys on this team. I know a lot of us want to win this for him."
Can Andy Reid finally win a Super Bowl?

Winning a championship game is never easy. Two things, however, will be on Andy Reid's side come Super Bowl Sunday.

First, the head coach has an impeccable record coming off of bye weeks. While the pre-Super Bowl festivities may have changed the team's schedule a bit, Reid has had two weeks to gameplan for the 49ers. Given Big Red's experience and track record, there's no doubt he's cooked up something special on the offensive side of the ball.

Beyond that, Reid has the most talented player in the Super Bowl, if not the entire NFL, on his roster in the form of Patrick Mahomes. While the 49ers are an incredibly complete team, sometimes you just need a superstar to go out there and win the game. If you were creating a list of players who you'd entrust with that responsibility, Mahomes would be near the top.