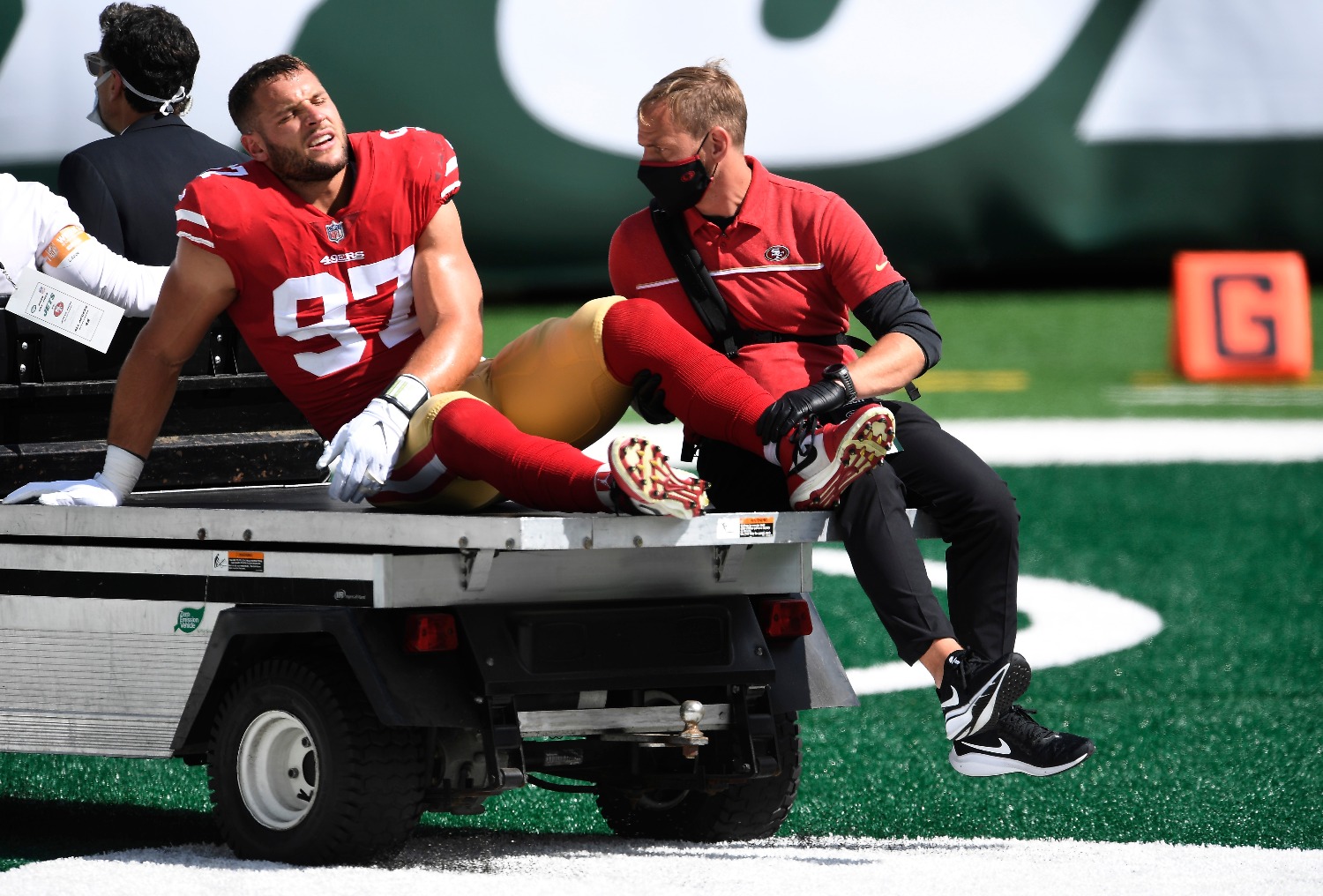 The San Francisco 49ers Just Suffered a Devastating Blow to Their Super Bowl Chances
The 49ers suffered a devastating blow to their Super Bowl chances with Nick Bosa sustaining a torn ACL that ends his season.
After drafting Javon Kinlaw in April and extending George Kittle in August, the San Francisco 49ers entered the 2020 NFL season as a top Super Bowl contender. Of course, Kyle Shanahan's team nearly won a ring earlier this year before Patrick Mahomes led his team to a comeback victory. Looking to redeem themselves for their fourth-quarter collapse, the 49ers just suffered a devastating blow to their Super Bowl chances on Sunday. With Nick Bosa out for the year, San Francisco no longer looks like a favorite to repeat as NFC champions.
The 49ers entered the 2020 NFL season as a top Super Bowl contender
Despite losing Super Bowl 54, the 49ers still entered the 2020 season as a top title contender. After all, San Francisco boasts one of the best rosters in the NFL.
On offense, Jimmy Garoppolo returned from an ACL tear and played all 16 games. In his first full season as a starter, Tom Brady's former backup completed 69.1% of his passes for 3,978 yards, 27 touchdowns, and 13 interceptions.
Garoppolo often targeted George Kittle, who cemented his status as the league's top tight end. The former fifth-round pick led the 49ers in catches (85) and receiving yards (1,053) while providing a powerful punch as a blocker.
Defensively, the addition of Nick Bosa gave the 49ers yet another former first-rounder along their defensive front. After signing his four-year, $33 million rookie contract, Joey Bosa's younger brother paced the team with 25 quarterback hits and finished second to Arik Armstead with nine sacks. DeForest Buckner and Dee Ford combined for 14 sacks, and Richard Sherman looked like his old self in his second year in San Francisco.
This offseason, the 49ers added even more talent. John Lynch pulled off a trade for Trent Williams, which helped ease the loss of Joe Staley. He then drafted Kinlaw in the first round with the pick he acquired from trading Buckner to the Indianapolis Colts. Plus, the offense got a boost with first-round receiver Brandon Aiyuk.
Armed with star power and one of the NFL's best coaches, the 49ers certainly looked capable of making another Super Bowl run heading into Week 1.
49ers suffer a devastating blow to their Super Bowl chances
In Week 1, the 49ers hosted the Arizona Cardinals. Surprisingly, San Francisco struggled in the NFC West showdown. Kyler Murray showcased his scary upside in leading the Cardinals to a 24-20 victory. Still, Jimmy Garoppolo performed well by throwing for two touchdowns and no interceptions. Nick Bosa followed up on his sensational rookie season by recording six tackles, one forced fumble, and one quarterback hit in the season-opening loss.
While San Francisco got back on track in Week 2 by defeating the New York Jets, the 49ers suffered a devastating blow to their Super Bowl chances. During Sunday's game, Nick Bosa got carted off the field after sustaining a knee injury. Immediately speculation swirled about the severity of his injury.
On Tuesday, the team confirmed 49ers fans' worst fears. Ian Rapoport reported via Twitter that San Francisco's star defensive end will miss the rest of the season with a torn ACL. Now, the 49ers will be without their $33 million superstar pass-rusher for the remainder of the 2020 season. And with Bosa sidelined, that significantly hinders the 49ers' chances of redeeming their Super Bowl collapse.
No Nick Bosa means no Super Bowl title in 2020
Prior to Nick Bosa's arrival, the 49ers struggled tremendously on defense. San Francisco ranked 25th in points allowed in Shanahan's first season. In 2018, the 49ers dropped to 28th. However, with Bosa on board, the defense ranked eighth in points allowed and second in yards last season. Now, that unit will be without its best player.
In fact, you could argue that Bosa is the best overall player on the team. His absence will have a major trickle-down effect. Quarterbacks no longer have to worry about the game-wrecking defensive end flying off the edge. Offensive coordinators no longer have to scheme up ways to give their tackles help in pass protection. Plus, with Bosa out of the lineup, San Francisco's other pass-rushers won't benefit from single blocks. Instead, teams can focus their efforts on Armstead, Kinlaw, and Dee Ford.
The 49ers' secondary will likely have to cover receivers for longer, which could lead to coverage busts and big plays. Don't forget that San Francisco placed Richard Sherman on injured reserve, which means he won't be back in the lineup until at least Week 5. If the defense takes a sizable step back with Bosa done for the year and Sherman temporarily sidelined, that will only put more pressure on an offense whose quarterback is banged up yet again.
Ultimately, with their best player out for the year, the 49ers just suffered a devastating blow to their Super Bowl chances.
At least Nick Bosa will be back next year.
All statistics courtesy of Pro Football Reference.