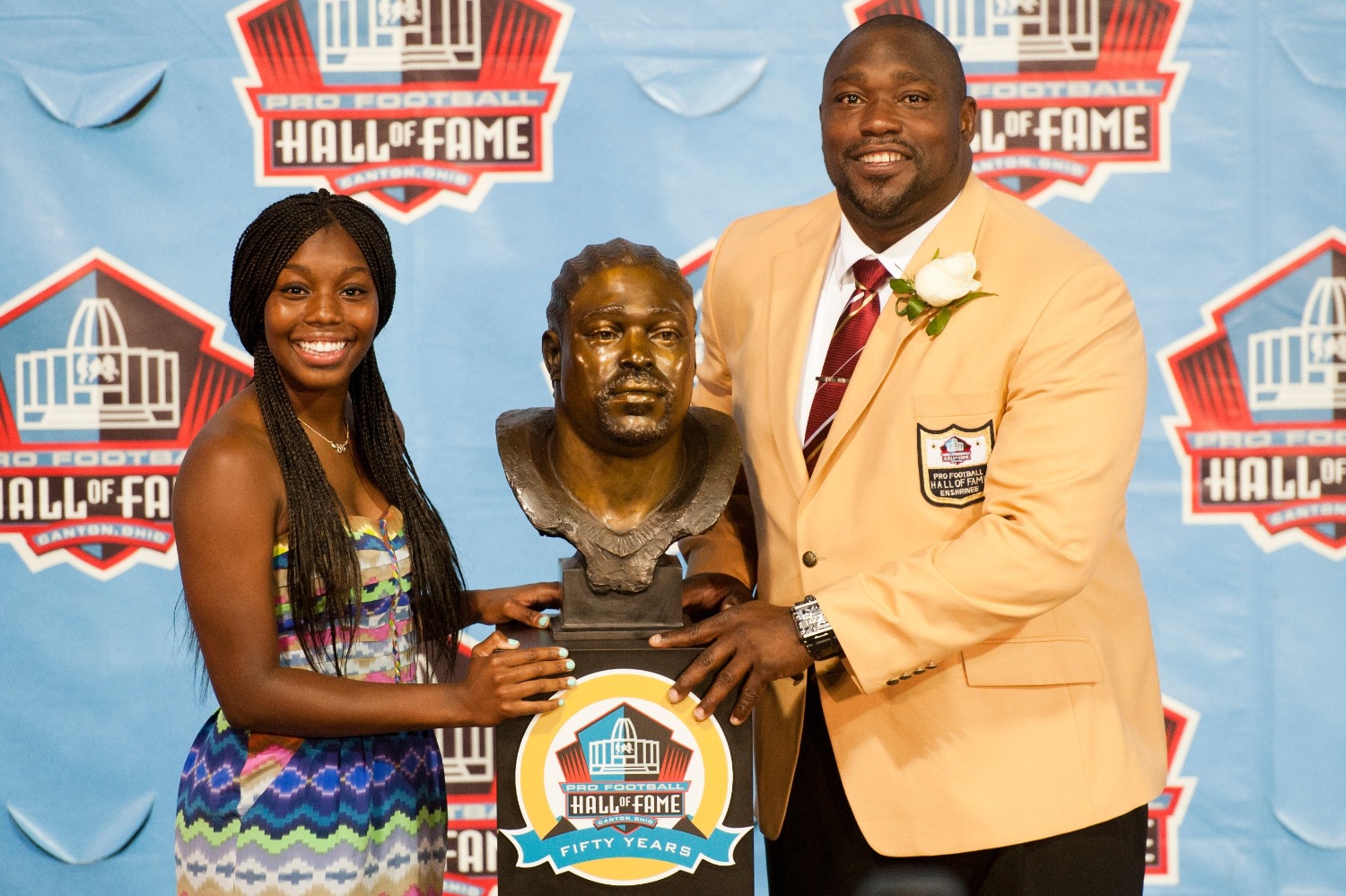 You Won't Believe How Many Kids Warren Sapp Has Fathered
Buccaneers legend Warren Sapp has fathered so many kids that he ran into serious financial troubles despite making millions in the NFL.
For more than a decade, Warren Sapp dominated offensive linemen as one of the NFL's top defensive tackles. A former standout at the University of Miami, the longtime Tampa Bay Buccaneers star earned a spot in Canton thanks to his prolific play on Sundays. However, since retiring, Sapp has run into legal and financial troubles, including falling behind on child-support payments. Let's take a closer look at Sapp's career, his large family, and the financial issues that led to him filing for bankruptcy in 2012.
Warren Sapp's Hall of Fame career
Hailing from a program that has churned out many NFL stars, Warren Sapp still ranks as one of the best players to ever don a Hurricanes uniform. Following a dominant college career that included finishing as a Heisman Trophy finalist, Sapp entered the 1995 NFL draft. The Buccaneers selected the talented interior force with the 12th overall pick.
In a year that saw Ki-Jana Carter go first overall, Sapp arguably had the most successful career of any player from that '95 draft class. Showcasing rare quickness and explosion, the 6-foot-2, 308-pounder racked up 77 sacks in nine seasons in Tampa. In 1999, Sapp won the NFL Defensive Player of the Year award. He also earned his first of four consecutive first-team All-Pro honors before winning his first and only Super Bowl ring in 2002.
After one more year in Tampa, Sapp took his talents to Oakland. He totaled 19.5 sacks in 58 games with the Raiders before retiring after the 2007 season. During his outstanding NFL career, Sapp accumulated 578 tackles, 96.5 sacks, 19 forced fumbles, 12 fumble recoveries, and 21 passes defended. He got inducted into the Pro Football Hall of Fame in 2013.
Sapp has fathered six children
Warren Sapp made almost $60 million during his 13-year NFL career. His lucrative profession helped support a family that may be bigger than you would expect. Sapp married Jamiko Vaughn in 1998, and the couple had two children: Mercedes and Warren II. However, Sapp and his wife divorced in 2003.
Ironically, Warren Sapp II has enjoyed success on the football field, too. The defensive lineman parlayed an excellent high-school career into a scholarship to Florida Atlantic University. He redshirted as a freshman after joining the team in the summer to participate in conditioning workouts.
Warren Sapp has also fathered four children with four different women. In total, he has six children with five women. Ultimately, that played a significant role in Sapp's legal and financial troubles.
The former NFL star has dealt with financial issues since retiring
Despite earning millions as an NFL star, Warren Sapp filed for Chapter 7 bankruptcy in 2012. According to the Tampa Bay Times, Sapp had just $826.04 in his checking account and $339.31 in his savings account at the time of the filing. On the other hand, his bankruptcy paperwork listed $6.7 million in debts.
So how did the NFL Hall of Famer end up in such financial trouble?
Besides his wild spending habits, Sapp also had to make significant child-support payments for his six kids. He reportedly still owed his ex-wife $876,000 in alimony and child-support payments at the time he filed for bankruptcy.
In addition, his paperwork revealed he owed Akilah Akins $4,000 per month. Angela Sanders and Sarah Matt Lamothe-Kindred were each supposed to receive $2,500 per month. Sapp also owed the New Jersey Family Support Center $6,495 per month as a result of fathering a child with a former college basketball player.
Overall, his bankruptcy filing stated that his combined monthly alimony and child-support payments totaled more than $75,000.
Warren Sapp did make a healthy living as an analyst for NFL Network after retiring. However, the day after Super Bowl 49, he got arrested on suspicion of soliciting a prostitute and assault. The NFL Network terminated Sapp's contract.
In May 2015, the charges were dismissed.
Statistics courtesy of Pro Football Reference.