The Unfortunate Tale of Ki-Jana Carter, the Bengals' No. 1 Overall Pick 25 Years Ago
Like Joe Burrow, Ki-Jana Carter was taken by the Cincinnati Bengals with the No. 1 overall pick in the NFL draft. 25 years later, it's hard not to look back and wonder what might have been.
Carter had a phenomenal career at Penn State and seemed destined for stardom at the pro level. He had speed. He had agility. He had power when he needed it. Unfortunately, his career never took off as injuries plagued his NFL tenure. It was as if his career ended before it ever got the chance to begin.
This is the unfortunate tale of Ki-Jana Carter.
Ki-Jana Carter was a beast at Penn State
Following an All-American senior season at Westerville (OH) South High School, it was thought by many that Ki-Jana Carter would end up at Ohio State as it was just about 15 minutes away. But Carter shunned the Buckeyes and chose to enroll at Penn State to play for Joe Paterno. The Nittany Lions certainly didn't mind.
Carter became the starter in Happy Valley his sophomore season, Penn State's first year in the Big 10, and ran for 1,026 yards and seven touchdowns. But it was his junior year that really made everyone take notice. For one, the Nittany Lions were incredible that season, going 12-0 and winning the Rose Bowl, a game in which Carter won MVP. They finished second in the polls to Nebraska but many saw them as at least a co-national championship team.
Ki-Jana Carter was amazing that season, rushing for 1,539 yards and 23 touchdowns. He finished second in the Heisman Trophy vote, losing out to Colorado's Rashaan Salaam, but was still named to the All-American team. Carter capped off his career in that Rose Bowl victory over Oregon, rushing for 156 yards and three touchdowns.
His NFL career was cut short by injury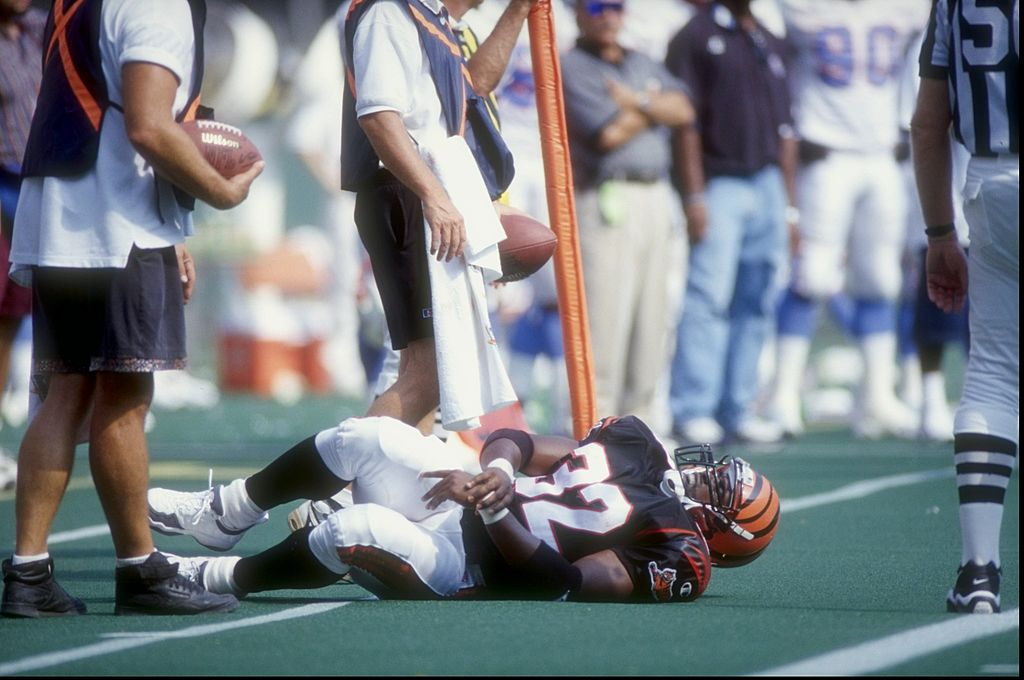 Following his performance in the Rose Bowl, Ki-Jana Carter was looked at as the top prospect in the 1995 NFL draft and the Cincinnati Bengals wanted him badly. But they were stuck in the fifth spot in the draft and needed to trade up to get their guy. Luckily, the Carolina Panthers were willing to deal and they traded the top overall pick to Cincy in exchange for the Bengals' pick at No. 5 and a second-round selection. Carolina actually used that No. 5 pick to draft Carter's Penn State teammate, quarterback Kerry Collins. The Bengals selected Carter at No. 1 and it was time to see what this superstar could do in the NFL.
Unfortunately, Ki-Jana Carter didn't play a single regular-season snap for the Bengals in 1995 after tearing his ACL on the third carry of his first preseason game. It was heartbreaking. He missed the entire 1995 season and when he did finally return to football, he simply wasn't the same player. In 1996, he rushed for just 264 yards. In 1997, he ran for just 464 yards, which would end up being his career-high. He would end up having to deal with a torn rotator cuff, a broken wrist, and more knee issues and played in just four games over the next two seasons. By the year 2000, Carter was gone from the Bengals.
After missing the entire 2000 season, he attempted a comeback in 2001 with the Washington Redskins, appearing in 14 games and rushing for 308 yards. In 2002, he signed with the Green Bay Packers but was cut before the regular season. He played two seasons with the New Orleans Saints but racked up just 89 rushing yards in 10 total games before finally calling it quits in 2004. In 59 career games in the NFL, Ki-Jana Carter, still the only running back taken with the top overall pick since 1986, rushed for just 1,144 yards and 20 touchdowns. Once compared to the likes of Emmitt Smith, only faster, Carter became just another unfortunate "what if" story in sports.
Where is Ki-Jana Carter today?
Despite his limited playing time in the NFL, Ki-Jana Carter still made himself plenty of money, earning more than $15 million in his career. In 2008, he used some of that cash to create ByoGlobe, which offered eco-friendly products and energy savings to various companies in the healthcare and sports industries, among others. With Carter serving as CEO, the company grew over the years and also now offers various promotional products and services to companies all over the world.
Carter looked at his business the same way he looked at the game of football, each day facing the challenges that come with being an entrepreneur. While he's certainly not happy with how his NFL career turned out, he also seems content with the fact that he did the best he could.
"I'm not going to hold no regrets. Do I wish my career would have happened better? Hell yeah, I do. I was expecting a lot more. I'm sure a lot of fans were, too. But at the same time, am I going to sit there and sulk and complain about what happened? No. I did all I could."
That's a phenomenal attitude to have.