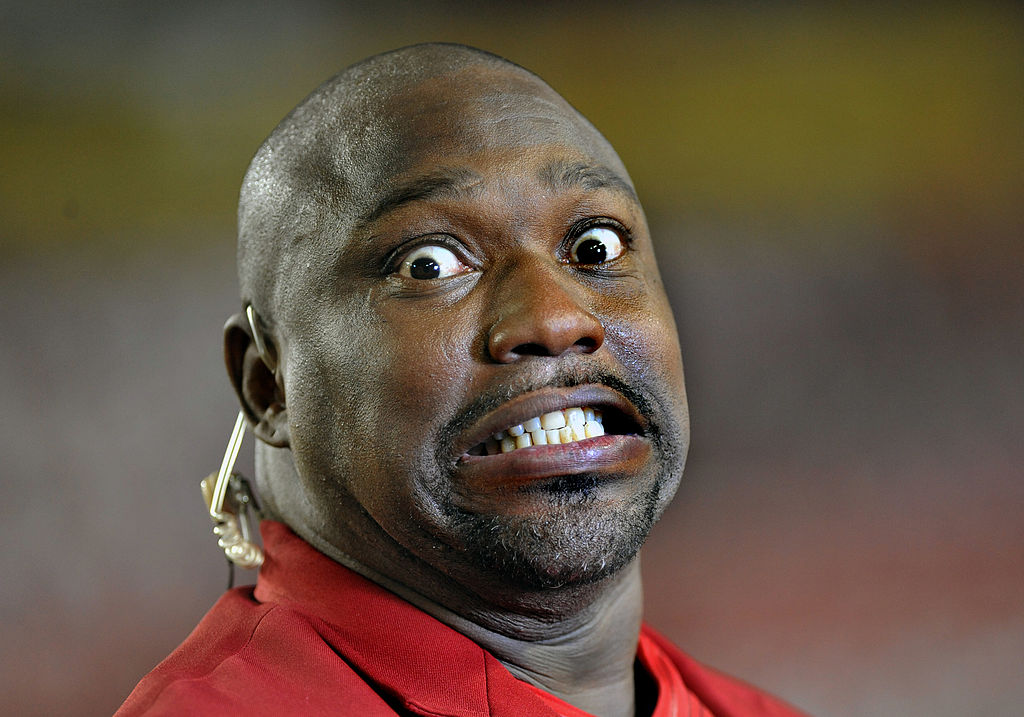 Warren Sapp Made Over $75 Million in the NFL, but His Expensive Taste Cost Him Every Penny
Warren Sapp made over $75 million over three NFL contracts, but his rapid spending launched him into bankruptcy after he retired.
Warren Sapp was a dominant defensive force during his NFL playing days. The 300-pound lineman was a scary sight for any center, and when Sapp got by him he became a quarterback's worst nightmare. He was a rare breed of size and speed that's rarely found on the field today. Sapp recorded 96.5 total sacks in his 13-year NFL career. The Hall-of-Famer signed three contracts in the NFL that totaled over $75 million combined. Sapp was set up to live prosperously in retirement, but his expensive taste and reckless spending got the best of him. He saw his millions evaporate in the blink of an eye. Sapp filed for bankruptcy in 2012 after racking up $6.7 million in debt.
Warren Sapp's NFL contracts totaled over $75 million
Warren Sapp was one of the best defensive players in the NFL, and he was paid like it. After playing four years on his rookie contract, Sapp signed a five-year deal in 1998 with the Buccaneers worth over $35 million.
Sapp didn't let his newfound wealth change his game like many athletes before him. In fact, he only got better after signing his megadeal. Sapp was named to the First-Team All-Pro in four straight seasons after inking his new contract. He recorded a career-high 16.5 sacks in 2000.
Sapp made the Pro Bowl in every year under his $35 million contract with the Bucs. He was worth every penny, but that's not what can be said for Sapp in his next deal. The Raiders signed Sapp to a seven-year, $36 million deal in 2004, but Sapp's best days were behind him.
Sapp was 32 at the time. He only played four more seasons in the league and never made a Pro Bowl with the Raiders. Even so, Sapp's three contracts were worth a combined $76.3 million.
Sapp spent his NFL earnings as if he had unlimited cash
Like so many professional athletes who strike gold, Sapp developed dangerous spending habits during his playing career. Instead of saving his millions, Sapp spent lump sums of money on items no human could ever need.
Sapp built a $4.1 million mansion and filled it with the most unnecessary features imaginable. Some of the most expensive items Sapp purchased included a $1,200 lion skin rug, 240 pairs of Jordan's worth over $6,000, a "large painting of a nude woman," and a pair of boxing gloves signed by Muhammad Ali.
When he filed for Chapter 7 Bankruptcy in 2012, all of those items and more were liquidated. Sapp had $6.45 million in assets to his name at the time, but it wasn't even enough to pay his $6.7 million in debt.
NFL Network kept Sapp afloat until he was fired in 2015
The only thing that allowed Sapp to pay off his $6.7 million in debt in 2012 was his gig at NFL Network. Sapp worked as an analyst on "NFL Total Access" and "NFL Gameday Morning." He made $45,000 a month at NFL Network.
However, Sapp was fired from the network in 2015 after he was arrested in Phoenix for soliciting prostitution and assault. Sapp was in Arizona covering the Super Bowl, but his greed again got in the way of a promising career.
Wherever Sapp went, controversy followed. It's the sad reality for so many professional athletes who build up enormous wealth. A majority spends more than they save, and that was the case for Sapp.
His tragic story about the rise and fall of his wealth is one every young athlete should keep in mind when they receive their first check. A lavish lifestyle might be fun at the time, but it never lasts. Sapp learned that the hard way.