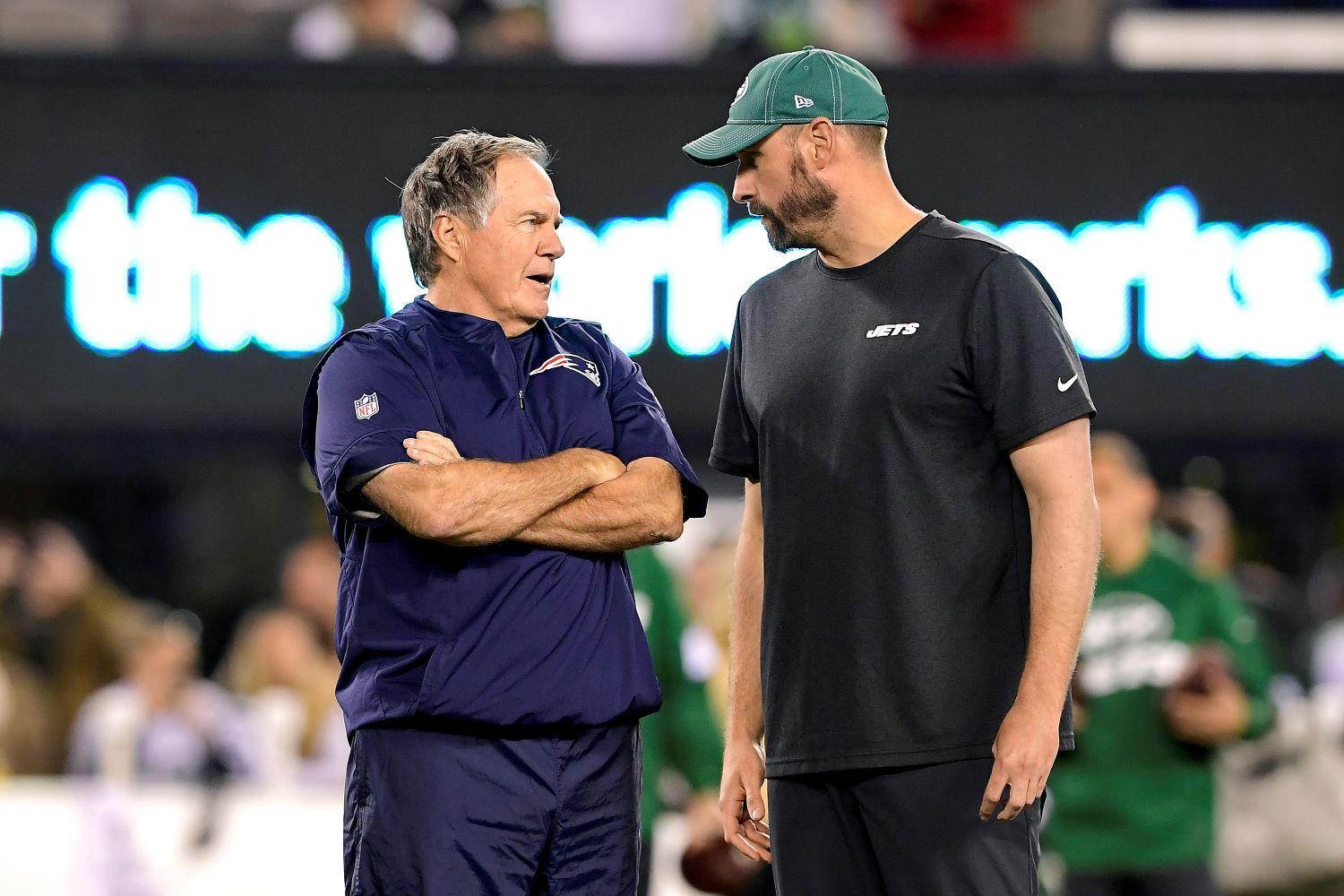 Bill Belichick Admits the Brutal Truth About His Disastrous New York Jets Experience
Bill Belichick just admitted his brutally true feelings about the New York Jets the day after the Patriots defeated their AFC East rivals.
Bill Belichick rarely divulges much information when speaking to the media. However, the New England Patriots coach couldn't pass up the opportunity to fire a shot at the one team he despises the most: the New York Jets.
And in doing so, he just admitted the brutal truth about the most infamous job resignation in sports history.
Bill Belichick defeated his hated rival on Monday
In the midst of a four-game losing streak, the Patriots entered Monday night with a chance to stop their skid against the winless Jets. Despite an impressive performance by Joe Flacco, Adam Gase once again fell victim to Bill Belichick.
New England buckled down after a disappointing first half to hold New York to only seven points in the second half.
Meanwhile, Cam Newton stepped up in the fourth quarter and helped stage a furious comeback. Down 27-17, the Patriots opened the final frame with an 18-play drive that ended with Nick Folk nailing a 29-yard field goal.
After J.C. Jackson picked off Flacco, New England drove down the field before Newton punched in a 1-yard rushing touchdown. The former MVP then completed several clutch passes on the Patriots' final drive to set up Folk's game-winning field goal.
On one hand, defeating the worst team in the NFL on a last-second field goal is far from impressive. But for Belichick, taking down his most hated rival always means something special. After all, his history with the Jets includes an infamous resignation that still gets discussed today.
Belichick admits the brutal truth about leaving the Jets
Long before he coached Tom Brady, Bill Belichick looked like he would be a long-term fixture in New York. After Bill Parcells stepped down after the 1999 season, Belichick became the new head coach of the New York Jets.
However, with concerns about team ownership and his fit with the franchise, he made a bold move that completely shocked the NFL world.
On Jan. 4, 2000, Belichick turned his introductory press conference into a resignation announcement that included a note written on a napkin that read, "I resign as HC of the NYJ."
Having just defeated the Jets on Monday Night Football, that life-altering moment came up during Belichick's appearance on WEEI on Tuesday. The Patriots head coach didn't hold back in admitting the brutal truth about leaving the Jets.
"That was one of the not only most defining, but one of of the great moments of my career," Belichick said. "That, combined with Robert [Kraft] giving me the opportunity to come here, I couldn't have asked for anything more."
He further added, "That wasn't a good situation for me, and I didn't want to be a part of it, so I wasn't. The other half of that was Robert giving me the opportunity to come here."
The Patriots can thank their AFC East foe for their success
Bill Belichick didn't just leave the Jets hanging to join the Patriots. In fact, New England had to pay a steep price to secure his services.
In order to pry Belichick from New York, the Patriots traded their first-round pick in the 2000 NFL draft, plus fourth- and seventh-round picks in the 2001 draft. The Jets sent back a 2001 fifth-round pick and a seventh-rounder in 2002.
Since making that fateful trade, New England has won six titles in nine Super Bowl appearances. Meanwhile, the Jets have never appeared in a Super Bowl and haven't earned a postseason berth since 2010.
Ultimately, Kraft paid a ridiculously cheap price for the greatest coach in NFL history, and Belichick got his wish to take over his own team with the full support of ownership.
As for the Jets?
They've employed Adam Gase, Todd Bowles, Rex Ryan, Eric Mangini, Herm Edwards, and Al Groh since trading Belichick. They've failed to develop a franchise quarterback despite spending ample draft capital to find one. And just three years into the Sam Darnold experience, it looks like the #TankforTrevor campaign is in full swing.
Oh, what could have been.
Like Sportscasting on Facebook. Follow us on Twitter @sportscasting19.