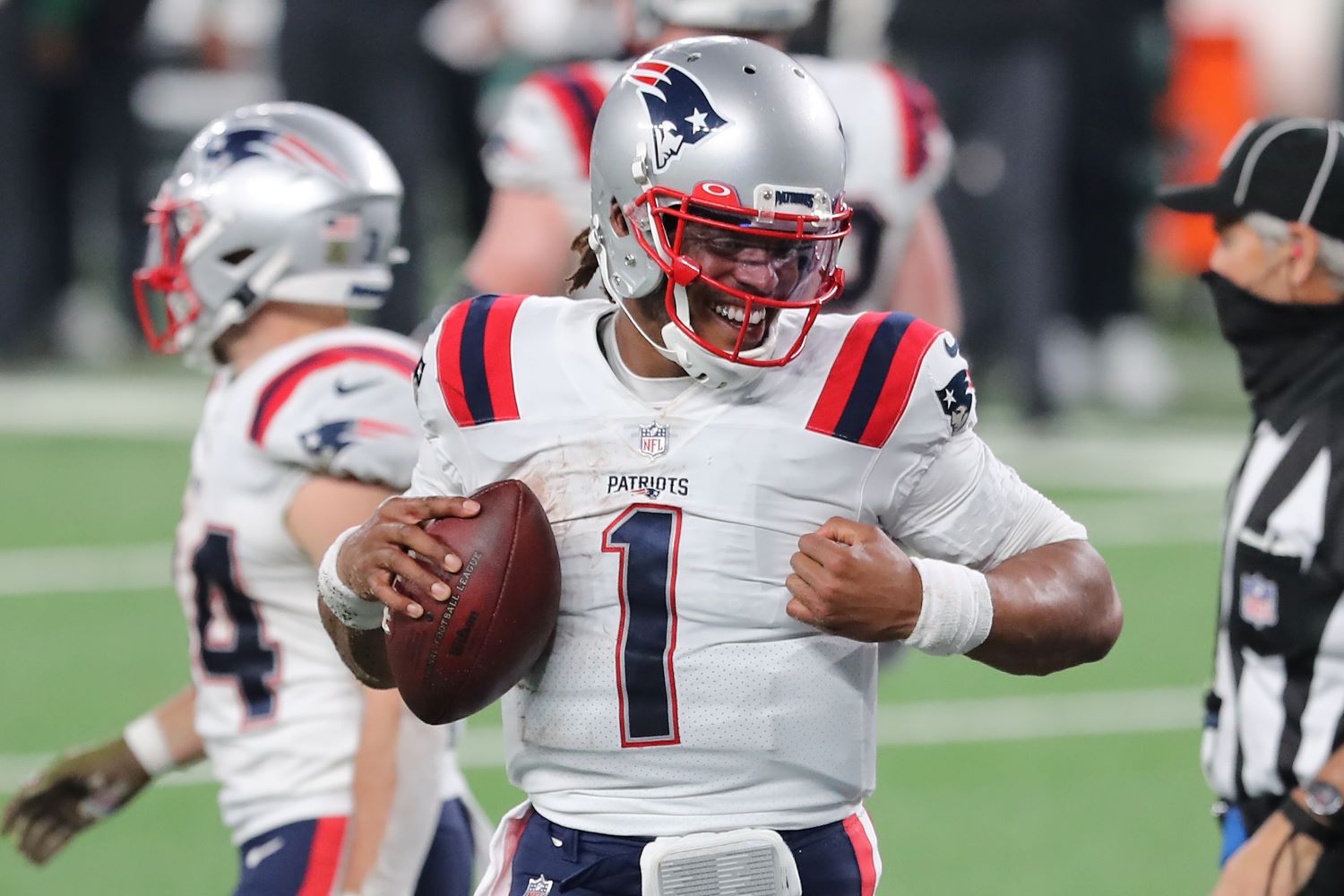 Cam Newton Just Saved Bill Belichick From Living His Worst Nightmare
By leading the Patriots to a comeback win against the Jets, Cam Newton just saved Bill Belichick from suffering the ultimate embarrassment.
It didn't look pretty, but the New England Patriots managed to earn their third victory of the season by taking down the New York Jets on Monday Night Football. Still, it took a Superman-like performance from Cam Newton to save Bill Belichick from living his worst nightmare.
The Patriots better hope their starting quarterback can build off his impressive outing. Because after barely beating a winless Jets team, Newton and Co. will have to be perfect against a Baltimore Ravens squad that looks like a top Super Bowl contender.
The Patriots barely beat the Jets on Monday Night Football
Cam Newton entered Monday night with a chance to redeem himself. After all, his fumble against the Buffalo Bills brought a quick and painful end to New England's comeback attempt.
The 31-year-old rose to the occasion in a big way. On a night where the Patriots couldn't contain 35-year-old Joe Flacco, Newton delivered a vintage performance of his own that included 274 passing yards and two rushing touchdowns.
New England fell behind early after giving up two deep touchdown passes in the second quarter. However, the Jets scored just seven points after halftime and got shut out in the fourth quarter.
Meanwhile, the Patriots started to click when it mattered most. After Newton tied the game with a 1-yard TD run, New England eventually got the ball back and marched down the field to give ex-Jet Nick Folk a chance to beat his former team. The veteran kicker nailed a 51-yard field goal with no time remaining to give the Patriots a 30-27 win.
Cam Newton saved Bill Belichick from living his worst nightmare
New England's victory meant much more than moving to 3-5. Because thanks to Cam Newton's late-game heroics, Bill Belichick just got saved from living his worst nightmare.
While Belichick certainly hates losing any game, falling to the winless Jets would have been a brutal blow to his ego and reputation. After all, he infamously resigned from his head-coaching position with the Jets after just one day on the job. In some instances, Belichick has even refused to refer to the team by its name.
And let's not forget about the good old days of Rex Ryan firing huge shots at his coaching foe. Needless to say, the Patriots head coach does not hold the AFC East franchise in high regard.
Plus, the Jets have been an absolute disaster this season. Could you imagine if New York's first win of the year came against Belichick? Even though the Patriots have taken a step back this season, losing to the Jets would have represented an all-time low for the six-time Super Bowl champions and their head coach. Just imagine how much drama would unfold if New England extended its losing streak to five games because Belichick couldn't defeat Adam Gase.
Luckily for Belichick, Newton made several clutch throws that put the Patriots in a position to defeat his sworn enemy. But while the former No. 1 pick saved his head coach from losing to a team he thoroughly detests, Newton will have to be flawless on Sunday if the Patriots have any chance of moving to 4-5.
Can New England snap Baltimore's winning streak?
On Sunday, the Patriots host a Ravens team that clearly has more talent on both sides of the ball. Lamar Jackson headlines an offense that ranks eighth in scoring thanks to a dominant rushing attack. The reigning MVP leads his team with 469 rushing yards. Meanwhile, the three-headed tandem of Gus Edwards, J.K. Dobbins, and Mark Ingram has combined for 850 yards and seven touchdowns on the ground.
Last year, Jackson and Co. thoroughly dismantled Bill Belichick's team. Facing the league's No. 1 defense, the Ravens racked up 210 rushing yards in a 37-20 victory at M&T Bank Stadium.
This time, they face a Patriots team that lacks the size and physicality to win the line of scrimmage. With Dont'a Hightower opting-out of the season and Kyle Van Noy, Jamie Collins, and Danny Shelton departing in free agency, New England has taken a sizable step back on defense.
This year, the Patriots have allowed 131 rushing yards per game and cannot get to the quarterback consistently. Their personnel simply isn't good enough to contend with physical teams.
That puts the pressure on Cam Newton to take his game to another level on Sunday. While his running ability certainly adds another dimension to the offense, the Patriots need him to continue making strides as a passer. With Jakobi Meyers and Damiere Byrd emerging as reliable receivers, Newton at least has a few weapons he can target in critical moments.
But after struggling to defeat the worst team in football, the Patriots will need another Superman-like effort from their quarterback if they have any chance of taking down a legitimate Super Bowl contender.
All statistics courtesy of Pro Football Reference.