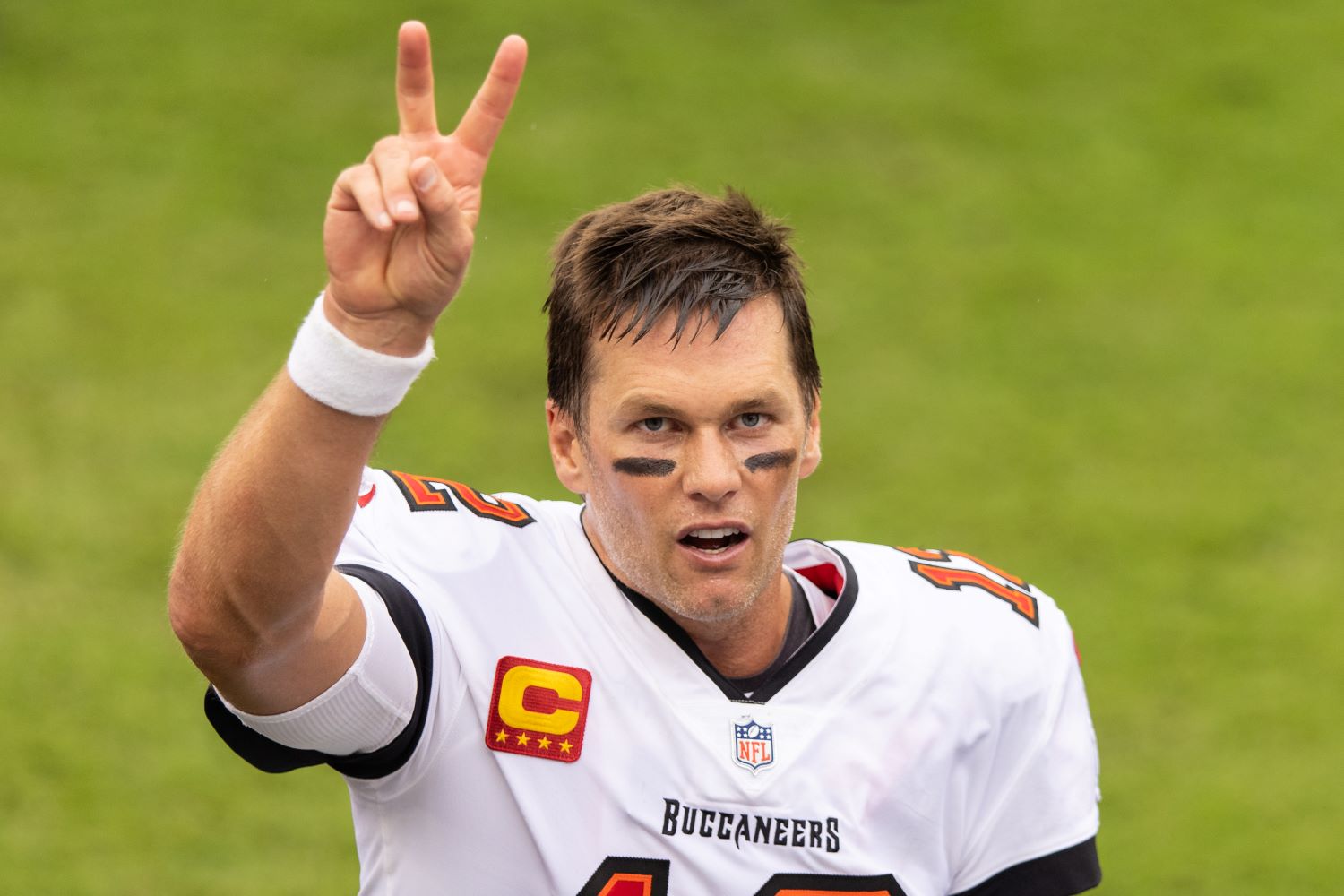 Tom Brady Saved Antonio Brown's NFL Career Using a $600 Million Motivational Speaker
Tom Brady saved Antonio Brown's career using a $600 million motivational speaker. Will Brown turn the Buccaneers into Super Bowl champions?
Since entering the NFL 20 years ago, Tom Brady has worked tirelessly to become the greatest quarterback in NFL history. Apparently, the Tampa Bay Buccaneers quarterback went to great lengths to save the career of one of the most dominant receivers the league has ever seen.
While Antonio Brown still has to finish his suspension before he can catch passes from his ex-New England Patriots teammate, he may never have gotten another NFL opportunity if not for a $600 million motivational speaker. And as it turns out, he has Brady to thank for that.
Antonio Brown finally has a new NFL home
When Antonio Brown signed with New England last season, it gave Tom Brady his most talented receiver since Randy Moss. Though the two displayed instant chemistry, the marriage didn't last long. Just 11 days after they signed him, the Patriots cut Brown after allegations of sexual misconduct emerged.
Months of personal and legal drama eventually led to the NFL suspending the former Steelers star for eight games. Despite his character concerns, Brown still remained an attractive option for teams in need of help at wide receiver.
While the Seattle Seahawks looked like a possible fit for the seven-time Pro Bowler, the Buccaneers ensured that Brown will be catching passes from Tom Brady and not Russell Wilson. On Friday, Tampa signed the 32-year-old wideout to a one-year deal.
With Brown and Brady back together, the Buccaneers certainly look like a Super Bowl favorite. However, the talented receiver may never have returned to the NFL without his quarterback's help.
Tom Brady saved Brown's career using a $600 million motivational speaker
Given his lengthy list of off-field incidents, the fact Antonio Brown remained unsigned until late October shouldn't have come as a surprise. After all, NFL teams had plenty of reason for concern based on Brown's tumultuous 2019 season.
Still, Tom Brady never wavered in supporting his former teammate. According to Jeff Darlington, Brady visited AB during Super Bowl week in Miami as a sign of support. However, the six-time Super Bowl champion also relied upon a well-known motivational speaker to save Brown's career.
According to Andy Slater of FOX Sports 640, Brady called upon Tony Robbins to help out Brown. Slater's sources said he had "a very long conversation with Antonio Brown earlier this year" so the star receiver would "be on track for his NFL return."
Robbins, of course, has carved out a lucrative career as an author, life coach, and motivational speaker. According to Celebrity Net Worth, the 60-year-old has amassed an estimated net worth of $600 million.
Robbins and Brady have shared a relationship for years. The two multi-millionaires hosted a seminar in Boston in 2017 and can now say they played a role in Brown's return to the NFL.
The Buccaneers possess terrifying potential on offense
Thanks in small part to Tony Robbins, Tom Brady has a second chance to make things work with Antonio Brown. The two only played one game together before the Patriots released the talented pass-catcher despite having major issues at wide receiver. Now, though, Brown joins a Buccaneers offense loaded with elite playmakers.
When healthy, Tampa can roll out a skill group featuring Brown, Mike Evans, Chris Godwin, Rob Gronkowski, and either Ronald Jones or Leonard Fournette. On paper, that group seems impossible to defend. Most defenses have trouble containing a healthy tandem of Evans and Godwin.
The addition of Brown makes life even more difficult for defensive coordinators, who will have to scheme up coverages to try and contain Tampa's deep arsenal of pass-catchers. Plus, Gronkowski has made a bigger impact in recent weeks and should also benefit from more one-on-one looks with AB in the fold.
Overall, the Buccaneers boast terrifying potential on offense. If teams drop seven or eight into coverage, Tampa can pound the ball with a combination of Jones and Fournette. That will set up play-action opportunities for Brady's impressive cast of receivers, all of whom possess elite athleticism.
If Brown can stay out of trouble and remain focused on football, the Buccaneers should make a deep playoff run. And at this point, based on Tampa's all-in approach, anything short of a Super Bowl title should be considered an abject failure.
Like Sportscasting on Facebook. Follow us on Twitter @sportscasting19.