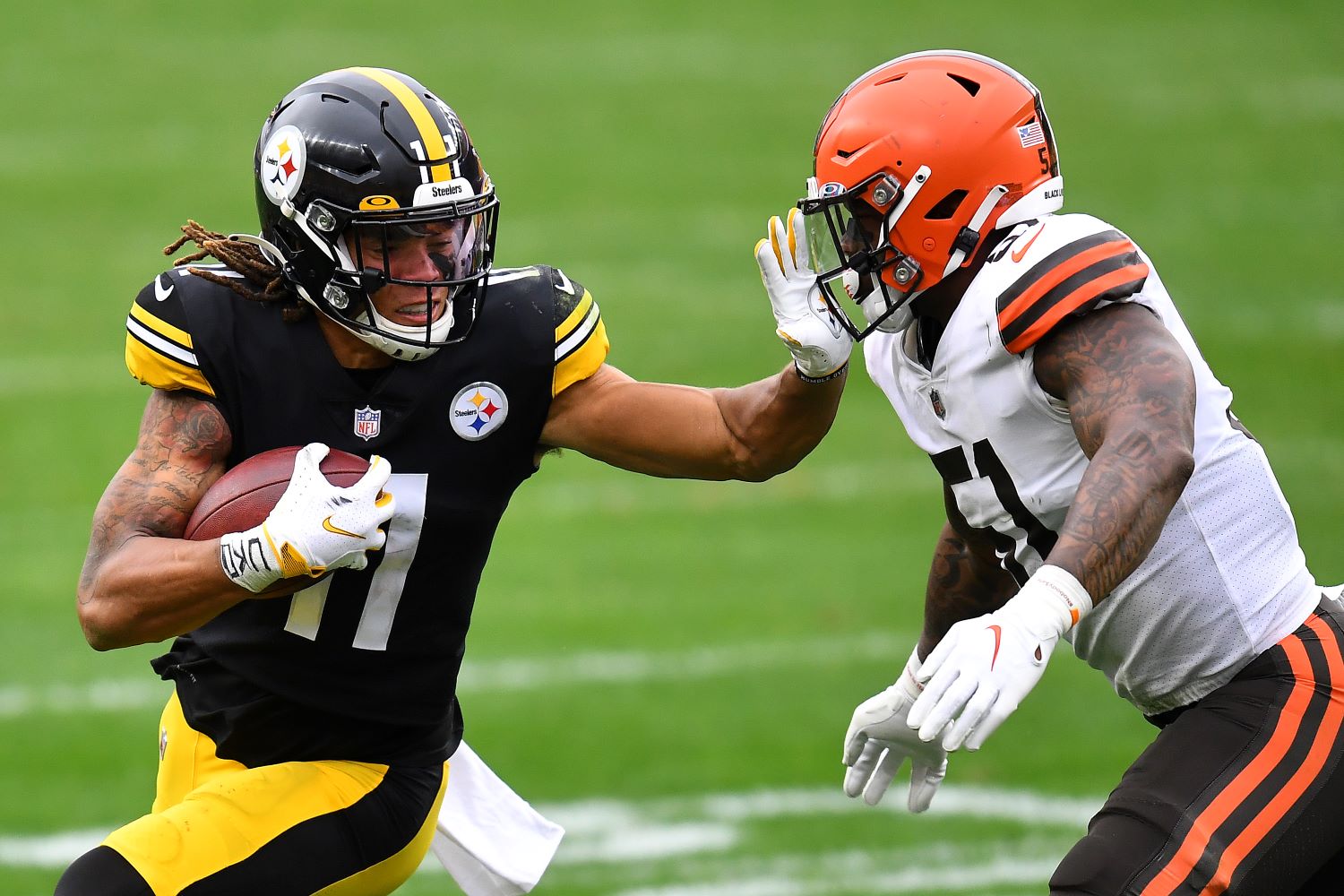 The Pittsburgh Steelers Stole The Next Antonio Brown for $6.6 Million
The Steelers have found their next Antonio Brown. With Chase Claypool emerging as a star, can Pittsburgh make a Super Bowl run?
Back in 2010, the Pittsburgh Steelers stole Antonio Brown with the 195th overall pick. A decade later, it looks like general manager Kevin Colbert has found the next AB in the form of Chase Claypool.
And if Pittsburgh's latest draft gem continues to play at a high level, expect Ben Roethlisberger and Co. to make a deep playoff run that could end in Super Bowl glory.
Pittsburgh discovered a star in Antonio Brown
Before he sabotaged his own career, Antonio Brown produced at an unparalleled level with the Steelers. A sixth-round pick out of Central Michigan, the 5-foot-10, 185-pound wideout quickly developed into a star in Pittsburgh. He earned Pro Bowl honors in his second NFL season after totaling 69 catches for 1,108 yards and two touchdowns while also providing big plays in the return game.
From 2013-2018, Brown racked up gaudy receiving numbers that look downright silly even by today's standards. In 2014, he led the NFL in catches (129) and receiving yards (1,698). The following year, he paced the NFL in receptions once again while recording a career-high 1,834 receiving yards.
However, Brown's attitude issues cannot be overlooked. For all of his prolific accomplishments, he never won a Super Bowl ring during his nine-year run with the Steelers. Even after leading the NFL with 15 touchdown grabs in 2018, he orchestrated his way out of Pittsburgh in an effort to secure more guaranteed money.
Of course, his 2019 season did not go as planned. After getting released by the Las Vegas Raiders, he played one game with the New England Patriots before getting cut. Brown still remains unsigned, though that could change in the coming weeks.
The Steelers have found their next AB
In their first season without Antonio Brown, the Steelers watched their trio of young wideouts put together solid but unspectacular campaigns. Diontae Johnson led the team with 59 receptions. James Washington averaged 16.7 yards per catch while hauling in 44 passes. JuJu Smith-Schuster totaled 42 catches for 552 yards in an injury-plagued season.
While all three remain critical components of the Steelers' passing game, Chase Claypool has quickly emerged as Pittsburgh's next version of AB.
Despite putting up big numbers in his final season at Notre Dame, the 22-year-old slipped to the second round of the 2020 NFL draft. Teams did have some concerns about whether the 6-foot-4, 238-pounder would play tight end or receiver at the next level.
After getting selected 49th overall, Claypool signed a four-year, $6.6 million contract. It hasn't taken long for the explosive pass-catcher to prove NFL teams made a massive mistake by questioning his ability to contribute at the next level.
After catching two passes for 39 yards in his NFL debut, Claypool followed up by snagging his first touchdown grab against the Denver Broncos. However, his Week 5 performance against the Philadelphia Eagles will go down as one of the most impressive outings of the 2020 season.
Claypool hauled in seven passes for 110 yards and three TD in Pittsburgh's 38-29 victory. His size-speed combo proved problematic for an Eagles defense that simply couldn't contain the athletically-gifted rookie. Claypool followed up with four more catches for 74 yards while adding a rushing TD in Sunday's 38-7 against the Cleveland Browns.
While the rookie sensation boasts a completely different body type than Antonio Brown, he most certainly looks like a No. 1 WR. If this is just the beginning for the Canadian native, then the rest of the NFL should be terrified of what Claypool could look like a year or two from now. Overall, the big-bodied wideout can fill the same role as Brown did by dominating the targets in an offense that continues to score points at a rapid pace.
Chase Claypool's sensational play has the Steelers looking like a top Super Bowl contender
Thanks to Chase Claypool's early emergence, the Steelers have started the season with five straight victories. Pittsburgh's offense ranks fourth in scoring, as Roethlisberger has looked fantastic after undergoing elbow surgery. Plus, James Conner has provided a powerful presence at running back.
Mike Tomlin's team is also incredibly balanced. Pittsburgh boasts the NFL's third-ranked scoring defense. However, that unit recently suffered a critical blow when Devin Bush tore his ACL.
Still, moving forward, the Steelers should be considered a top Super Bowl contender. Already off to a 5-0 start, their second-half schedule features some potentially high-scoring matchups, including a three-week stretch against the Dallas Cowboys, Cincinnati Bengals, and Jacksonville Jaguars.
As long as Claypool stays healthy, he should continue to put up big numbers as the focal point of one of the league's most explosive offenses. And if that occurs, expect the Steelers to be playing well past Week 17. In fact, it wouldn't be shocking to see Pittsburgh represent the AFC in Super Bowl 55.
All contract data courtesy of Spotrac. All statistics courtesy of Pro Football Reference.