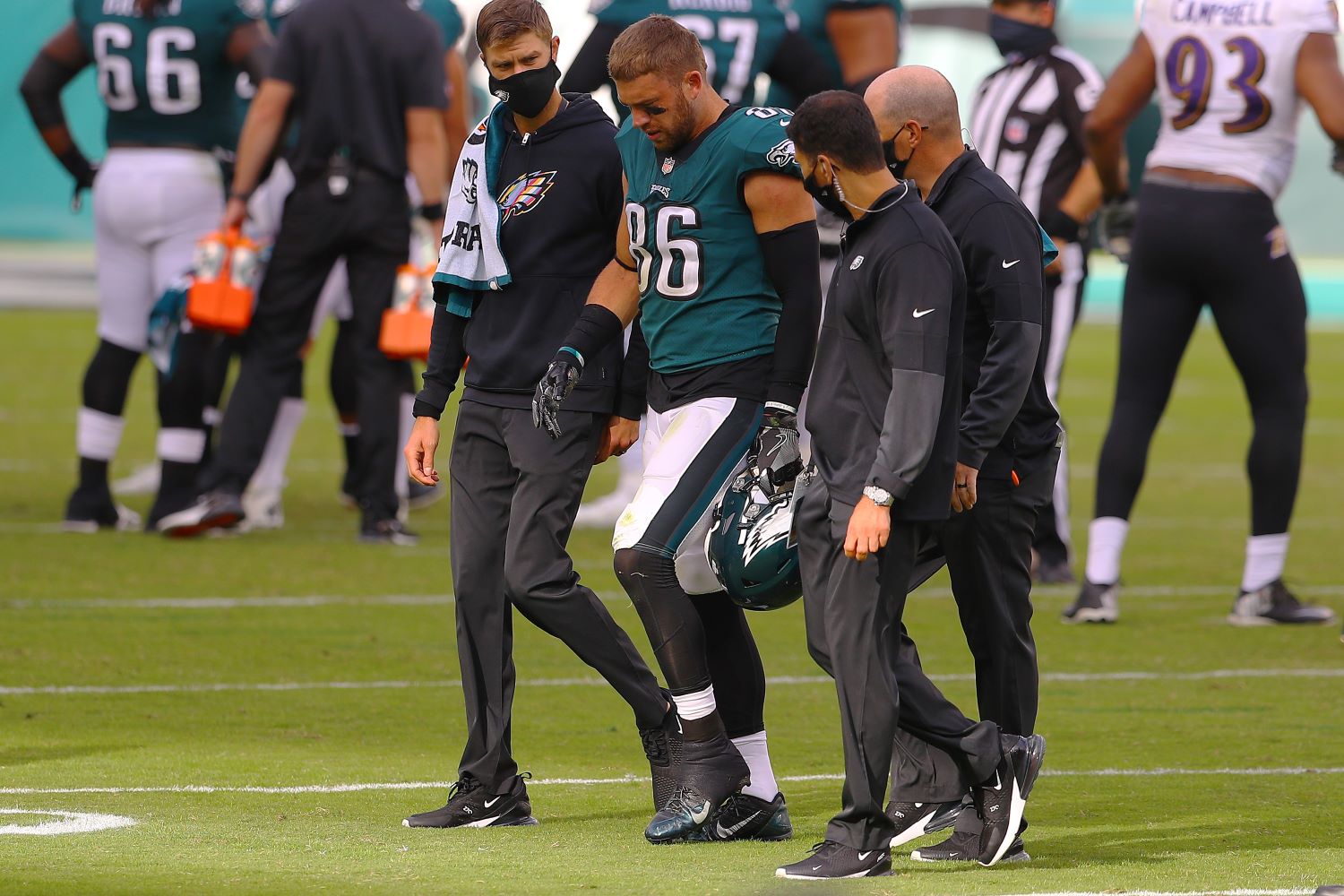 The Philadelphia Eagles Just Lost a Critical Piece of Their Offense
With Zach Ertz out for three to four weeks with an ankle injury, the Philadelphia Eagles just suffered a massive blow to their offense.
While Zach Ertz hasn't put up big numbers this season, he has been one of the top players at his position over the last few years. But on Sunday, the Philadelphia Eagles tight end suffered an ankle injury that will keep him sidelined for at least a few weeks.
Unfortunately for Carson Wentz, losing another teammate to an injury isn't anything new. Philadelphia's health problems on the offensive side of the ball have played a major factor in the team's 1-4-1 start. And unless things turn around quickly, expect the Eagles to pick early in the 2021 NFL draft.
Zach Ertz has developed into a star in Philadelphia
Following an excellent college career at Stanford, Zach Ertz became the 35th overall pick of the 2013 NFL draft. It didn't take long for the talented tight end to prove why the Eagles made him the second player taken at his position.
As a rookie, the 6-foot-5, 250-pounder caught 36 passes for 469 yards and four touchdowns. Following another solid season, Ertz broke out with 75/853/2 in 2015.
Over the last four years, he has earned three Pro Bowl selections thanks to his pass-catching prowess. In 2018, Ertz set the single-season record for most receptions by a tight end by hauling in 116 catches.
In 2019, the veteran once again put up big-time numbers for an Eagles offense that ranked 12th in scoring. Even with defenses dedicating their attention to stopping him, Ertz still recorded his fifth straight campaign with at least 75 catches. He finished his seventh NFL season with a rock-solid line of 88/916/6.
The Eagles just lost a critical piece of their offense
Having already lost several starters to season-ending injuries, the Eagles just suffered another massive blow to their offense. Zach Ertz left Sunday's game against the Baltimore Ravens with an ankle injury.
On Monday, ESPN's Chris Mortenson reported via Twitter that the veteran tight end is expected to miss between three to four weeks due to his injury.
Of course, Philadelphia has been without Ertz's running mate, Dallas Goedert, who suffered a serious ankle injury of his own back in September. Now, though, the Eagles will not have their most consistent pass-catcher from the last few years until about mid-November.
While Ertz's production has fallen short of his usual standard, he's still tied for the team-lead with 24 catches. He also ranks third on the Eagles with 178 receiving yards behind Travis Fulgham and Greg Ward, who have been forced to play prominent roles this season due to depth issues.
Injuries continue to derail a talented unit
With Zach Ertz sidelined for a few weeks, the Eagles will once again have to adapt on the fly. No NFL team has experienced worse luck when it comes to staying healthy than Philadelphia.
In particular, the offensive line has sustained some major blows. Before the season even began, the Eagles lost two starters.
Pro Bowl guard Brandon Brooks tore his Achilles in June. Philadelphia brought back Jason Peters to play guard, but he ended up moving back to his typical left tackle spot once Andre Dillard tore his biceps. In a cruel twist of fate, the future Hall of Famer suffered a toe injury and had to get placed on injured reserve earlier this month.
Already playing behind an injury-ravaged offensive line, Wentz has also been missing some of his key weapons. Alshon Jeffery has yet to play a snap after suiting up in just 10 games in 2019. DeSean Jackson hasn't played since September due to a hamstring ailment. First-round pick Jalen Reagor landed on IR earlier in the year after tearing a ligament in his thumb.
Overall, injuries continue to derail an offense that, when healthy, possesses big-time potential. But given their latest injury setback, expect the Eagles to continue to struggle to score points as the season continues. And if that occurs, Philadelphia will be picking early in the first round of the 2021 NFL draft.
All statistics courtesy of Pro Football Reference.