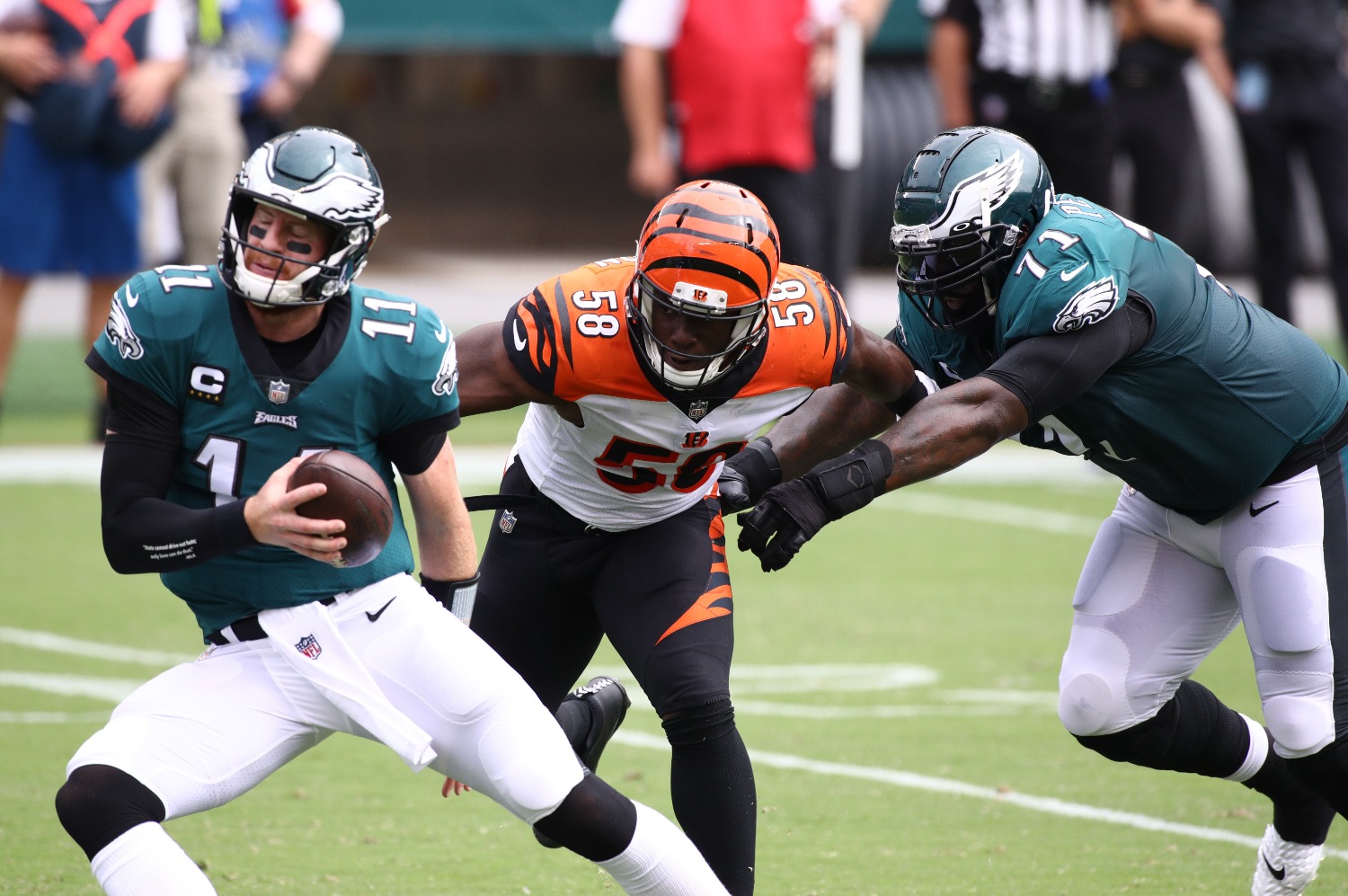 Eagles QB Carson Wentz Just Lost His $8 Million Protection Plan
With left tackle Jason Peters landing on injured reserve, Eagles quarterback Carson Wentz just lost his $8 million protection plan.
While the Denver Broncos would argue otherwise, no NFL team has been hit harder by injuries than the Philadelphia Eagles. With several key starters already out for the year, that has made life difficult for Carson Wentz. Unfortunately for the fifth-year pro, he just lost his $8 million protection plan. And once again, the Eagles will have to reshuffle their offensive line just a day before they take on the San Francisco 49ers.
The Eagles have been hit hard by injuries
Before the 2020 NFL season even began, the Eagles already had to overcome several key injuries. First, starting right guard Brandon Brooks suffered a torn Achilles in June. A Pro Bowl selection in each of the last three seasons, Brooks' absence left a gaping hole along Philadelphia's offensive line. But rather than bring in a new player, the Eagles took an unconventional route to address their right guard vacancy.
The team brought back Jason Peters on a one-year deal to fill Brooks' spot. Of course, the move to guard represented a drastic change for Peters, who spent the last decade playing left tackle in Philadelphia. Yet, after Andre Dillard tore his biceps in late August, the 38-year-old assumed his old position after all.
However, the Eagles' injury woes didn't stop there.
The receiver position has been impacted significantly due to health problems. First-round pick Jalen Reagor landed on IR with a torn ligament in his thumb. DeSean Jackson left last week's game due to a hamstring strain and will not play against the 49ers.
Meanwhile, Alshon Jeffery has yet to take the field due to a foot injury. The 30-year-old missed six games in 2019 and three games in 2018.
Collectively, the Eagles' health issues have made it difficult for Carson Wentz and the offense to move the ball and put up points.
Carson Wentz just lost his $8 million protection plan
Through three games, the Eagles rank just 28th in scoring. Carson Wentz has completed just 59.8% of his passes for three touchdowns and six interceptions. Plus, he has been sacked 11 times playing behind an offensive line ravaged by injuries.
That sack total could climb quickly due to yet another brutal blow to Wentz's protection. On Saturday, Ian Rapoport reported via Twitter that Jason Peters will go on IR after an MRI revealed his toe injury will take several weeks to heal.
For Peters, the injury looks like an expensive one. The veteran originally signed a one-year contract with a maximum value of $6 million. However, after Dillard went down, Peters scored a raise to move back to left tackle. The Philadelphia Inquirer reported his new contract carries a maximum value of $8 million, with $4 million guaranteed.
However, because he will not suit up for at least three games, Peters will likely fall short of reaching the incentives in his deal. More importantly, his absence will force the Eagles to rely on a former rugby player to protect their franchise quarterback.
Can Jordan Mailata step up with Jason Peters on IR?
Considering Carson Wentz's own injury history, the Eagles have to be worried about the fact his new blindside protector has played a total of 20 career offensive snaps. Now, former rugby star Jordan Mailata will likely line up at left tackle on Sunday against the 49ers.
A seventh-round pick in the 2018 NFL draft, the 6-foot-8, 346-pounder brings elite athleticism to the position. However, Mailata just began playing football a few years ago and never saw the field until this season.
The 23-year-old faces a stiff challenge from the San Francisco defense. Even with Nick Bosa out for the year, the 49ers still boast an impressive front seven. Arik Armstead anchors a stout unit that also features promising first-round pick Javon Kinlaw. Mailata will surely have his hands full in what should be his first NFL start.
Ultimately, Jason Peters' injury represents another blow to Carson Wentz's season. And he better hope his new left tackle steps up on Sunday.
If not, the Eagles QB will be in for a painful day at the office.
And given Wentz's durability concerns, that could lead to Jalen Hurts making his debut sooner than expected.
All statistics courtesy of Pro Football Reference.