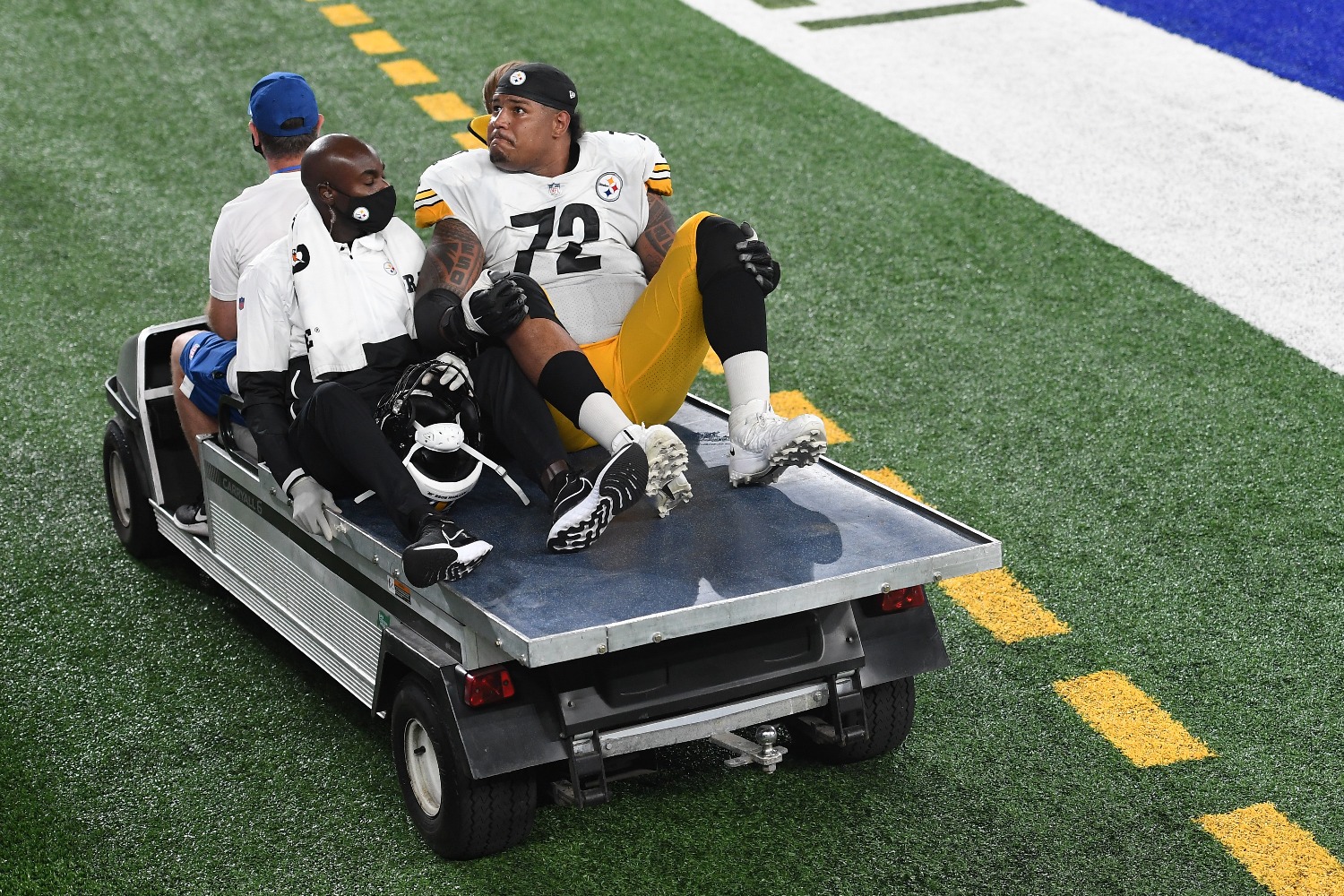 Zach Banner Just Dealt a Devastating Blow to Steelers' Super Bowl Hopes
The Pittsburgh Steelers suffered a brutal blow to their Super Bowl chances after starting right tackle Zach Banner tore his ACL.
With a healthy Ben Roethlisberger back under center, the Pittsburgh Steelers entered the 2020 NFL season as one of the top teams in the AFC. Yet, it did not take long for Mike Tomlin's team to suffer a huge blow to their Super Bowl hopes. Despite earning a victory against the New York Giants, the Steelers lost a key member of their offense for the rest of the year. Now, it will be up to general manager Kevin Colbert to find a replacement for Zach Banner as Roethlisberger tries to lead Pittsburgh to its first Super Bowl title since 2008.
Pittsburgh boasts one of the top rosters in the AFC
After losing Roethlisberger for the season, the Steelers somehow went 8-8 with a combination of Mason Rudolph and Duck Hodges at quarterback. That record looks even more impressive considering star playmakers JuJu Smith-Schuster and James Conner struggled to stay healthy.
But with Big Ben back under center, the Steelers entered the 2020 season with one of the top rosters in the AFC. On offense, Smith-Schuster, James Washington, and Diontae Johnson form one of the most talented receiver trios in the league. Maurkice Pouncey and David DeCastro anchor an offensive line that can impose its will. Eric Ebron, Vance McDonald, and promising rookie Chase Claypool give Roethlisberger three big-bodied targets who can do damage in the red zone.
Defensively, it's tough to contend with a front seven that features Cameron Heyward, T.J. Watt, Stephon Tuitt, and Bud Dupree. Combined with a secondary headlined by All-Pro safety Minkah Fitzpatrick and veteran cornerback Joe Haden, Pittsburgh boasts a physical, aggressive unit capable of shutting down the league's best offenses.
Heading into their Week 1 matchup with the Giants, the Steelers looked ready to remind the rest of the NFL that they will be a force to be reckoned with in 2020.
Steelers suffer a huge blow to their Super Bowl hopes
On Monday, the Steelers opened their season on the road against the Giants. In his first game back since undergoing elbow surgery, Roethlisberger looked terrific. The future Hall of Fame quarterback completed 21-of-32 attempts for 229 yards and three touchdowns.
Despite earning a 26-16 victory, the Steelers suffered a devastating blow to their Super Bowl hopes when starting right tackle Zach Banner injured his knee in the fourth quarter. He got carted off the field and looked to be in obvious pain.
According to Tom Pelissero, Banner's initial diagnosis revealed a torn ACL. The 6-foot-8, 335-pound tackle will miss the rest of the season. That represents a devastating blow to Pittsburgh's Super Bowl hopes on a number of levels.
First, Roethlisberger is coming off a significant injury and just turned 38 in March. He no longer possesses the mobility that made him a nightmare to defend earlier in his career. A significant setback in pass-protection will expose the aging quarterback to hits that could lead to another injury.
In addition, the Steelers only have one other offensive tackle on their active roster behind Banner and starting left tackle Alejandro Villanueva. That means Colbert and Tomlin need to quickly find a replacement at a critical position.
How will the Steelers replace Zach Banner?
With Zach Banner out for the year, the Steelers have to find a new starting right tackle. Currently, Chukwuma Okorafor would be next in line to take over the position. The 6-foot-6, 320-pounder has appeared in just 15 games since entering the league as a third-round pick in 2018. Can Tomlin count on the young tackle to fill a critical hole along the offensive line?
The Steelers could explore the free-agent market to find a new right tackle. In fact, a number of experienced offensive tackles still remain unsigned.
Cordy Glenn has spent his NFL career on the blindside, but he boasts the most ability of any available offensive tackle. Could he make the switch to the right side if Pittsburgh comes calling?
Donald Penn turned 38 in April and has also spent most of his NFL career as a left tackle. Penn has played in just one playoff game since entering the league in 2007. Joining Pittsburgh would give the veteran his first legitimate chance at winning a Super Bowl ring.
Ultimately, the Steelers suffered a huge blow to their Super Bowl hopes with Zach Banner's injury. If Colbert and Tomlin fail to find a capable replacement, Pittsburgh will go another year without tasting championship glory.
Like Sportscasting on Facebook. Follow us on Twitter @sportscasting19.